Sponsored by The audiobook edition of The House in the Cerulean Sea by TJ Klune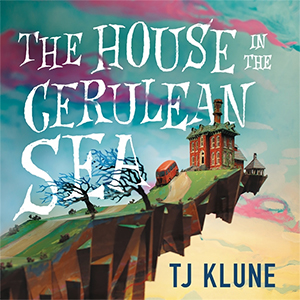 Listen to Lambda Literary Award-winning author TJ Klune's breakout contemporary fantasy audiobook. Linus Baker is a case worker in the Department in Charge of Magical Youth. He's tasked with determining whether six dangerous magical children are likely to bring about the end of the world. Arthur Parnassus would do anything to keep the children safe, even if it means the world will burn. The House in the Cerulean Sea is an enchanting love story about the profound experience of discovering an unlikely family—and realizing that family is yours. Read by Daniel Henning, this audiobook is an unforgettable listening experience.
Happy Friday, space pirates! It is now… let me check my notes… April! We survive that March decade pretty well, didn't we? It's Alex, with some news and some rip roarin' SFF. (Please forgive me for that pun.) But before we get started, a small musical interlude that brightened my day and will hopefully brighten yours.
Hedgehog: a micropiece for 9 isolated musicans
Or if you're in my age demographic, how about I Want It That Way? Finally, the originals have challenged the best Brooklyn 99 cold open ever.
News and Views

SFWA has (re)announced the now-virtual 55th Annual Nebula Conference.
Essay of the week: Our fascination with canon is killing the way we value stories
Ted Chiang Explains the Disaster Novel We All Suddenly Live In (and if you haven't picked up Exhalation: Stories yet, I encourage you to do so.)
Ken Liu did an AMA about writing, translating, and what's next for his series (which starts with The Grace of Kings). Highlights here.
R.F. Kuang talks about her next novel, The Burning God.
If the vampire Lestat was your boyfriend…
Queering SFF: What's Changed in the Last Ten Years
Marina Sirtis gets a happy birthday from her best friends
Sonnet 10 from Patrick Stewart
George Takei will be the final torch-carrier for the Tokyo Olympics (now postponed to 2021).
I am a giant sucker for time loops, so I must watch all of these TV episodes immediately.
An astrophycist got magnets stuck up his nose while working on a device that would help people stop touching their faces. This earned him the place as the limerick of the day for March 30.
On Book Riot
What if the Little Mermaid learned Sign Language? Thoughts about fairy tales and disability
New Fairy Tales, New Graphic Novels
Why Reading Pandemic Lit Gives Me Hope
Free Association Friday
Well, here's a cheerful thing for April 3: in 1888, the first of the Whitechapel murders occured, starting off the serial-killing career of the still mysterious figure of Jack the Ripper. But hey, it's not pandemic-related! So how about five works of SFF that feature that infamous figure?
Note: I was unable to find SFF titles for this topic by authors of color. If you know of any, shout them out!
Though first, I would very much like to step out of my wheelhouse and recommend a non-fiction book: The Five: The Untold Lives of the Women Killed by Jack the Ripper by Hallie Rubenhold. It's immensely good (I listened to the audiobook) and Hallie actively works to defeat a problem a lot of true crime writers run up against, which is placing the emphasis on the victims who had their lives cut short rather than spotlighting the monster that took them. Also, there are some really uncomfortable echoes of Victorian British attitudes we can scope out still in modern America, but that's a whole other topic.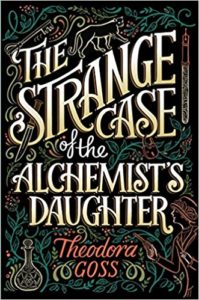 The Strange Case fo the Alchemist's Daughter by Theodora Goss is what I'd call the very definition of a literaray "romp." It's a giant, multi-layered pastiche of public domain characters (or their maligned female relatives) getting together to solve mysteries and become a family. The mystery here is nominally the Jack the Ripper killings, but all is not what it seems… and Sherlock Holmes is also on the case, along with the Monstrous Gentlewomen.
Anno Dracula by Kim Newman – Another pastiche-o-rama, which asks what if Dracula had won? And then he went ahead and converted Queen Victoria and quite a few citizens of London to vampirism. He's made becoming a vampire a trendy thing, which quite a few people–and notably some vampires, utterly disgusted. Enter Jack the Ripper, who has turned his murderous talents to thinning out the swelling ranks of the vampires.
A Night in the Lonesome October by Roger Zelazny – How about a book from the viewpoint of Jack the Ripper's dog? His name is Snuff, and he's accompanying his master into Whitechapel on "collecting" expeditions, during October, when the borders of reality thin and "Openers" secretly compete with "Closers" to see if the pathways to a decidedly chthonic plane of great old ones will stay open or closed.
Ripper by Amy Carol Reeves – After her mother's sudden death, Abbie ends up living with her grandmother in London… and volunteering at the Whitechapel hospital. Convinced she's found her calling, helping the poor and abused, she takes it very personally when the very women she's trying to help begin turning up murdered… and then she begins experiencing visions of the Ripper luring them to their deaths. Using this knowledge, she's determined to use all of her courage and intelligence to hunt this criminal down… and finds a wider, more horrifying conspiracy than she could have imagined.
Cruel… and Unusual by D. Michelle Gent – Awooo, werewolves of London! The Wolf Society has a problem–there's a real nasty piece of (human) work wandering around in Whitechapel, brutally killing women. And they're deeply concerned that the unwanted attention he's bringing in will cause the werewolves to be discovered, which could be a real issue. They've got to decide if they're going to hunt down this menace themselves, or risk letting the human police force see to it.
---
See you, space pirates. You can find all of the books recommended in this newsletter on a handy Goodreads shelf. If you'd like to know more about my secret plans to dominate the seas and skies, you can catch me over at my personal site.