Sponsored by Orbit Books, publisher of visionary author N.K. Jemisin's new novel, THE CITY WE BECAME.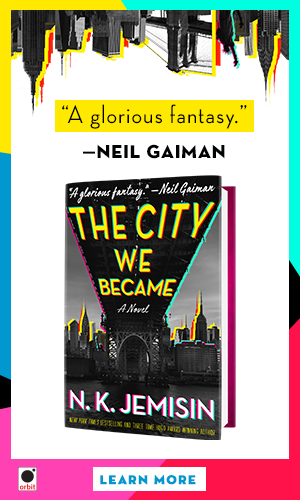 tk
St. Jude Coloring Book Helps Kids Understand Our Current World

While parents have had to figure out how to explain COVID-19 to their children St. Jude Children's Research Hospital, which treats childhood cancers and pediatric diseases, also had to figure out a way to explain the current danger to its patients. St. Jude psychologists and "child life" specialists created an in-house coloring book: Learn About the Coronavirus. While 750 copies were printed in three languages for St. Jude campus, Target House, and Ronald McDonald House, the coloring book is also available for download via St. Jude's Together website.
Harry Potter at Home
J.K. Rowling, whose last Twitter news was due to her transphobic tweets, has been tweeting during the COVID-19 pandemic. First, she tweeted that she relaxed the licensing for people reading Harry Potter books in videos/social media. And now she announced that craft videos, quizzes, puzzles, articles, and more are now available at her new site, Harry Potter At Home.
The Comic Book Industry Is On Hold
Every Wednesday is basically comic book day because for the past twenty years it's the day of the week that new comics drop and readers get their new issues. And while there were 23 new items available this week, that is a stark contrast to the usual hundreds. "Comics have been published on a regular basis in the U.S. through all number of existential threats in the past, whether it's World War II — even with paper shortages — Watergate, oil crises or 9/11. Comics, and the escapism they offer, have been ever present… and, as of now, they're not."