Sponsored by Starscape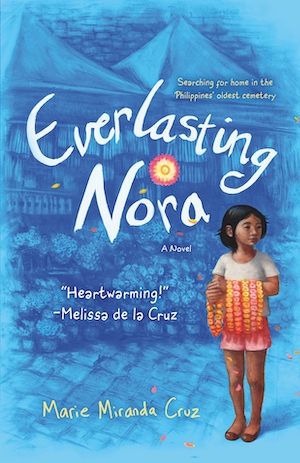 After a family tragedy results in the loss of both father and home, 12-year-old Nora lives with her mother in Manila's North Cemetery, which is the largest shantytown of its kind in the Philippines today. When her mother disappears mysteriously one day, Nora is left alone. With help from her best friend Jojo and the support of his kindhearted grandmother, Nora embarks on a journey riddled with danger in order to find her mom. Along the way she also rediscovers the compassion of the human spirit, the resilience of her community, and everlasting hope in the most unexpected places.
Welcome to Check Your Shelf, which is once again being brought to you from quarantine. I'm taking regular walks, working from home, and listening to a lot of Mumford & Sons.
Here's a list of Book Riot's ongoing COVID-19 coverage. And here's a list of some of the good news related to COVID-19 that you probably haven't read about.
Also, I have a redaction from the last issue of CYS. I posted a link from LitHub about the National Emergency Library created by the Internet Archive, which offers access to over 1 million eBooks. What I didn't realize was that a good portion of this library includes titles by authors who did not consent to sharing their titles. The Authors Guild has written a statement against the the Internet Archive, which you can read here. The original article I linked to has since been taken down, but I wanted to officially redact that last link, and ask that we as library employees do not use or recommend this resource. I deeply apologize to any authors who might have been hurt by me sharing this article.
---
Collection Development Corner
Publishing News
New & Upcoming Titles
What Your Patrons Are Hearing About
RA/Genre Resources
---
All Things Comics
On the Riot
---
Audiophilia
On the Riot
---
Book Lists, Book Lists, Book Lists
Children/Teens
Adults
On the Riot
---
Level Up (Library Reads
Do you take part in LibraryReads, the monthly list of best books selected by librarians only? We've made it easy for you to find eligible diverse titles to nominate. Kelly Jensen created a database of upcoming diverse books that anyone can edit, and Nora Rawlins of Early Word is doing the same, as well as including information about series, vendors, and publisher buzz.
Sending virtual hugs to anyone who wants them. Stay safe, healthy, and relatively sane.
Katie McLain Horner, @kt_librarylady on Twitter. Currently re-reading The Likeness by Tana French.