Sponsored by Medusa's Daughters, edited by Theodora Goss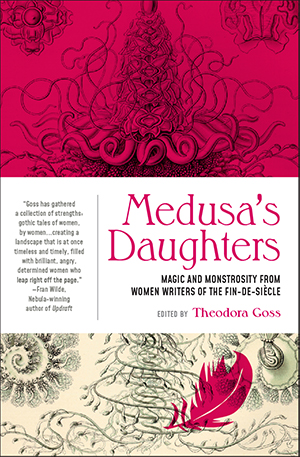 At the turn of the 20th century, women writers such as Vernon Lee, Mary Coleridge, and Rosamund Mariott Watson left an indelible mark on fantasy and horror literature. Like Medusa herself, their poetry and short stories embody the very essence of magic and monstrosity. Curated and annotated by award-winning fantasy author and Victorianist Theodora Goss, this collection serves as a tantalizing sampler of work by fin-de-siècle women writers, whose legacy still echoes in the speculative fiction we know and love today.
Happy Tuesday, shipmates! It's Alex, and I hope spirits are high and shelves are full–but in case you've got a gap or two, there are some great books coming out this week that could fill them. I've also found some self-isolation book sales that might help you out as well–check out the top of the news section.
Some things that made me smile in the last few days:
New Releases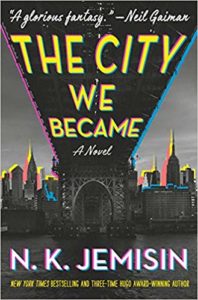 The City We Became by N.K. Jemisin – The tagline for this has me so intrigued: "Every great city has a soul. Some are ancient as myths, and others are as new and destructive as children. New York? She's got six." The city has six newborn avatars that can hear her music and her call… but there's a darkness that would like to destroy them.
A Bond Undone by Jin Yong, translated by Gigi Chang – Guo Jing is hit with several unpleasant truths in quick succession. He learns the story behind his father's death… and that he's betrothed to two different women against his will, and neither of them are his true love, Lotus. Torn between his love and his filial duty, he journeys with Lotus as he is pursued by the vengeful wife of an evil man he accidentally killed when he was a child.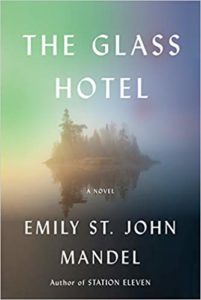 The Glass Hotel by Emily St. John Mandel – Vincent has been posing as the wife of a financial fraudster who is running a massive Ponzi Scheme. When the financial empire collapses like a house of cards in a gale, she walks away into the night. Many years later, a person who was a victim of that Ponzi scheme is hired to investigate the mysterious disappearance of a woman from the deck of a container ship that was out to sea. Though the events seem disparate, they are inextricably linked.
The Empress of Salt and Fortune by Nghi Vo – In-yo, a young woman of royal birth from a defeated people is sent to make a political marriage with the emperor; she must choose her allies carefully if her people–and she–are to survive. Rabbit is a handmaiden sold into the emperor's court, who befriends this lonely young woman… and gets far more than she bargained for.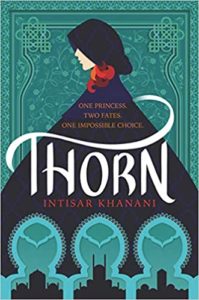 Thorn by Intisar Khanani – A retelling of the fairy tale The Goose Girl, in which a princess who is named Alyrra wishes to escape the pressures of royal life–and the betrothal that she definitely did not want–and becomes the goose girl after a sorceress steals her identity. The solution might seem perfect to Alyrra, until she learns of a plot against the prince she was supposed to marry.
The Last Human by Zack Jordan – Sarya is the last living human, the improbable survivor of a species that the rest of the galaxy deemed far too dangerous to be allowed to live over a thousand years ago–though no one's ever really explained to her the why of that, or the how of her current existence. Then she runs afoul of a bounty hunter and a kinetic projectile that's miles long. The next thing she knows, she's helming a stolen ship with the help of an unlikely set of traveling companions (including an android who is way too into death), and it's taking her to answers that are far stranger than she could have ever imagined.
News and Views
Humble Bundle celebrating 25 years of SFF from Tachyon
Angry Robot Books is running a 50% off sale on ebooks for another week. (Full disclosure: they've published two of my novels.)
Fox Spirit Books is doing a 50% off sale on their ebooks. (Via their store.)
Apex Books has a free bundle for all your social distancing needs.
Adrian Tchaikovsky has put an impromptu short story collection together that you can get for free.
Tor dot Com is starting a new read-along for The Goblin Emperor (This is one of my favorite audiobooks of all time.)
Glittership, a queer SFF magazine, is running its Kickstarter for year four.
Trailer for season 2 of What We Do in the Shadows!
Oh Captain, my Captain: William Shatner is doing captain's log-style tweets about being in quarantine. Meanwhile, Patrick Stewart is using his twitter to distribute Shakespearean sonnets.
Exploring the People of Middle-earth: Fëanor, Chief Artificer and Doomsman of the Noldor
Rosario Dawson has maybe been cast as Ahsoka Tano for the second season of The Mandalorian.
Simon Pegg and Nick Frost give us a PSA a la Shaun of the Dead.
The Field Museum continues to be a gift.
NASA fixes Mars Lander by telling it to hit itself with a shovel.
A science news story that combines two things I know we all love: coprolites and horrifying, predatory sea worms.
On Book Riot
From Film to Fiction: Creating the Alien Franchise's Literary Canon
15 Bookish Gifts for the Sarah J. Maas Fandom
See you, space pirates. You can find all of the books recommended in this newsletter on a handy Goodreads shelf. If you'd like to know more about my secret plans to dominate the seas and skies, you can catch me over at my personal site.