Sponsored by Nicnevin and the Bloody Queen by Helen Mullane, Dom Reardon, and Matthew Dow Smith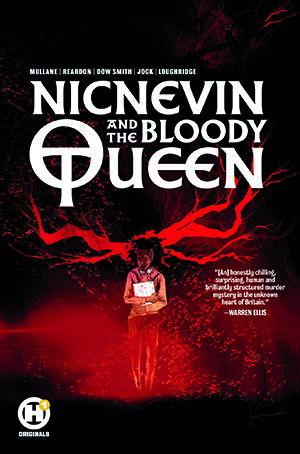 London teen Nicnevin "Nissy" Oswald has been banished to the British countryside for the summer with only her mother and brother for company. As she busies herself with old family relics and thoughts of the handsome neighbor, Reggie, the small, humdrum town gets rocked by a slew of grisly murders. Before long, a series of seemingly disparate yet increasingly disturbing incidents brew into a storm, and Nissy is in its eye.
Hey YA Fans!
Let's highlight some love and some laughs today, since we're all probably itching for something to read that'll keep us entertained and delighted. This is a look at some of the YA Rom Coms that hit shelves so far this year, as well as some that will be publishing in the next few months. A great opportunity to catch up on a few titles you may have missed this year so far, as well as preorder some gems to sprinkle the fun through the rest of what is showing itself to be a really long year.
As much as I wish I could devour all of these books right now, I am but one person with heaving bookshelves. I'm borrowing book descriptions from Amazon for this reason, but I assure you these hand-picked titles are ones I'm super freaking excited for. The ones I have read and recommend I've included a * beside!
Because I believe in the need for lightness right now, this list and newsletter is a little longer than normal. Indulge yourself, and know this roundup is far from complete. Perhaps I'll do a second roundup in the future.
Pinky Kumar wears the social justice warrior badge with pride. From raccoon hospitals to persecuted rock stars, no cause is too esoteric for her to champion. But a teeny tiny part of her also really enjoys making her conservative, buttoned-up corporate lawyer parents cringe.
Samir Jha might have a few…quirks remaining from the time he had to take care of his sick mother, like the endless lists he makes in his planner and the way he schedules every minute of every day, but those are good things. They make life predictable and steady.
Pinky loves lazy summers at her parents' Cape Cod lake house, but after listening to them harangue her about the poor decisions she's made (a.k.a. boyfriends she's had), she hatches a plan. Get her sorta-friend-sorta-enemy—who is a total Harvard-bound Mama's boy—to pose as her perfect boyfriend for the summer.
When Samir's internship falls through, leaving him with an unplanned summer, he gets a text from Pinky asking if he'll be her fake boyfriend in exchange for a new internship. He jumps at the opportunity; Pinky's a weirdo, but he can survive a summer with her if there's light at the end of the tunnel.
As they bicker their way through lighthouses and butterfly habitats, sparks fly, and they both realize this will be a summer they'll never forget.
It seemed like a good plan at first.
When the only other virgin in her group of friends loses it at Keely's own eighteenth birthday party, she's inspired to take things into her own hands. She wants to have that experience too (well, not exactly like that–but with someone she trusts and actually likes), so she's going to need to find the guy, and fast. Problem is, she's known all the boys in her small high school forever, and it's kinda hard to be into a guy when you watched him eat crayons in kindergarten.
So she can't believe her luck when she meets a ridiculously hot new guy named Dean. Not only does he look like he's fallen out of a classic movie poster, but he drives a motorcycle, flirts with ease, and might actually be into her.
But Dean's already in college, and Keely is convinced he'll drop her if he finds out how inexperienced she is. That's when she talks herself into a new plan: her lifelong best friend, Andrew, would never hurt or betray her, and he's clearly been with enough girls that he can show her the ropes before she goes all the way with Dean. Of course, the plan only works if Andrew and Keely stay friends–just friends–so things are about to get complicated.
Everyone knows about the dare: Each week, Bryson Keller must date someone new–the first person to ask him out on Monday morning. Few think Bryson can do it. He may be the king of Fairvale Academy, but he's never really dated before.
Until a boy asks him out, and everything changes.
Kai Sheridan didn't expect Bryson to say yes. So when Bryson agrees to secretly go out with him, Kai is thrown for a loop. But as the days go by, he discovers there's more to Bryson beneath the surface, and dating him begins to feel less like an act and more like the real thing. Kai knows how the story of a gay boy liking someone straight ends. With his heart on the line, he's awkwardly trying to navigate senior year at school, at home, and in the closet, all while grappling with the fact that this "relationship" will last only five days. After all, Bryson Keller is popular, good-looking, and straight . . . right?
Nishat doesn't want to lose her family, but she also doesn't want to hide who she is, and it only gets harder once a childhood friend walks back into her life. Flávia is beautiful and charismatic, and Nishat falls for her instantly. But when a school competition invites students to create their own businesses, both Flávia and Nishat decide to showcase their talent as henna artists. In a fight to prove who is the best, their lives become more tangled―but Nishat can't quite get rid of her crush, especially since Flávia seems to like her back.
As the competition heats up, Nishat has a decision to make: stay in the closet for her family, or put aside her differences with Flávia and give their relationship a chance.
Skye Shin has heard it all. Fat girls shouldn't dance. Wear bright colors. Shouldn't call attention to themselves. But Skye dreams of joining the glittering world of K-Pop, and to do that, she's about to break all the rules that society, the media, and even her own mother, have set for girls like her.
She'll challenge thousands of other performers in an internationally televised competition looking for the next K-pop star, and she'll do it better than anyone else.
When Skye nails her audition, she's immediately swept into a whirlwind of countless practices, shocking performances, and the drama that comes with reality TV. What she doesn't count on are the highly fat-phobic beauty standards of the Korean pop entertainment industry, her sudden media fame and scrutiny, or the sparks that soon fly with her fellow competitor, Henry Cho.
But Skye has her sights on becoming the world's first plus-sized K-pop star, and that means winning the competition—without losing herself.
Danyal Jilani doesn't lack confidence. He may not be the smartest guy in the room, but he's funny, gorgeous, and going to make a great chef one day. His father doesn't approve of his career choice, but that hardly matters. What does matter is the opinion of Danyal's longtime crush, the perfect-in-all-ways Kaval, and her family, who consider him a less than ideal arranged marriage prospect.
When Danyal gets selected for Renaissance Man, a school-wide academic championship, it's the perfect opportunity to show everyone he's smarter than they think. He recruits the brilliant, totally-uninterested-in-him Bisma to help with the competition, but the more time Danyal spends with her…the more he learns from her…the more he cooks for her…the more he realizes that happiness may be staring him right in his pretty face.
In this young adult debut full of depth and heart, author Syed M. Masood will have readers laughing, sighing, tearing up, and shouting "YES!" at the top of their lungs.
Will Tavares is the dream summer fling―he's fun, affectionate, kind―but just when Ollie thinks he's found his Happily Ever After, summer vacation ends and Will stops texting Ollie back. Now Ollie is one prince short of his fairytale ending, and to complicate the fairytale further, a family emergency sees Ollie uprooted and enrolled at a new school across the country. Which he minds a little less when he realizes it's the same school Will goes to…except Ollie finds that the sweet, comfortably queer guy he knew from summer isn't the same one attending Collinswood High. This Will is a class clown, closeted―and, to be honest, a bit of a jerk.
Ollie has no intention of pining after a guy who clearly isn't ready for a relationship, especially since this new, bro-y jock version of Will seems to go from hot to cold every other week. But then Will starts "coincidentally" popping up in every area of Ollie's life, from music class to the lunch table, and Ollie finds his resolve weakening.
The last time he gave Will his heart, Will handed it back to him trampled and battered. Ollie would have to be an idiot to trust him with it again.
Right? Right.
Nate Jae-Woo Kim wants to be rich. When one of his classmates offers Nate a ridiculous amount of money to commit grade fraud, he knows that taking the windfall would help support his prideful Korean family, but is compromising his integrity worth it?
Luck comes in the form of Kate Anderson, Nate's colleague at the zombie-themed escape room where he works. She approaches Nate with a plan: a local tech company is hosting a weekend-long survivalist competition with a huge cash prize. It could solve all of Nate's problems, and she needs the money too.
If the two of them team up, Nate has a real shot of winning the grand prize. But the real challenge? Making through the weekend with his heart intact…
Chloe Wang is nervous to introduce her parents to her boyfriend, because the truth is, she hasn't met him yet either. She hired him from Rent for Your 'Rents, a company specializing in providing fake boyfriends trained to impress even the most traditional Asian parents.
Drew Chan's passion is art, but after his parents cut him off for dropping out of college to pursue his dreams, he became a Rent for Your 'Rents employee to keep a roof over his head. Luckily, learning protocols like "Type C parents prefer quiet, kind, zero-PDA gestures" comes naturally to him.
When Chloe rents Drew, the mission is simple: convince her parents fake Drew is worthy of their approval so they'll stop pressuring her to accept a proposal from Hongbo, the wealthiest (and slimiest) young bachelor in their tight-knit Asian American community.
But when Chloe starts to fall for the real Drew—who, unlike his fake persona, is definitely not 'rent-worthy—her carefully curated life begins to unravel. Can she figure out what she wants before she loses everything?
Meet Pepper, swim team captain, chronic overachiever, and all-around perfectionist. Her family may be falling apart, but their massive fast-food chain is booming ― mainly thanks to Pepper, who is barely managing to juggle real life while secretly running Big League Burger's massive Twitter account.
Enter Jack, class clown and constant thorn in Pepper's side. When he isn't trying to duck out of his obscenely popular twin's shadow, he's busy working in his family's deli. His relationship with the business that holds his future might be love/hate, but when Big League Burger steals his grandma's iconic grilled cheese recipe, he'll do whatever it takes to take them down, one tweet at a time.
All's fair in love and cheese ― that is, until Pepper and Jack's spat turns into a viral Twitter war. Little do they know, while they're publicly duking it out with snarky memes and retweet battles, they're also falling for each other in real life ― on an anonymous chat app Jack built.
As their relationship deepens and their online shenanigans escalate ― people on the internet are shipping them?? ― their battle gets more and more personal, until even these two rivals can't ignore they were destined for the most unexpected, awkward, all-the-feels romance that neither of them expected.
---
Thanks for hanging out, y'all, and we'll see you later this week. Stay safe and healthy.
— Kelly Jensen, @heykellyjensen on Instagram and editor of (Don't) Call Me Crazy and Here We Are.