Sponsored by Dreamscape Media.
With the epic sweep of Min Jin Lee's Pachinko or Yaa Gyasi's Homegoing and the lyrical beauty of Vaddey Ratner's In the Shadow of the Banyan, The Mountains Sing tells an enveloping, multigenerational tale of the Trần family, set against the backdrop of the Việt Nam War. Vivid, gripping, and steeped in the language and traditions of Việt Nam, The Mountains Sing brings to life the human costs of this conflict from the point of view of the Vietnamese people themselves, while showing us the true power of kindness and hope.
Happy Tuesday, readers. I hope everyone is as well as they can be right now, whatever your situation. Please stay inside as much as you can, but don't forget that fresh air is good for you, so be sure to open your windows now and then. (And be sure to watch your pets and small children around them when they're open.)
And please reach out to your friends and family if you're having a hard time – talking on the computer or phone is a great way to communicate right now! I wish you all wonderful reading during this hard time.
Now, to the books: At the top of my list of today's long list of titles that I want to read are All My Friends Are Ghosts by S.M. Vidaurri and Hannah Krieger and Mrs. Mohr Goes Missing by Maryla Szymiczkowa, Antonia Lloyd-Jones (translator). You can also hear about some of the amazing new books coming out that I did get to read on this week's episode of the All the Books! Tirzah and I discussed The House in the Cerulean Sea, Dragon Hoops, The Mountains Sing, and more!
And now, it's time for everyone's favorite gameshow: AHHHHHH MY TBR! Here are today's contestants: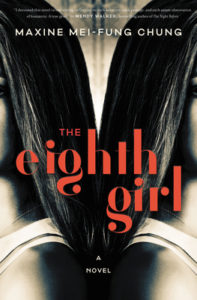 The Eighth Girl by Maxine Mei-Fung Chung
I am even more about dark reads now, and this one fits the bill. It's about a young woman named Alexa, who has several personalities. Only three people know this secret. When her life becomes enmeshed with that of her best friend, she gets caught up in a dangerous web of secrets that threaten to upend her whole life.
Backlist bump: Out: A Thriller by Natsuo Kirino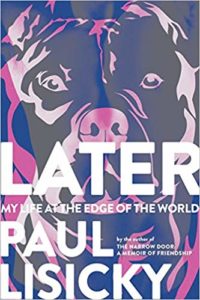 Later: My Life at the Edge of the World by Paul Lisicky
I am a HUGE fan of everything Paul Lisicky writes. This is a wonderful memoir about his life in Provincetown in the early 1990s, where he sought to find acceptance and healing after family trauma. But he arrived right in the middle of the AIDS crisis, and learned more about life and himself than he had imagined. He's such a beautiful writer. (True story: Though I am a fan, I am still an awkward and shy person, and I was standing inside a bookstore at a party once when he walked in. And let me tell you, he is so tall and even more handsome in person, that I got nervous and ran and hid behind the coats instead of saying hello.)
Backlist bump: The Narrow Door: A Memoir of Friendship by Paul Lisicky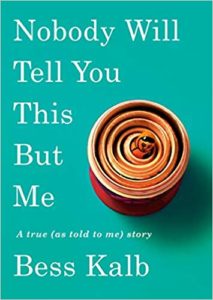 Nobody Will Tell You This But Me: A true (as told to me) story by Bess Kalb
CALLING ALL HEARTSTRINGS: Kalb, Emmy-nominated TV writer and New Yorker contributor, saved every voicemail her grandmother Bobby Bell ever left her. Her grandmother died at age 90, but Kalb has transcribed the stories she told her over the years about Bell's life, Kalb's mother's life, and more. It's a beautiful look at the bond between grandparents and grandchildren. (The humorist Sam Levenson once said, "The reason grandparents and grandchildren get along so well is that they have a common enemy.")
Backlist bump: The Summer Book by Tove Jansson
You made it to the bottom! Thanks for reading.
xx,
Liberty