Sponsored by Flatiron Books, publisher of Anna K by Jenny Lee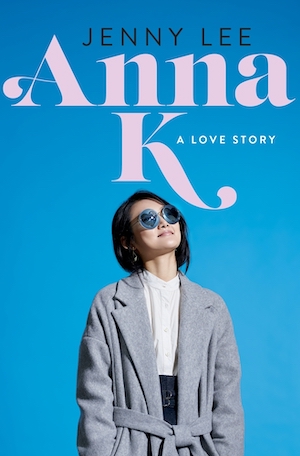 Dazzlingly opulent and emotionally riveting, Anna K: A Love Story is a brilliant reimagining of Leo Tolstoy's timeless love story, Anna Karenina―but above all, it is a novel about the dizzying, glorious, heart-stopping experience of first love and first heartbreak.
Hey YA Readers!
I'm back from my week-long total-immersion yoga training and am super stoked to talk with you about great YA books. Today, we'll take a peek at four books coming out this year set in 24 hours or fewer. This is one of my favorite structures, as it allows for such creative tension and forces a lot of story into a teeny tiny time frame.
Before diving into those books, though, a personal aside. I'm doing a giveaway to encourage you to order some books, including my forthcoming summer release. Details are over on Instagram.
And now, the books! I'm pulling descriptions from Amazon because I've only read half of these — Colbert's book and Vivian's book — but you better believe the other two are on my TBR (and I highly recommend the two I've read!).
Get ready. Get set. Let's see a story played out in 24 hours or under.
Set over the course of one day, this smart and voice-driven YA novel follows three young women determined to save their indie bookstore.
Rinn Olivera is finally going to tell her longtime crush AJ that she's in love with him.
Daniella Korres writes poetry for her own account, but nobody knows it's her.
Imogen Azar is just trying to make it through the day.
When Rinn, Daniella, and Imogen clock into work at Wild Nights Bookstore on the first day of summer, they're expecting the hours to drift by the way they always do. Instead, they have to deal with the news that the bookstore is closing. Before the day is out, there'll be shaved heads, a diva author, and a very large shipment of Air Jordans to contend with.
And it will take all three of them working together if they have any chance to save Wild Nights Bookstore.
Today, she hates him.
It's the last day of senior year. Rowan Roth and Neil McNair have been bitter rivals for all of high school, clashing on test scores, student council elections, and even gym class pull-up contests. While Rowan, who secretly wants to write romance novels, is anxious about the future, she'd love to beat her infuriating nemesis one last time.
Tonight, she puts up with him.
When Neil is named valedictorian, Rowan has only one chance at victory: Howl, a senior class game that takes them all over Seattle, a farewell tour of the city she loves. But after learning a group of seniors is out to get them, she and Neil reluctantly decide to team up until they're the last players left—and then they'll destroy each other.
As Rowan spends more time with Neil, she realizes he's much more than the awkward linguistics nerd she's sparred with for the past four years. And, perhaps, this boy she claims to despise might actually be the boy of her dreams.
Tomorrow…maybe she's already fallen for him.
Marva Sheridan was born ready for this day. She's always been driven to make a difference in the world, and what better way than to vote in her first election?
Duke Crenshaw is do done with this election. He just wants to get voting over with so he can prepare for his band's first paying gig tonight.
Only problem? Duke can't vote.
When Marva sees Duke turned away from their polling place, she takes it upon herself to make sure his vote is counted. She hasn't spent months doorbelling and registering voters just to see someone denied their right. And that's how their whirlwind day begins, rushing from precinct to precinct, cutting school, waiting in endless lines, turned away time and again, trying to do one simple thing: vote. They may have started out as strangers, but as Duke and Marva team up to beat a rigged system (and find Marva's missing cat), it's clear that there's more to their connection than a shared mission for democracy.
Romantic and triumphant, The Voting Booth is proof that you can't sit around waiting for the world to change?but some things are just meant to be.
Tomorrow, the Wildcat varsity field hockey squad will play the first game of their new season. But at tonight's team sleepover, the girls are all about forging the bonds of trust, loyalty, and friendship necessary to win.
Everything hinges on the midnight initiation ceremony—a beloved tradition and the only facet of being a Wildcat that the girls control. Until now.
Coach—a handsome former college player revered and feared in equal measure—changes the plan and spins his team on a new adventure. One where they take a rival team's mascot for a joyride, crash a party in their pajamas, break into the high school for the perfect picture.
But as the girls slip out of their comfort zone, so do some long-held secrets. And just how far they're willing to go for their team takes them all—especially Coach—by surprise.
A testament to the strength and resilience of modern teenage girls, We Are the Wildcats will have readers cheering.
---
Thanks for hanging out, and we'll see you later this week!
— Kelly Jensen, @heykellyjensen on Instagram and editor of (Don't) Call Me Crazy and Here We Are.