Sponsored by our $50 Barnes and Noble giveaway! Enter here!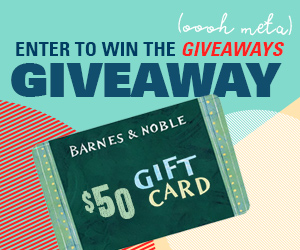 We're giving away a $50 gift card to Barnes and Noble to one lucky reader. Enter here (and don't forget to send us pics of your book stack if you win!).
Monsters are much scarier (to me) when I can't see them… case in point: once, I was cleaning my plate at my boyfriend's house. I flipped on the garbage disposal switch, and at the unholy din that vibrated from the sink I shrieked, "HERE THERE BE MONSTERS." (I'm not exaggerating when I say it sounded like he'd shoved a bear trap down there and it was grinding its teeth on the thing that was supposed to be shredding it into smithereens.)
Basically, what I'm saying is the moment a monster comes on screen, some of the fear diminishes. That's why that garbage disposal was such a terror. And that's why reading about monsters is such a delight–the concepts of them live in your head.
By the way, you're in The Fright Stuff, Book Riot's weekly newsletter about latest and greatest in horror. I'm Mary Kay McBrayer, and I'll be your Virgil in this realm of hell, MONSTERS.
Earworm: "Monster" by Kanye West (but let's be honest, we all know who's the real star of the show here… HEY NICKI HEY NICKI) Also, fun fact, I definitely taught this verse to my English Composition 1102 class so they could hear the difference between meter and rhyme. #litprofessor
Fresh Hells (FKA New Releases)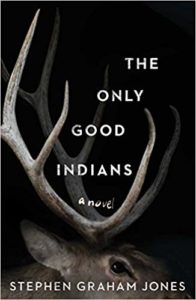 The Only Good Indians by Stephen Graham Jones
If you ain't pre-ordered this yet, seriously, what are you doing? When I tell you that this is a genuinely compelling monster horror book that utilizes Native American folklore without that old tropey chestnut "it was built on a graveyard," believe me. The scenes themselves are so suspenseful and imagistic that you won't want to put this novel down. The drama starts when a group of four Blackfeet on the Reservation hunt and kill a herd of elk, but before they can field dress them all, a blizzard comes in and prevents them from using all of the animals. Needless to say, Po'noka is not happy.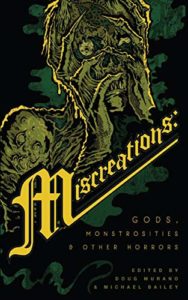 Miscreations edited by Doug Murano and Michael Bailey
This anthology contains works about "Gods, Monstrosities, and Other Horrors," and it features works by authors you already love, like Alma Katsu, Theodora Goss, and Victor LaValle, plus several that you're GOING to love. Every story rotates on the idea of a created monster, whether man or gods created them. It's super compelling, and you don't want to miss it.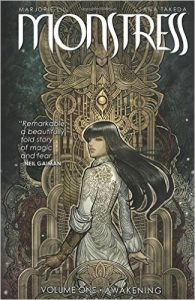 Monstress (Volume 4) by Marjorie Liu and Sana Takeda
Who DOESN'T love a graphic novel featuring monsters–let alone a series featuring a monSTRESS!? In case you missed the first three installments, this narrative is set in "an alternate matriarchal 1900s Asia, in a richly imagined world of art deco-inflected steampunk," and it follows a girl as she navigates the "trauma of war."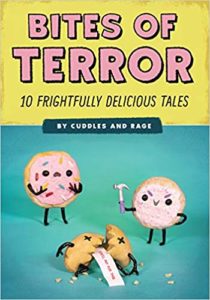 Bites of Terror by Liz Reed and Jimmy Reed
This is the husband and wife team behind the webcomic Cuddles and Rage, which they call "disturbing stories with heart." These ten short stories are told in comic book format, but with photographs of the creations instead of illustrations. Hear the macabre stories of a strawberry that has been quarantined to avoid a mold pandemic, or the "widowed watermelon attempts to regrow her chopped-up husband from seed." What a damn delight, am I right?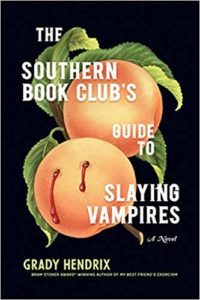 The Southern Book Club's Guide to Slaying Vampires by Grady Hendrix
You're likely familiar with his work already, whether it's his novels My Best Friend's Exorcism, Horrorstor, or We Sold Our Souls, or maybe the film Satanic Panic, or maybe his Paperbacks from Hell project, but regardless, he's back for more. Be sure to pre-order this novel from the new master of horror so you can read it hot off the press when it releases at the end of the month!
Cryptkeepers (FKA as dope reads from the backlist):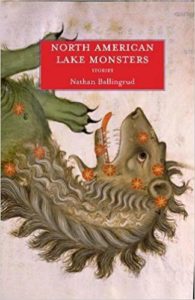 North American Lake Monsters by Nathan Ballingrud
I mentioned in the Book Riot litfic podcast that I co-host (Novel Gazing) that one of my most effective ways of finding book recommendations is through authors whom I love, and this book of short stories comes with high praise from Carmen Maria Machado, one of my faves. In this collection, people face monsters, real or imagined, and they "face the loneliest corners of themselves and strive to find an escape."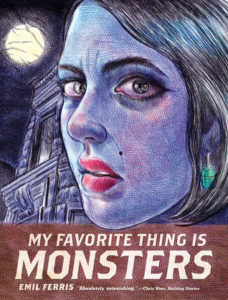 My Favorite Thing is Monsters by Emil Ferris
This graphic novel is a beautiful imagining of a girl in Chicago who believes herself to be a werewolf. It's a fascinating look at her relationship with her super-cool brother as well a mysterious past of the Holocaust survivor who lives above them.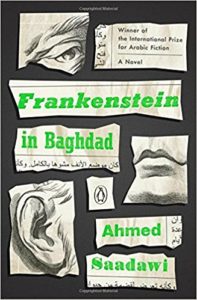 Frankenstein in Baghdad by Ahmed Saadawi
This novel has a super cool premise of retelling: an oddball junk collector in the rubble-strewn streets of Baghdad collects body parts. He strings them together so that the government will give them a proper burial, but once he makes a complete corpse, it disappears. WHAT.
News
Big news from Quirk! Grady Hendrix's latest is destined for the screen! According to the publisher, "After a 10-buyer bidding war, Grady Hendrix and Quirk Books sold rights to The Southern Book Club's Guide to Slaying Vampires to Amazon Studios, with Hendrix and Quirk serving as executive producers." HOW DOPE.
Learn here how Gothic novels paved the way for domestic thrillers.
This plot twist in science shows how Edgar Allan Poe actually probably DIDN'T die by suicide.
Looks like Bram Stoker Award-Winning poet, Stephanie M. Wytovich will be teaching a Witch Lit course on LitReactor this summer, so be sure to stay tuned for that! (And until then, you can look at our Season of the witch-themed newsletter from November.)
And speaking of witches, this astrology book club chooses their monthly reads based on horoscopes ad the zodiac.
If you want to know more about Toni Morrison (the author that I consider to have written THE BEST literary horror book, Beloved) and her Catholic faith, read this article.
Need inspiration for your next writings? Visit this Torture Museum in Bruges, Belgium, which displays its torture devices in chronological order.
Have you heard of The Black Vampyre? It's an 1819 text that is among the first to cross the vampire narrative with the American slave narrative. You can read more about it in a forthcoming book from Open Graves & Open Minds about the Polidori (2021).
If you want more books by Authors of Color, check out this list by Book Riot's own Jessica Avery!
I'm Mary Kay McBrayer, you can find me on Twitter or Instagram, and this has been The Fright Stuff, monsters edition. Until next time, beware the Kraken.
Your Virgil,
Mary Kay McBrayer
Co-host of Book Riot's literary fiction podcast, Novel Gazing