Sponsored by Sourcebooks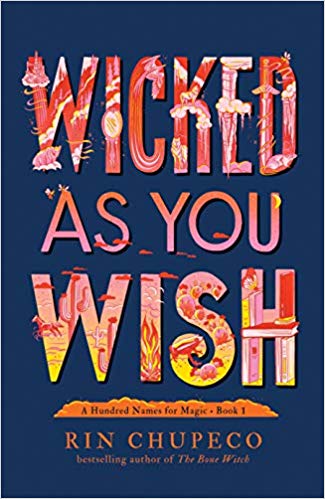 Many years ago, the Kingdom of Avalon was left desolate when the evil Snow Queen waged war. Its former citizens are now refugees in a world mostly devoid of magic. Prince Alexei, the sole survivor of the Avalon royal family, is in hiding. Few know his secret identity, but his friend Tala is one of them. Tala doesn't mind—she has secrets of her own. When the famous creature of legend, and Avalon's most powerful weapon, the Firebird, appears for the first time in decades, Alex and Tala unite with a ragtag group of new friends for a showdown that will change the world as they know it.
Hello, shipmates! It's Alex, with new releases for you… and honestly, that's nearly all I could fit in this newsletter because there are SO MANY AMAZING BOOKS coming out today! March is coming in hard, I guess.
But by the way, if you loved the javelina from last week, there's a whole Twitter account for javelina+music now. Because sometimes the internet is good, actually.
New Releases
Beneath the Rising by Premee Mohamed – Nick and Joanna have been friends since they were kids, though she's rich and white and he's brown and poor. Joanna is also a genius, and Nick is secretly in love with her. Then Joanna invents a clean reactor that could solve all the world's fossil fuel problems… but it comes with the little wrinkle that in the process, she's awakened evil Ancient Ones who want to subjugate humanity. Now Nick and Joanna have a new mission: survival. And to accomplish that, they'll have to trust each other completely.
We Ride Upon Sticks by Quan Barry – It's 1989, and the Danvers (Massachusetts) High School women's field hockey team will stop at nothing to win–even the witchcraft that haunts their town's history.
Cyber Shogun Revolution by Peter Tieryas – Third book in the series that started with United States of Japan. Ace mecha pilot Reiko Morikawa has been recruited into a secret organization that's plotting to overthrow the corrupt governor (who also happens to be a Nazi sympathizer) of the United State of Japan. An assassin code-named Bloody Mary get to him first… but she's not going to stop with just him. Reiko must join forces with Bishop Wakana, an agent of the secret police, who is also hot on Bloody Mary's trail.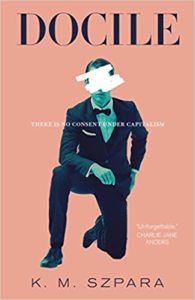 Docile by K.M. Szpara – In an all-too-plausible near future where generational debt has destroyed countless families and eaten the future of the unborn, indentured servitude has made a comeback, with the rich and powerful buying the contracts of the impoverished and doing with them as they please. To ease the horror of their servitude, most take the drug Dociline, which gives the indentured their name: Docile. Elisha refuses the drug, which took his mother from him. But the owner of his contract is the scion of the ultra-rich family behind both the drug and the system of debt that has trapped him and countless others.
This Town Sleeps by Dennis E. Staples – In Languille Lake, an Ojibwe reservation, an Ojibwe man named Marion starts a relationship with a closeted white man. Then one night, Marion accidentally brings the spirit of a dog back from the dead, and the dog leads him to the grave of an Ojibwe basketball star who was murdered at the age of seventeen. Marion's investigation of the still-unsolved mystery takes him deep into his own family–and old legends.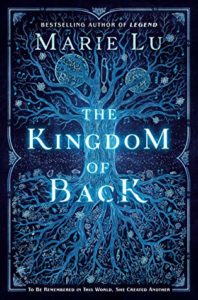 The Kingdom of Back by Marie Lu – Nannerl Mozart has only one wish: to be remembered forever. But she's a woman in 18th century Europe, and her unquestionable talent for music only buys her the chance to perform until she can be married off by her father. As her own star dims, her younger brother Wolfgang's only seems to shine brighter and more fiercely. Until one day, a mysterious stranger offers to make her wish come true–but at the cost of everything she holds dear.
Otaku by Chris Kluwe – Ditchtown is a city of skyscrapers built on the drowned remnants of Miami, filled with miscreants, unbelievers, and the other dregs of society. Ashley Akachi lives in that stinking prison as an anonymous girl whose family is falling about–but she also lives in the Infinite Game, a virutal world where she is known, feared, and loved by millions across the world. Then Ashley stumbles across a conspiracy that threatens to bring her two worlds crashing together and might tear them down around her ears.
News and Views
Jeannette Ng did a from-memory translation of The Ballad of Mulan.
More short fiction ahoy! The 2019 winners of the Clarke's World readers' survey.
AO3 has been blocked in China.
Lady Gaga has gone colorfully post-apocalyptic in the music video for her song Stupid Love.
The required plots of Star Trek.
Sex in the Theater: Jeremy O. Harris and Samuel Delaney in conversation
All 35 Video Game Movies, Ranked From Least Bad to Worst
On Book Riot
15 Books Like Skyrim for Bold Adventurers
3 Sci-fi Books by Black Women That Changed My Life
---
See you, space pirates. You can find all of the books recommended in this newsletter on a handy Goodreads shelf. If you'd like to know more about my secret plans to dominate the seas and skies, you can catch me over at my personal site.