Sponsored by The Paper Bag Princess: 40th Anniversary Edition, published by Annick Press.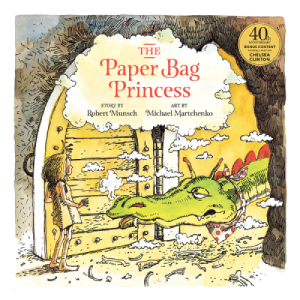 When the fiercest dragon in the whole world smashes Princess Elizabeth's castle, burns all her clothes, and captures her fiancé, Elizabeth takes matters into her own hands. With her wits alone and nothing but a paper bag to wear, the princess challenges the dragon in the hopes of saving the prince. But is it worth all that trouble? To mark The Paper Bag Princess' 40th anniversary, Annick has created a deluxe hardcover with a beautiful dust jacket that converts into a bonus poster, plus commentary from renowned authors Francesca Segal and Chelsea Clinton, as well as Robert and Ann Munsch.
Hi Kid Lit Friends,
It's March, and in two days it's Super Tuesday for America (eep!). I hope that all of you who get to vote on Tuesday enjoy engaging in the American democratic process. Meanwhile, I would love to talk about incredible women for Women's History Month today! There are a lot of wonderful anthologies of fantastic women out there, but here are some of my favorites: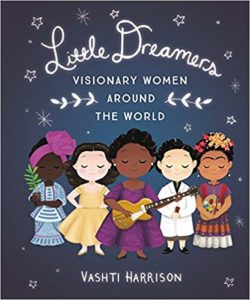 In Little Dreamers: Visionary Women Around the World, author/illustrator Vashti Harrison selects 35 women creators, ranging from writers to inventors, artists to scientists. Readers will meet trailblazing women like Mary Blair, an American modernist painter who had a major influence on how color was used in early animated films, actor/inventor Hedy Lamarr, environmental activist Wangari Maathai, architect Zaha Hadid, filmmaker Maya Deren, and physicist Chien-Shiung Wu. I love Vashti's illustrations, which infuse each of the stories with hope.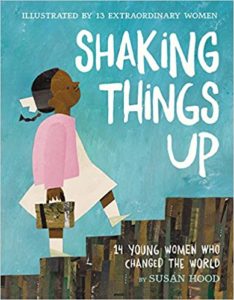 What I love about Shaking Things Up: 14 Young Women Who Changed the World by Susan Hood is that it's illustrated by various women illustrators, from Melissa Sweet to Sophie Blackall to Oge Mora and more. In this book of poems, you will find Mary Anning, who was just 13 when she unearthed a prehistoric fossil. You'll meet Ruby Bridges, the brave six-year-old who helped end segregation in the South. And Maya Lin, who at 21 won a competition to create a war memorial, and then had to appear before Congress to defend her right to create.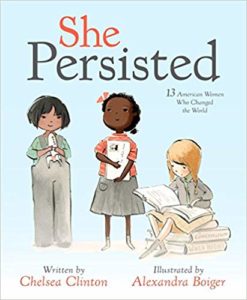 I'm a big fan of Chelsea Clinton's picture books, and one of my favorites is She Persisted: 13 American Women Who Changed the World by Chelsea Clinton, illustrated by Alexandra Boiger. Throughout American history, there have always been women who have spoken out for what's right, even when they have to fight to be heard. In early 2017, Senator Elizabeth Warren's refusal to be silenced in the Senate inspired a spontaneous celebration of women who persevered in the face of adversity. In this book, Chelsea Clinton celebrates 13 American women who helped shape our country through their tenacity, sometimes through speaking out, sometimes by staying seated, sometimes by captivating an audience. They all certainly persisted.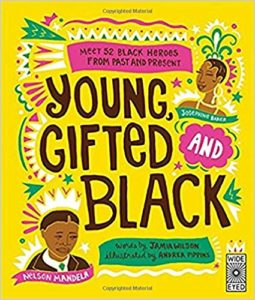 Author Jamia Wilson and illustrator Andrea Pippins create a marvelous collection in Young, Gifted, and Black: Meet 52 Black Heroes from Past and Present. Written in the spirit of Nina Simone's song "To Be Young, Gifted, and Black," this vibrant book is a perfect introduction to both historic and present-day icons and heroes. Meet figureheads, leaders, and pioneers such as Martin Luther King Jr., Nelson Mandela, and Rosa Parks, as well as cultural trailblazers and athletes like Stevie Wonder, Oprah Winfrey, and Serena Williams.
And finally, Herstory: 50 Women and Girls Who Shook Up the World by Katherine Halligan, illustrated by Sarah Walsh, follow the stories of fifty powerhouse women from around the world and across time who each managed to change the world as they knew it forever. Telling the stories of their childhood, the challenges they faced, and the impact of their achievements, each illustrated spread is a celebration of girl power in its many forms. From astronauts to activists, musicians to mathematicians, these women are sure to motivate young readers of all backgrounds to focus not on the can'ts and shouldn'ts, but on what they can do: anything!
Around the web…
Witches, Robots, and Sea Sirens: New Middle Grade Graphic Novels and Comics, via Book Riot
When They Got the Call: PW Speaks with Newbery, Caldecott, and Printz Winners, via Publisher's Weekly
What are you reading these days? Let me know! Find me on Twitter at @KarinaYanGlaser, on Instagram at @KarinaIsReadingAndWriting, or email me at KarinaBookRiot@gmail.com.
Until next time!
Karina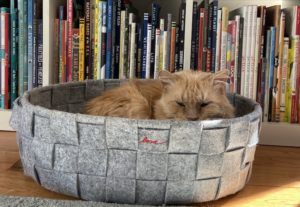 *If this e-mail was forwarded to you, follow this link to subscribe to "The Kids Are All Right" newsletter and other fabulous Book Riot newsletters for your own customized e-mail delivery. Thank you!*