Sponsored by Crooked River, the new Agent Pendergast novel from Preston & Child.
Ordinary-looking shoes float in on the tide and wash up on a Florida beach—each one with a crudely severed human foot inside. FBI Special Agent Pendergast—a "modern-day Sherlock Holmes (Associated Press)—gets called away from his own Florida vacation and reluctantly agrees to visit the crime scene, but is quickly drawn in by the incomprehensible puzzle. An early pathology report only adds to the mystery. With an ocean of possibilities confronting the investigation, no one is sure what happened, why, or from where the feet originated. And they desperately need to know: are the victims still alive?
Hello mystery fans! What do I have for you this week? A slow-burn suspense, a NY procedural, and a modern Nancy Drew. Something for everyone!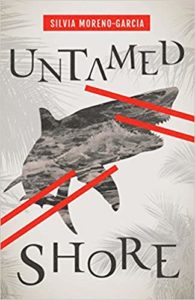 Untamed Shore by Silvia Moreno-Garcia: This is a great slow-burn suspense novel that, depending on your relationship with Jaws, may have an eerie setting. And by that I mean it's set in 1979 Baja California, and there are a lot of dead sharks, guts included.
Eighteen-year-old Viridiana wants out of the town because her mom expects her to work in her shop and marry a man Viridiana has broken up with and has zero interest in getting back with. She also grew up aware that she's the reason her mom got anchored to her father and stuck with a life she didn't want, something Viridiana refuses to let happen to her. And so when wealthy tourists show up with a writer looking for an assistant Viridiana takes the job, including moving into a room in their rented home. You know this tale, and you know someone is going to die in an accident, or maybe not an accident… As the cracks widen and the secrets begin to spill who will protect themselves and who will come out on top?
If you like character driven suspense, and are looking for an interesting setting you've probably never read before, definitely pick this one up! (TW domestic abuse/ past suicide mentioned, detail)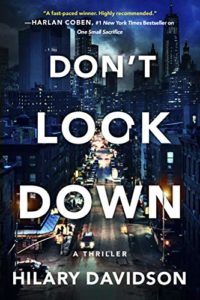 Don't Look Down (Shadows of New York #2) by Hilary Davidson: This is the sequel procedural to One Small Sacrifice (Review) which I enjoyed so much last year I grabbed this one ASAP. It's a great new series for fans of procedurals, detective partners, multiple point of view, and books that focus on the case at hand.
We open with Jo Greaver, a victim of blackmail, going to drop off the money at an apartment, but nothing goes as planned–does it ever?–and she ends up shot and shooting her blackmailer. She doesn't stick around to find out what happens next, and goes back to work, and her life, as if a bullet in the arm won't stop her. When NYPD detectives, Sheryn Sterling and Rafael Mendoza, show up on the scene, the evidence and witness accounts don't make sense. And it also doesn't add up with what we saw happen with Jo, which leads the detectives and readers to have to piece together not only who the blackmailer is, but what they're blackmailing Jo with, and what really happened in that apartment?!
If you like page-turning, twisty procedurals that give you character depth but stay focused on the case and mystery at hand you'll love escaping into this series. (TW sex trafficking/ past domestic abuse mentioned/ past drug overdose/ suicide, detail)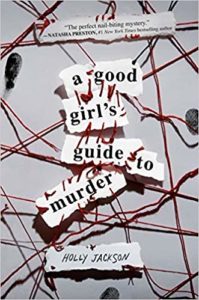 A Good Girl's Guide to Murder (A Good Girl's Guide to Murder #1) by Holly Jackson: Pip, a high school girl, decides to do a research paper on finding out what really happened to Andie Bell five years ago. The problem is that Andie Bell has already been declared dead, even if her body was never found, and her boyfriend, even though he died by suicide, has already been proven guilty of murdering her in the court of public opinion. Pip thinks there are too many what-ifs, questions, lack of evidence, and that there was racist reporting that never actually closed this case for her. So she's asking questions–barred from speaking to the Bell family and told the project will immediately be cancelled if she doesn't do this delicately–and trying to figure out what really happened to Andie Bell. Pip is naive in a lot of ways, not having been one to attend parties, date, rebel in any way and she's going to find herself wading into school secrets, family secrets, friend secrets, and the age-old question: do you ever really know anyone?
This is a great, twisty read for fans of YA and I'm definitely picking up the sequel–this reads like a standalone so don't worry if you don't like series. And bonus: the audiobook has an awesome multicast which bravo to the publishers for doing. (TW past suicide, with detail/ mentions self harming/ cyber exploitation/ talk of statutory, date rapes discussed/ dog dies)
Recent Releases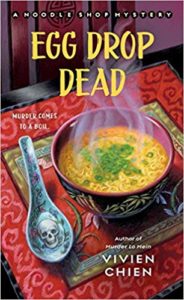 Egg Drop Dead (A Noodle Shop Mystery #5) by Vivien Chien (A really good cozy series following a young woman working at her family's restaurant in an Asian mall who constantly finds herself solving crime.)
Watching from the Dark (DCI Jonah Sheens #2) by Gytha Lodge (If you're looking for another good recent procedural series here's the sequel to She Lies In Wait.)
Firewatching (Detective Sergeant Adam Tyler #1) by Russ Thomas (A procedural following the only detective in the South Yorkshire Cold Case Unit!)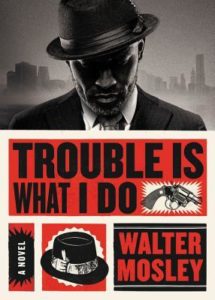 Trouble Is What I Do (Leonid McGill #06) by Walter Mosley (The PI who is always walking the line of staying clean and falling into the dark underbelly of NY is back! The audiobook has a fantastic narrator: Dion Graham, whose voice you know from The Wire, The First 48, Dear Martin and Black Leopard, Red Wolf.)
Pretty as a Picture by Elizabeth Little (A remote island with a film editor working on a project gets drawn into the sets rumors and accidents and the film's previous editor's disappearance. Oh, and the real-life murder mystery the movie is based on!)
On the Lamb (Kebab Kitchen Mystery #4) by Tina Kashian (A cozy mystery series set in a Mediterranean restaurant on the Jersey Shore!)
Follow Me by Kathleen Barber (The author of Are You Sleeping is back with a stalker book.)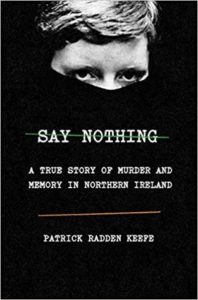 Say Nothing: A True Story of Murder and Memory in Northern Ireland by Patrick Radden Keefe (Fantastic true crime history now in paperback.)
Browse all the books recommended in Unusual Suspects previous newsletters on this shelf. See 2020 upcoming releases. An Unusual Suspects Pinterest board. Get Tailored Book Recommendations!
Until next time, keep investigating! In the meantime, come talk books with me on Twitter, Instagram, and Litsy–you can find me under Jamie Canavés.
If a mystery fan forwarded this newsletter to you and you'd like your very own you can sign up here.