Sponsored by Tor Books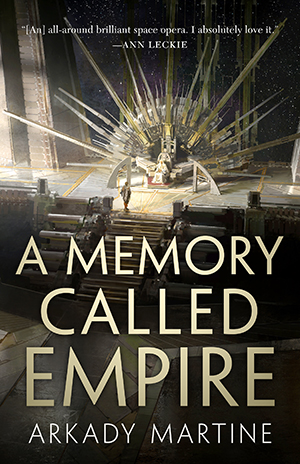 Ambassador Mahit Dzmare arrives in the center of the multi-system Teixcalaanli Empire only to discover that her predecessor has died. But, no one will admit that his death wasn't an accident—or that Mahit might be next to die, during a time of instability in the imperial court. Now, Mahit must discover who is behind the murder, rescue herself, and save her Station from Teixcalaan's unceasing expansion—all while navigating an alien culture that is all too seductive and hiding a deadly technological secret—one that might end her Station and her way of life—or rescue it from annihilation.
Happy Friday, shipmates! Time to head into the weekend, time to read some more books, and maybe some bookish news? It's Alex, here to help you out with all of that. Today it was snowing as I left work, which made the roads horrible. The good news was, I got to read a bunch of Stormsong, which is both REALLY FREAKING GOOD and incredibly appropriate to the weather.
In non-SFF news that warmed the cockles of my heart, Kickstarter has become the first tech company to unionize. Solidarity forever!
News and Views
Congratulations to all the finalists for the LA Times' first Ray Bradbury Prize!
You can read "Staying Behind" from Ken Liu's The Hidden Girl and Other Stories.
John Scalzi is going on tour for his next book! Here are the dates and places if you want to see him.
I managed to miss this, but we've got our first tie-in novel with the new Picard series! The Last Best Hope by Una McCormack. She wrote a Big Idea post about it over at Scalzi's blog.
…a TV show about time traveling vikings?
Cathy Yan saw this epic Birds of Prey appreciation thread, and it warmed my heart. Also, here is a beautiful eulogy for The Sandwich.
The New Horizons mission has already changed theories of planet formation.
On Book Riot
This week's SFF Yeah! podcast is about science fiction and fantasy that confronts slavery.
Free Association Friday
Today in history, two cool invention-type things that happened. First, in 1842 in Wales, the first self-propelling steam locomotive had its first outing at the Pen-y-Darren Ironworks. Then in 1842, John Greenough was awarded the first patent in the United States for the sewing machine. It's an invention that absolutely revolutionized fashion as an industry and changed our relationship to clothing forever, by making it into something that could be mass-produced and purchased much more cheaply. So here's a list that's half sewing and half trains, because I couldn't choose one or the other!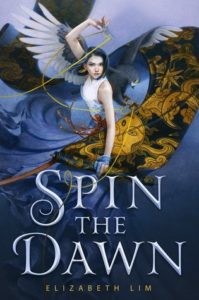 Spin the Dawn by Elizabeth Lim – Maia disguises herself as a boy to take her ailing father's place when he is summoned to court. Her father is a renowned tailor, a job she desperately wants and can't hope to attain if her gender is known. The bad news is, she takes his place in a contest with twelve other tailors, and there's a lot of backstabbing about to happen as they vye to sew three magical gowns for the emperor's reluctant betrothed.
Underground Railroad by Colson Whitehead – In an alternate history of pre-Civil-War America, the Underground Railorad is a literal railroad, and it's the only path to freedom a young enslaved woman named Cora has if she wants to survive.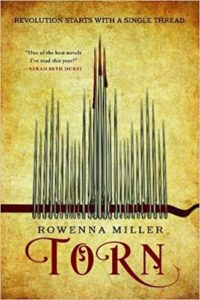 Torn by Rowenna Miller – Sophie is a charm caster and a dressmaker who has lifted her family out of poverty by creating beautiful ballgowns. She can truly secure their future with a royal contract… too bad her brother is an anti-monarchist revolutionary.
Railsea by China Miéville – Moletrains travel the endless rails of the railsea, harpooning moles for their ivory, battling for death and glory. Sham dreams that there is something more than this life, and one day finds a hint that it might exist–a wrecked train with pictures that hint of a different life. Soon, he's hunted on all sides, running toward a fate that will change the entire railsea.
Kushiel's Chosen by Jacqueline Carey – While it's not the focus of the novel, a couturier named Favrielle makes her first appearance in this book, and the descriptions of the fashion are just as lush as everything else in Phedre's adventures.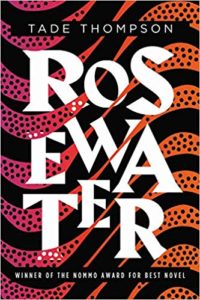 Rosewater by Tade Thompson – Again, not the focus, but I love the train that circles the alien dome around which the city of Rosewater in Nigeria has organically grown. Aliens have invaded, and brought with them psychic abilities and endless biological change that threatens to consume humanity… subtly.
The Half-Made World by Felix Gilman – In a world that's still half chaotic and still being made, it's the Line–spirit-possessed locomotives that wish to enslave the world under industry–versus the gun–a cult of viiolence and chaotic destruction.
---
See you, space pirates. You can find all of the books recommended in this newsletter on a handy Goodreads shelf. If you'd like to know more about my secret plans to dominate the seas and skies, you can catch me over at my personal site.