Sponsored by Book Marks: A Reading Tracker.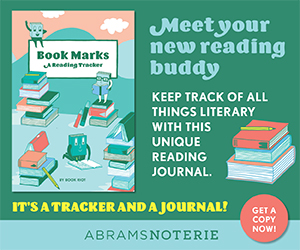 Meet your new reading buddy: an all-in-one spot to record everything and anything book related. Inspired by bullet journaling, Book Marks offers ideas for setting up a multitude of book tracking pages with a mix of fill-in prompts, charts, lists, and plenty of dot-grid pages to customize. To help expand your literary horizons, the journal also includes a section of recommended reading lists compiled by Book Riot. Use Book Marks to jot down what you're currently reading, what's on your nightstand, your favorite quotes, new vocabulary words, memorable characters, your reviews of recent reads, and more. A clever bonus: the back flap has a punch-out bookmark!
For a while now, one of our pop-culture obsessions has been with animated corpses. Whether it was The Walking Dead (I totally have a framed "Terminus" map behind my desk at my home in Atlanta, no joke), George Romero's Night of the Living Dead (I have always wanted to throw a Molotov cocktail), to the Game of Thrones Whitewalkers (don't get me started), or even Jordan Peele's Get Out, zombies are all around us.
Except, of course, those aren't zombies. Those are ghouls. Even Romero insisted that people pleeeease not call his corpses zombies–that's something different. Zombies originate in Haitian and voodoo culture, and in an oversimplified definition, they're not resurrected corpses. Zombies (or zombis or zombiis) are not dead at all. They're people whose actions are being controlled for them. The soul is IN THERE, but it has no agency.
Right here, right now, our theme is the zombie. By the way, you're in The Fright Stuff, Book Riot's weekly newsletter about the latest and greatest in horror. I'm Mary Kay McBrayer, and I'll be your Virgil through this realm of hell, the zombie.
Ear worm: "Black History Month" by Saul Williams. You might know this spoken word artist from the movie Slam, his performances on Def Poetry Jam ("Black Stacy" and "List of Demands), or his books of poetry, Said the Shotgun to the Head and Dead Emcee Scrolls. He's amazing.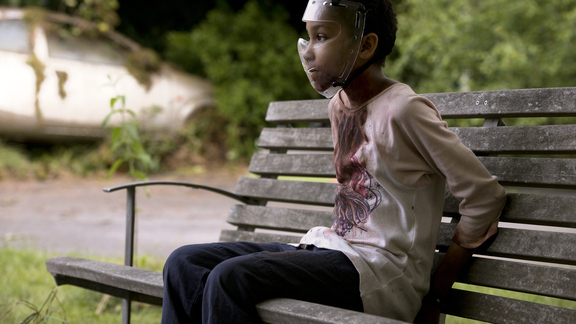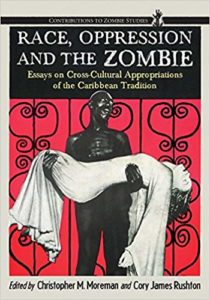 Race, Oppression, and the Zombie: Essays on Cross-Cultural Appropriations of the Caribbean Tradition by Christopher M. Moreman
This text is an anthology of essays that critique the presence of zombies in popular culture, and it's a MUST if you want to learn about both the historical beliefs and practices around the zombie as well as how they have been articulated in the entertainment industry.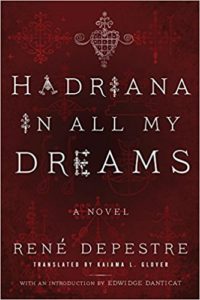 Hadriana in All My Dreams by Rene Depestre, Translated by Edwidge Danticat
Okay, first of all, Edwidge Danticat translated this novel into English, so that alone should be a raving endorsement. But, if you want to actually know about the book and not just go into it blind, here's the deal: Hadriana is a beautiful Haitian girl engaged to a great Haitian boy. On the day of her wedding, she drinks a zombie potion by accident, and her wedding becomes, instead, her funeral. I can't tell you anymore. I need you to read it and then @ me about it as you have strong reactions.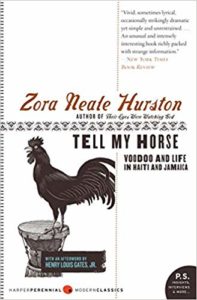 Tell My Horse by Zora Neale Hurston
Y'all know I won't ever shut up about Zora Neale Hurston, but if you didn't know (as I didn't know until last year) that she was an anthropologist as well as a writer of fiction, well. I'm here to help with that. This book, though slammed in its time for not being wholly autobiographical or ethnographical, is a detailed account of when Hurston went to study Voodoo culture in Haiti and Jamaica, and when she underwent indoctrination as a priestess in the religion. I learned about it from her ethnography of oral tradition, Mules and Men, which I also highly recommend.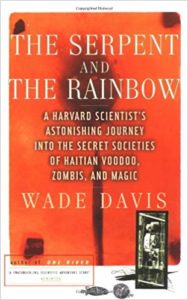 The Serpent and the Rainbow by Wade Davis
This book is a really interesting scientific perspective on the practice of making zombies. Wade Davis was a researcher charged with the task of isolating, documenting, and explaining the use of the "zombie powder," or the drug that allegedly (though his sponsors did not quite believe in it) turned people into zombies.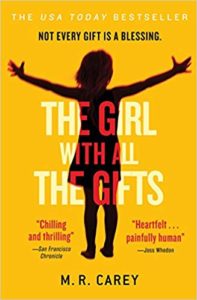 The Girl with All the Gifts by M.R. Carey
This work of fiction (the film adaptation of which is pictured above) undertakes a very interesting concept: what if zombies were born, not made? What if there was a triggering event that turned normal children into zombies? It's a fascinating idea about the apocalypse, and if you haven't read the book, do that, and also watch the movie, which you can stream for free with Amazon Prime.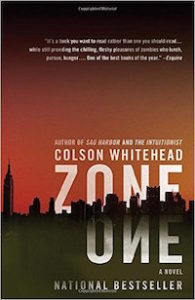 Zone One by Colson Whitehead
In this literary horror novel, after a viral pandemic has devastated civilization, armed forces and civilian "sweepers" are tasked with sorting the living from the living dead. As you can imagine, as with any apocalyptic scenario, things go horribly wrong.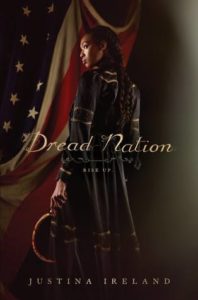 Dread Nation by Justina Ireland
This young adult novel is an alternate history in which the war between the states is derailed by walking corpses. Its protagonist is a young Black woman born to a white mother who is sent to a boarding and etiquette school to hone her fighting skills, out of legal obligation.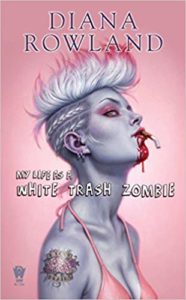 My Life as a White Trash Zombie by Diana Rowland
A high school dropout who lives with her alcoholic father survives a car crash without so much as a scratch… but that's not the weird part. Angel craves brains. And she's been called to a new job–unlike the dead-end ones from which she's already been fired–at the parish morgue.
News:
And, do you want to know more about Black Women in Zombie Film & Television History? Check out this piece on Graveyard Shift Sisters (and go ahead on and subscribe to them because everything they publish is gold).
Want to know what the color "haint blue" means to the descendants of enslaved Africans? Read this article.
Check out this article on NPR by Matt Thompson of the CodeSwitch podcast, "Why Black Heroes Make Zombie Stories More Interesting."
Here's a fascinating historical look at the history of women's illness and the power of naming it, "Of Womb-Furie, Hysteria, and Other Misnomers of the Feminine Condition" by Clare Beams
This excerpt from Something That May Shock and Discredit You comes from one of my favorite authors of horror, Daniel Mallory Ortberg. In this selection, he talks about transitioning and the end of The Golden Girls. 
Want to know about how the earliest crime scene investigators identified murder victims? Of course you do. 
And it's never too late for a Victorian vinegar Valentine… right?
I hope that you've enjoyed this realm of hell, the zombie.
Until next week, you can find me on Twitter @mkmcbrayer and Instagram at @marykaymcbrayer, and I'd love to hear of what news I missed OR what topics you want to read about in the upcoming newsletters!
Your Virgil,
Mary Kay McBrayer
co-host of Book Riot's literary fiction podcast, Novel Gazing