Sponsored by Doubleday, publishers of The Illness Lesson by Clare Beams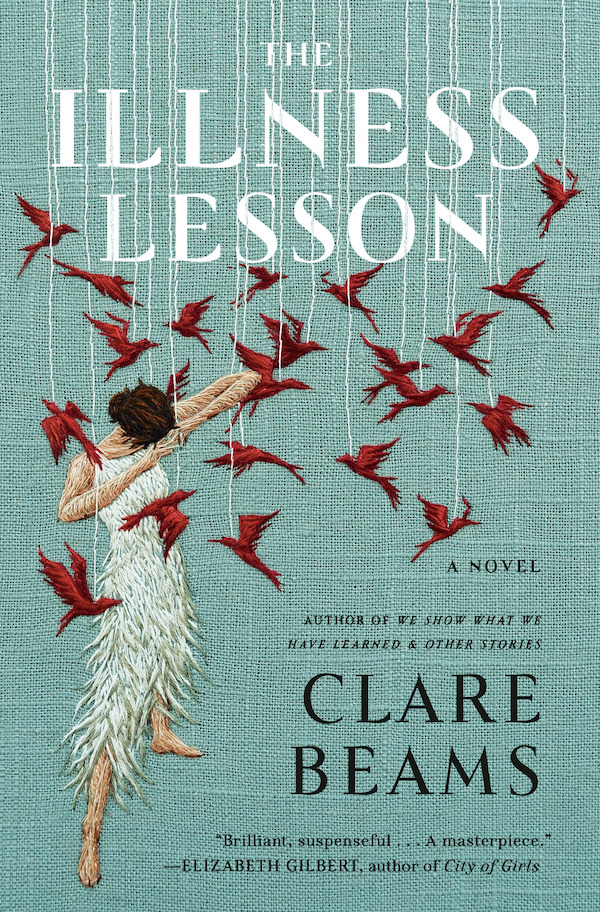 It's 19th century New England, and strange things are happening at the new Trilling Heart School. Recently founded by famed transcendentalist Samuel Hood and his daughter, Caroline, the school has only just opened its doors when a flock of mysterious red birds descend on campus, and, eerier still, the students begin to fall ill with strange symptoms. When the faculty turns to a sinister physician for treatment, Caroline begins to question her place at the school – and in the world at large.
Welcome to In The Club, a newsletter of resources to keep your book group well-met, well-read, and well-fed. This week I am fed up with 45 for the 7,572,985th time, whose 2021 budget proposes huge cuts to the arts and the elimination of library funding. I cannot, yo. No puedo! So today we're making book club all about the library love.
To the club!!
---
Nibbles and Sips
I was going to suggest a whole "make your own burger" thing and be like, "It's a stack. Like library stacks. Get it?!" But I like you all too much to go that far off the deep end; keeping it simple instead with a few book-themed nibbles and sips.
For drink ideas, I love my handy copies of Tequila Mockingbird and Gone with the Gin (shoutout to A Sidecar named Desire). I also love the Atonment Julep in this roundup of book-themed libations.
These library cookies are kind of corny but I heart them. I can throw down in the kitchen but don't bake much, so feel free to reach out to a local bakery if you aren't a master baker yourself.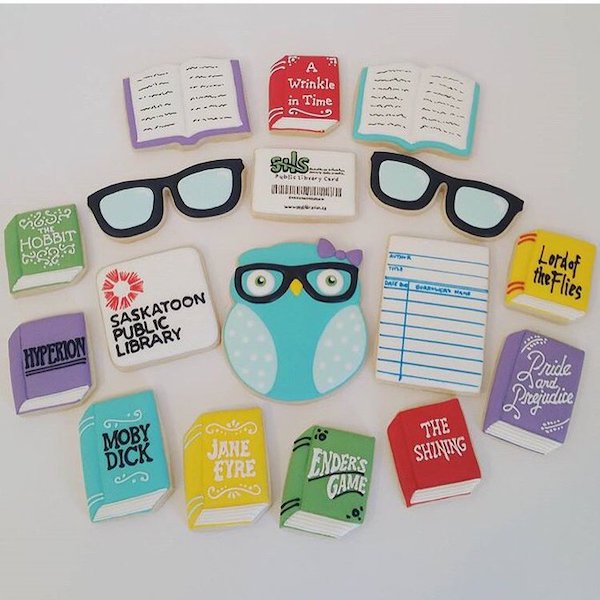 From the Saskatoon Public Library Twitter feed
For the Love of the Library
I don't have to tell you how important libraries are, you already know. So we're going to celebrate everything there is to love about libraries and librarians with some fantastic books on these subjects. One is a queer, near-future reinvention of actual historical librarians, one is a history with a dash of true crime, and one is a picture book about an iconic librarian. Discuss the role and impact of librarians throughout history, the evolution of the library in modern society, and share the myriad of services beyond the books that they provide (like these!)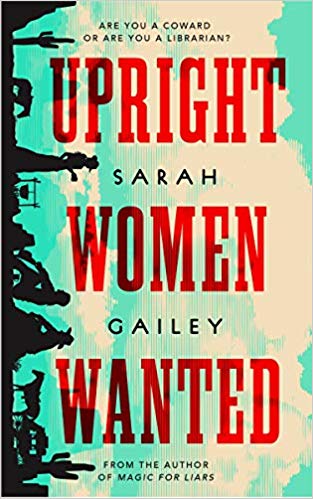 Upright Women Wanted by Sarah Gailey – A one-sitting read (or in my case, a one-listen audiobook) about Esther, who's just been discovered stowing away in the book wagon of the Librarians. She's trying to escape the arranged marriage her father set up for her, a marriage to a man who was previously engaged to Esther's best friend who BY THE WAY she was in love with and was just hung for possession of resistance propaganda. This book, yo. It's Sarah Gailey's take on the pulp Western, it's queer AF, and is inspired by the actual horseback librarians of the Great Depression!
The Library Book by Susan Orlean – I listened to this on audio, but I think I'd recommend this one in print if for no other reason than because it's just such a pretty book. It's a history of libraries as well as a deep dive into the devastating fire that almost wiped out the entire Los Angeles Central Library back in 1986. It's thought that arson was the cause of the fire but the case was never solved, and the news should have been front-page news but then… Chernobyl happened. You already love libraries, I already love libraries, but this book turns up the love to the next notch.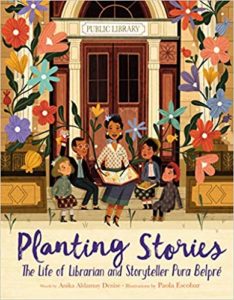 Planting Stories: The Life of Librarian and Storyteller Pura Belpré by Anika Aldamuy Denise, illustrated by Paola Escobar – I'm going with a picture book for my last pick because I'm obsessed with it, and because I don't share enough picks for kid book clubs. This is an absolutely gorgeous book about Pura Belpré, New York City's first Puerto Rican librarian and the namesake of the Pura Belpré Award. This story is important and wonderful, the illustrations are so detailed—there's one spread of the library that I legit want framed—but my absolute favorite part is the story Pura Belpré tells about Perez y Martina. Who are they, you ask? A cockroach and a mouse in love! The illustration of this insect + rodent romance with Martina perched on a Juliet balcony is just *chef's kiss.* This is the one and only time I've said "aww" in response to a cockroach, as opposed to my usual "KILL IT! KILL IT WITH FIRE!"
Bonus: This is also available in Spanish (you know this is the version I own) as Sembrando Historias. Perez y Martina forever!
Other library-themed faves:
The Invisible Library by Genevive Cogman
The Library at Night by Alberto Manguel
Sorcery of Thorns by Margaret Rogerson
Want even more awesome books featuring libraries?
10 Great Books About Libraries
100 Must-Read Books About Libraries & Bookstores
Other recommended reading:
Heroic Librarians: Unexpected Roles and Amazing Feats of Librarianship
5 Ways You Can Support Local Libraries
The Economic Case for Supporting Libraries
Suggestion Section
We have some discussion guides for some noteworthy book club reads! Check out topics for Colson Whitehead's The Underground Railroad, Elizabeth Gilbert's City of Girls, and The Dutch House by Ann Patchett.
You've got a friend book club, maybe a work book club, but what about a family book club?
A group of sci-fi and fantasy lovers at 2nd & Charles bookstore in Alabama noticed that SFF gets overlooked in a lot of traditional book clubs. So they started their own online SFF book club with a pretty rad name: Literarily Wasted.
---
Thanks for hanging with me today! Shoot me an email at vanessa@riotnewmedia.com with your burning book club questions or find me on Twitter and the gram @buenosdiazsd. Sign up for the Audiobooks newsletter, get it on the Read Harder podcast, and watch me booktube every Tuesday and Friday too.
Stay bad & bookish, my friends.
Vanessa
More Resources:
– Our Book Group In A Box guide
– List your group on the Book Group Resources page