Sponsored by Ecco.
Criminal psychologist Seonkyeong is shocked when she learns that notorious serial killer Yi Byeongdo wants to meet her. He's always refused to speak to anyone about his crimes, and so out of curiosity she agrees to interview him. Soon, she begins to notice frightening similarities between Yi Byeongdo and her own young stepdaughter, Hayeong, who has recently come to live with Seonkyeong and her husband after her grandparents died in a mysterious fire. The unravelling that follows is a masterwork of creepy psychological suspense.
Hi mystery fans! This week I'm doing a slightly mean thing and shouting about a book I really liked that comes out later this year–it's prebuy worthy and, this way, you can tell your library now that you want it and be first on that list! Also, I revisited a classic and have a great procedural sequel for you. We are never without a great book to read!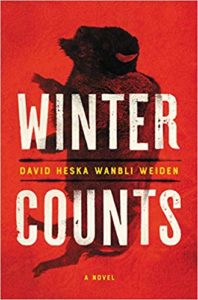 Winter Counts by David Heska Wanbli Weiden (August 25th, Ecco): I especially loved two things about this novel: the characters and the setting.You realize how starved we are for certain stories and voices when publishing finally tosses you one. It's like finally getting a drink in the desert, and as soon as you're done you're like give me so much more. That's how I felt with this mystery, which I could not put down.
Virgil Wounded Horse lives in South Dakota on the Rosebud Indian Reservation and makes a living off of a legal loophole of sorts. The local police are only allowed to handle certain cases and everything else must be passed on to the FBI. The problem in this is that the FBI does not take all the cases, which leaves many criminals, from predators to robbers, unpunished. That's where Virgil comes in: people pay him to basically beat the snot out of criminals who fall through the cracks. He's also raising his nephew since his sister passed away and is the only family left. Because he's responsible for not just himself anymore, he toys with taking a high paying job to investigate who is bringing in drugs to the reservation. He's reluctant for a slew of reasons including it's his ex-girlfriend's father hiring him. But when the case hits close to home he's left without much option. That's how he finds himself paired up with his ex-girlfriend, and the FBI, to find out what is happening.
I absolutely loved Virgil, the vigilante for hire, as he's cleaned up his life but still struggles to find his place. He's introspective, curious, and also listens. A great contrast in his partnership with his ex who has lived a privileged life and is also in different ways struggling to find her place. I also loved the balance of seeing many different characters' lives, and voices, on and off the reservation. A great mystery with excellent characters–everything you want in a crime novel!  (TW addiction/ mentions suicides, one with detail/ past rapes including children mentioned, not graphic/ child death/ pedophile, crimes off page/ fat shaming)
Strangers on a Train by Patricia Highsmith: I am not a rereader but I read this as a teenager and, well, that was certainly not yesterday. Paired with discussions of Highsmith recently, because the anniversary of her death was on the 4th, her diaries releasing and revealing her as a terrible person, and seeing the Folio society edition, I decided to reread the novel.
This is one of those works that has a famous adaptation and has inspired countless works, making many feel like they already know it so no need to read it. I was curious how this would affect my ability to get sucked into the suspense, and let me tell you this is so well written that, even with all I know, I spent the day with my headphones on listening to it. The tension is so well done. The unraveling. The exploration of obsession. All connected to a chance encounter between two strangers who express hate for people they know. Only one takes seriously the idea: I'll kill yours if you kill mine… If you've never read the classic, or it's been so long you've forgotten it, I'd say it's worth an afternoon to curl up with.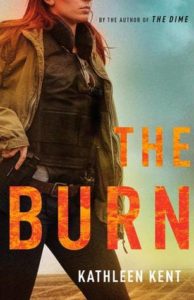 The Burn (Betty Rhyzyk #2) by Kathleen Kent: This is a really good procedural series that follows Betty Rhyzyk, a former NY cop who talks to her dead uncle in her head for advice, and who has just relocated to a new job in Dallas, Texas. She's tough and stubborn on the outside–ready to take on the world–but she's cracked on the inside and trying hard not to completely unravel. Some of her issues are from events that recently happened (first book, so I'll be vague), and some she brought along with her from New York. While she tries to hide her PTSD from those around her, especially her girlfriend Jackie, she's also trying to figure out who is murdering drug dealers. But ordered mandatory therapy and desk duty, she's going to have to get creative to solve the crime, and be suspicious of everyone, including her partner…
An awesome procedural that'll keep you on your toes and keep you rooting for the detective. (TW mentions past suicide with detail/ PTSD/ mentions of past child abuse/ alcoholism)
Recent Releases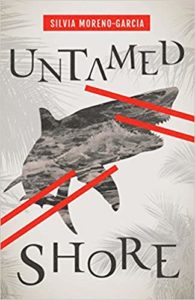 Untamed Shore by Silvia Moreno-Garcia (Currently reading: A suspense novel set in the '70s following a local woman in Baja California who becomes a live-in assistant to wealthy tourists, and you just know someone is gonna die and someone is gonna lie…)
Dead to Her by Sarah Pinborough (TBR: I have read all of Sarah Pinborough's twisty mystery/thrillers and I will continue to do so!)
The Only Child by by Mi-ae Seo, Jung Yewon (Translator) (Nurture vs nature when a dark criminal mind meets a kind, optimistic, criminal psychologist.) (TW child abuse/ animal cruelty/ past suicide)
The Falcon Thief: A True Tale of Adventure, Treachery, and the Hunt for the Perfect Bird by Joshua Hammer (Currently reading: For fans of The Feather Thief!)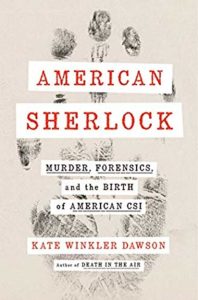 American Sherlock: Murder, Forensics, and the Birth of American CSI by Kate Winkler Dawson (TBR: A look at the the birth of criminal investigation in the twentieth century!)
All the Best Lies (Ellery Hathaway #3) by Joanna Schaffhausen (Currently reading: This is a dark series about a serial-killer-survivor-turned-cop who pairs up with the FBI agent that once saved her. It's great for fans of dark procedurals!)
Browse all the books recommended in Unusual Suspects previous newsletters on this shelf. See 2020 upcoming releases. An Unusual Suspects Pinterest board. Get Tailored Book Recommendations!
Until next time, keep investigating! In the meantime, come talk books with me on Twitter, Instagram, and Litsy–you can find me under Jamie Canavés.
If a mystery fan forwarded this newsletter to you and you'd like your very own you can sign up here.