Sponsored by Book Riot's new literary fiction podcast Novel Gazing.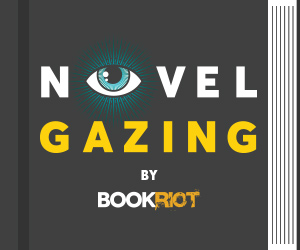 tk
Dave Matthews Writes Children's Books
Singer-songwriter Dave Matthews has written a middle grade fantasy novel with children's author Clete Barrett Smith: If We Were Giants. "'Having spent my childhood exploring the forests of Virginia and time as an adult with the San people of South Africa, I really respect a life balanced with nature,' Matthews said in a statement. 'I'm thrilled to be working with Clete and Disney Publishing to tell a story that focuses on the importance of the environment.'"
Free Poetry Reading!
On February 22nd, at Emory University's Schwartz Center for the Performing Arts, Nikki Giovanni will be giving a free poetry reading. Tickets won't be sold so, if you want to attend, get there early because it'll be limited. Can't make it? Hate crowds? You can read her wonderful book, A Good Cry: What We Learn From Tears and Laughter, all by yourself. And she has a TEDx Talk!
Trailer Time!
The HBO miniseries adaptation of Philip Roth's 2004 alternate American history novel, The Plot Against America, has a trailer! Coming in March, it stars Zoe Kazan, Morgan Spector, Winona Ryder, and John Turturro.