Sponsored by Flatiron Books, publishers of The Night Country by Melissa Albert
The highly anticipated sequel to Melissa Albert's beloved, New York Times bestselling debut The Hazel Wood! In The Night Country, Alice Proserpine dives back into a menacing, mesmerizing world of dark fairy tales and hidden doors. Follow her and Ellery Finch as they learn The Hazel Wood was just the beginning, and that worlds die not with a whimper, but a bang.
Happy new release day, shipmates! Here we are again, about to plunge into the teeming bookstores and come back, lighter in the wallet but richer in some really aweome books. It's Alex, with some news and a few new releases you might want to check out.
Also, I come bearing the gospel of Picard; I somehow managed to not cry through the entire first episodes, but I am on tenterhooks waiting for the second. If you have access to the CBS streaming service, make sure to catch up on the Short Treks (they're all in their own section now) because there are some really cute ones. When you get to The Trouble With Edward (warning: I spent the entire time almost howling with horrified laughter), do yourself a favor and make sure to watch ALL the way to the end.
Fun thing for the week: this is an absolutely amazing Twitter thread that reminds me Qualityland for reasons you will easily divine.
New Releases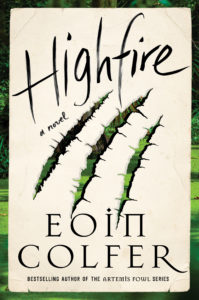 Highfire by Eoin Colfer – The great and terrifying Wyvern, Lord Highfire of the Highfire Eyrie, once struck fear into the hearts of humans everywhere. Now, disguised as a human you can just call "Vern," he would rather sit on his recliner and drink vodka while he watches Flashdance for the nth time. His peaceful existence of complete dissipation is interrupted by a canny young man called Squib who has just witnessed a murder and the corrupt cop who tries to blow him up with a grenade launcher. Squib's a clever young man and cuts a deal with "Vern" — he'll bring the dragon all the vodka he wants and listen to him talk about his favorite movie, in exchange for protection.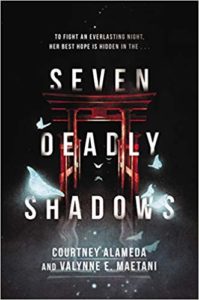 Seven Deadly Shadows by Courtney Alameda and Valynne E. Maetani – Bullied by her classmates and ignored by her parents, Kira only has one thing going for her, and it might be more of a curse than a blessing: she can see the yokai that travel the streets of Kyoto. When she learns that the demon king will rise during the next blood moon to hunt down an ancient relic that he will use to end the world, she knows she must seek the help of seven powerful death gods if she wants the world to have a fighting chance.
Buzz Kill by David Sosnowski – Two hackers–one the daughter of an online therapist to Silicon Valley's best and "squirreliest," and the other a White Hat who has been chatting with her dad after begin given the opportunity to go legit–meet online and conceive a bouncing baby AI named BUZZ.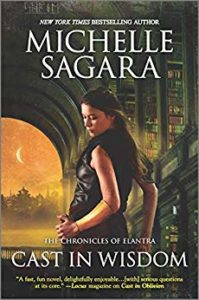 Cast in Wisdom by Michelle Sagara – The sentient Towers of the city of Elantra guard the world against the encroaching Shadow. Between the towers exists a border zone where magic works differently and the geography changes from one day to the next. When a Shadow escapes the reach of the towers, Kaylin and her dragon companion must figure out how and why; if the Shadows can reach the heart of Elantra, the city will be devoured.
News and Views
Jeannette Ng hits it out of the park with another excellent essay: Confessions of a Hate Reader, or Bad Writing Habits I Picked up from Bad Criticism
My new favorite Twitter account ever: Science Diagrams That Look Like Shitposts
New short story from Maria Dahvana Headley: The Girlfriend's Guide to Gods
Adam Driver did another round of Undercover Boss on SNL.
Big Data and The Centenal Cycle by Malka Older
Still on the fence about seeing Color Out of Space. And worth asking: Can you tell an HP Lovecraft story while rejecting his hatred?
Rudy Rucker discusses Agency with William Gibson
It's definitely not unusual for Star Trek to be very political, but the Daily Beast argues that Picard might be the most political show currently out there.
Relevant to my interests and perhaps yours: The first cookies have been baked in space.
On Book Riot
19 Door-Opening Quotes from The Ten Thousand Doors of January by Alix E. Harrow
5 Reasons Why You Should Be Reading Seanan McGuire
---
See you, space pirates. You can find all of the books recommended in this newsletter on a handy Goodreads shelf. If you'd like to know more about my secret plans to dominate the seas and skies, you can catch me over at my personal site.