Sponsored by Book Riot's new literary fiction podcast Novel Gazing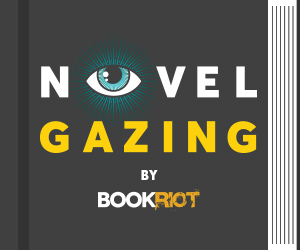 Novel Gazing is your destination for all things literary fiction, bringing you news from the world of fiction, and recommendations for under the radar reads, works in translation, buzzy books, and more. Stay in the know, expand your TBR and your view of literary fiction, and, of course, have some laughs with hosts Mary Kay McBrayer and Louise Johnson. Novel Gazing is a biweekly show available wherever you get your podcasts–go listen to episode one now!
Welcome to Check Your Shelf! This is your guide to help librarians like you up your game when it comes to doing your job (& rocking it).
Don't forget that Book Riot has a new literary fiction podcast called Novel Gazing! Put some lit fic in your ears!
---
Libraries & Librarians
News Updates
Cool Library Updates
Worth Reading
---
Book Adaptations in the News
---
Books & Authors in the News
---
Numbers & Trends
---
Award News
Pop Cultured
---
Bookish Curiosities & Miscellaneous
On the Riot
---
Catch you later, library friends!
Katie McLain Horner, @kt_librarylady on Twitter. Currently reading Vessel by Lisa A. Nichols.