Sponsored by Book Riot's new literary fiction podcast Novel Gazing.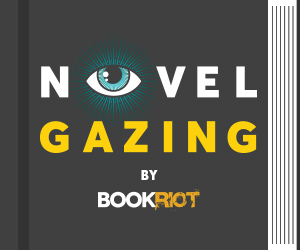 Novel Gazing is your destination for all things literary fiction, bringing you news from the world of fiction, and recommendations for under the radar reads, works in translation, buzzy books, and more. Stay in the know, expand your TBR and your view of literary fiction, and, of course, have some laughs with hosts Mary Kay McBrayer and Louise Johnson. Novel Gazing is a biweekly show available wherever you get your podcasts–go listen to episode one now!
Hey folks, happy Thursday! Before we get started, apologies to the author of the Jezebel piece on RWA, whose name is Kelly Faircloth, not Fairchild. (Also, a few weeks ago, I also gave Joanna Shupe's book to Joanna Bourne. I have been losing and mixing up words recently, so let me know if you see anything else weird pop up. Just call me Mrs. Malaprop!)
Okay, onward.
Over on Book Riot
I rounded up some romance series that would be great on film. And these are just the ones that could be done with a couple buildings and a bar's worth of extras.
Do you have Kindle Unlimited? This list is more than romance, but is worth checking out.
If you're a book journaler, or are interested in trying it out this year, this is a good list of prompts.
Jaime can't seem to quit the Goodreads Challenge, the one I waved goodbye to several years ago. I happily walked away without looking back, but Jaime keeps coming back, for several reasons.
Deals
When was the last time you read a romance featuring a charismatic gentleman who is good at selling things? What do you know about the history of makeup? Combine the two and you've got Some Like it Scandalous, a Gilded Age rivals-to-fake-engagement-to-lovers romance. Yes, note the hyphenations. A youthful Theo accidentally gives Daisy a childhood playground nickname that carries into her adulthood, and she'll never forgive him for it. But he needs a sensible wife for the sake of his family name (and own personal future), so what better person to make a deal with than Daisy, who also needs the boost of a high profile engagement.
New Books and Recommendations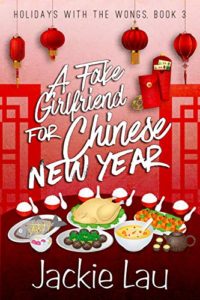 A Fake Girlfriend for Chinese New Year
Jackie Lau
Saturday (January 25) is Lunar New Year, and I had literally never heard of a romance novel set around the holiday (if you have, tell me about it!). This is the third book in Jackie Lau's Holidays with the Wongs series, after A Match Made for Thanksgiving and A Second Chance Road Trip for Christmas. The final book, A Big Surprise for Valentine's Day, comes out next month. In this one, Zach, the youngest Wong brother, hopes to avoid his matchmaking family at the next big family dinner—Chinese New Year. He decides to ask Jo, one of his best friends, to be his fake girlfriend for the dinner. But not just the dinner, because the town is full of gossips and they would have told the Wongs about Jo by then, so they agree to date in the weeks leading up as well. They've both established that they're not interested in a new relationship, having formed their friendship in the wake of two broken engagements. But some things are changing…
Wow, I hadn't intended to have a fake relationship theme, but here we are.
There are a bunch of other books out this week, and I want to read all of them!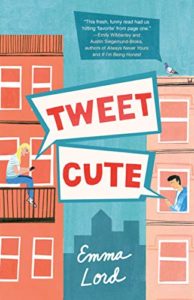 Tweet Cute by Emma Lord (isn't this cover adorable?)
Nottingham: The True Story of Robyn Hood by Anna Burke (f/f retelling of the story say what?)
Never A Bride by Caridad Pineiro
Headliners by Lucy Parker
A Promise Kept by Mallery Malone (a female Viking mercenary? I'm down.)
The Edge of the World by Garrett Leigh (This is the book Dreamspinner published even though Garrett asked for her rights back. So she's trying to recoup anything she lost and also give the middle finger to Dreamspinner.)
Thickerella by Tanzania Glover (which will be followed up by Sleeping Cutie in July OMIDOG I am fascinated.)
What are you picking up this weekend?
As usual, catch me on Twitter @jessisreading or Instagram @jess_is_reading, or send me an email at wheninromance@bookriot.com if you've got feedback, bookrecs, or just want to say hi!