Sponsored by Flatiron Books, publishers of The Night Country by Melissa Albert
The highly anticipated sequel to Melissa Albert's beloved, New York Times bestselling debut The Hazel Wood! In The Night Country, Alice Proserpine dives back into a menacing, mesmerizing world of dark fairy tales and hidden doors. Follow her and Ellery Finch as they learn The Hazel Wood was just the beginning, and that worlds die not with a whimper, but a bang.
Happy Friday, space pirates! It's Alex with some Friday news and some cool books you might want to check out. I will say, the best news I got all week is that Rian Johnson is already working on a sequel to Knives Out. And I am amused and, to be honest, a little puzzled by the trend of people seeing Cats while high out of their gourds. That's sure a thing.
I know I normally try to keep things light in the intro, but if you'll indulge me in being serious for a moment: everything I hear about the fires in Australia is breaking my heart. A couple of small ways we can help from half a world away are: Victoria Zoos' Bushfire Emergency Wildlife Fund and Fire Relief Fund for First Nations Communities. Longer term, there's Seed, an organization that supports Aboriginal and Torres Strait Islander young people fighting for climate justice.
News and Views
Essay of the week and an absolute barn burner: Asimov's Empire, Asimov's Wall (There are still notably awards named after Asimov.)
Locus has a report from the Chengdu International Science Fiction Conference.
Dune is going to be a set of graphic novels.
In "[Some] Star Wars fans are good, actually": Over 3300 donors have raised over $70,000 for Adam Driver's charity.
A lovely post at Tor.com about the works of Silvia Moreno-Garcia. (All of them are good and you should read them.)
Some short fiction recommendations from December, courtesy of Alex Brown at Tor.com. Or for an expansive list of short fiction recommendations that cover the whole year, Charles Payseur at Quick Sip Reviews has you covered.
Three Bill Williamson short stories by Harry Turtledove for your reading pleasure.
You can read the first chapter of Sarah Gailey's Upright Women Wanted. (Full disclosure: We have the same agent.)
Any week I can link you to PNAS is a good week. Here's a cool paper about a massive impact crater found in Laos, buried under a volcanic field. SyFy does a good layman's summary of it if you prefer. It's no Chicxulub, but it still would have been a bad day if you were in the neighborhood.
One more geology nerd thing: this interactive globe lets you see how a city's location has changed over millions of years.
On Book Riot
15 of the Best LGBTQ Science Fiction Books
In this week's SFF Yeah! podcast we're talking SFF with a dash of romance.
Free Association Friday: SFF Written by Muslim Authors
For absolutely no reason whatsoever, how about we talk about a few books by Muslim authors?
We Hunt the Flame by Hafsah Faizal – Set in a fantasy ancient Arabia, a girl who disguises herself as a boy hunts to feed her people, and a Prince assassinates the enemies of his father. They're both legends in their own right, whether they want to be or not, and they're on a collision course as they both seek the same magical artifact.
Throne of the Crescent Moon by Saladin Ahmed – The Crescent Moon Kingdoms are already boiling over with intrigue and conflict, the home to epic power struggles and magical beings. Add to that mix a series of supernatural murders that may be part of a plot to overthrow the throne, and the entire world may just tear itself down to the foundations.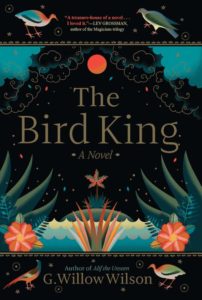 The Bird King by G. Willow Wilson – A historical fantasy set in the last emirate of Musliim Spain, about a concubine and her friend the palace mapmaker, who has the magical gift to make maps of places he's never seen–a gift viewed as dark sorcery by the rising Christian Spanish monarchy. With their lives and freedom at stake, the two friends have an impossible journey to make outside of the palace walls they've always known.
Palestine+100 – A short story anthology filled with the works of 12 Palestinian authors, imagining the not-so-far future of 2048 in ways that range from superheroes to sci-fi noir.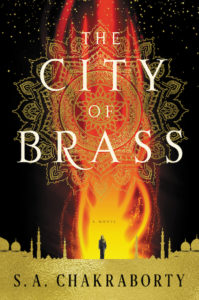 City of Brass by S.A. Chakraborty – I absolutely adore this book, which is about a con woman with a mysterious past and a djinn warrior who is the sort of arrogant yet weirdly loveable a-hole you want to shake by the hair, briefly set against the backdrop of the Ottoman empire before they depart the human world for that of the daeva. Then it's politics and magic and would the two of you just kiss already oh no there's also a handsome and well-intentioned prince who is so gosh darn nice that everyones manipulating him and did I mention that he's hot too oh noooooooo.
---
See you, space pirates. You can find all of the books recommended in this newsletter on a handy Goodreads shelf. If you'd like to know more about my secret plans to dominate the seas and skies, you can catch me over at my personal site.