Sponsored by Anyone by Charles Soule, and by Harper Perennial
Set in the near future, Anyone follows a scientist searching for an Alzheimer's cure who throws a switch and finds herself mysteriously transported into her husband's body. What begins as a botched experiment changes her life—and the world—forever… More than two decades later, "flash" technology allows people the ability to transfer their consciousness into other bodies for specified periods of time—paid, registered and legal. But beyond the reach of the law and government regulators is a sordid black market called the darkshare, where desperate "vessels" anonymously rent out their bodies, no questions asked, for any purpose—sex, drugs, crime… or worse.
Happy Friday, shipmates! How the heck is it already Friday? Where did the time go? (My theory is still: Time Witches.) Anyway, it's Alex coming to you with some news to read and a selection of SFF books that depict disability well.
Also, to get into the holiday spirit, I'd like to remind you of this gingerbread Star Destroyer from last year. Also, as a geologist, I must share with you this beautiful, cross-sectional Tweet.
News and Views
Lois McMaster Bujold has become SFWA's 36th Damon Knight Grand Master. Here's an interview they did with her in 2012.
The New Yorker profiled William Gibson and asked how he keeps his science fiction 'real.'
Dive Into Worldbuilding had a great talk with Paul Krueger about Steel Crow Saga. (Paul and I share an agent.)
io9 has done an "in memorium" for the fictional characters lost in 2019. WARNING FOR ATOMIC SPOILERS!
This is a really interesting post about Karin Tidbeck's book Amatka and the use of language in dystopian fiction.
Merriam-Webster's word of the year is They.
A cave in Indonesia might have the earliest depiction of hunting yet found.
We're still not good at predicting volcanic eruptions for a lot of reasons. Regarding the eruption in New Zealand that just happened…
On Book Riot
This week's SFF Yeah! podcast is about nostalgic SFF.
Everything we know (for now) about the Winds of Winter release date.
15 Must-Read Erotic Dramione Fan Fictions (if you're into that?)
Free Association Friday
Thirteen years ago today, the UN adopted the Convention on the Rights of Persons with Disabilities, which is a pretty big deal. Parties to this Convention are required to ensure that people with disabilities in their countries enjoy full human rights and protection under the law. (The USA, I will note, has signed on to the Convention, but then ratification failed in the Senate by six votes in 2012.)
To celebrate this major (but not final) step in ensuring the rights of people with disabilities/disabled people, how about some SFF that portrays disabilitiy realistically and postively?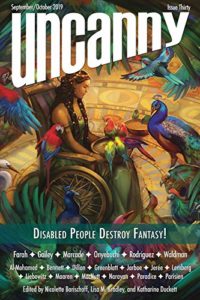 Let's start with some anthologies that offer great short stories and more: Accessing the Future edited by Djibril Al-Ayad and Kathryn Allan brings short fiction and artwork. Uncanny Magazine offers a two-fer of fiction and essays: Disabled People Destroy Science Fiction, edited by Dominik Parisen and Elsa Sjunneson-Henry, Nicolette Barischoff, S. Qioyi Lu, and Judith Tarr; and Disabled People Destroy Fantasy, edited by Katharine Duckett, Nicolette Barischoff, and Lisa M. Bradley. Also, definitely check out Crips in Space from the Deaf Poets Society.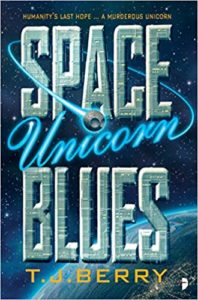 On the more scifi end of the spectrum, there's Ascension by Jacqueline Koyanagi; the main character is a "sky surgeon" who repairs spaceships while dealing with a chronic illness, and many of the secondary characters have disabilities as well. Space Unicorn Blues (and its sequel Five Unicorn Flush) have a spaceship captain who is a wheelchair user (when she's not just tooling around in her ship, kept at zero-G for her convenience). Salt Fish Girl by Larissa Lai is a little more abstract, but brings an examination of how people with non-ideal bodies are treated and exploited.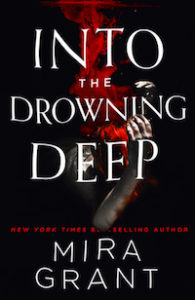 On the fantasy side, Into the Drowning Deep has two d/Deaf characters who are dealing with murderous mermaids. Fran Wilde's Bone Universe Trilogy, which starts with Updraft, has several characters with disabilities–and some of them are flying across the world's sky on handcrafted wings. Borderline (first book of the Arcadia series) by Michelle Baker has a heroine with borderline personality disorder who is called on to oversee the relationship between Hollywood and Fairyland. Sister Mine by Nalo Hopkinson is about two girls (who are demigods) born as conjoined twins; their separation leaves them each with a different disability.
---
See you, space pirates. You can find all of the books recommended in this newsletter on a handy Goodreads shelf. If you'd like to know more about my secret plans to dominate the seas and skies, you can catch me over at my personal site.