Sponsored by Soho Crime.
When a young girl disappears a few weeks before Christmas, suspicion falls on the last person she was seen with: a mentally disabled teenage boy who gave her a ride home after school. Complicating the matter is the fact that detectives can hardly get a word out of him. After a second child disappears and a police officer is found dead, Detective Inspector Embla Nyström knows that with the passing of each dark winter day, the odds of finding the children alive will shrink, and desperation will mount.
Hello mystery fans! With the rush of the holidays, all the Best of Lists already written, everyone just trying to survive the end of the year, and publishing taking a snooze, it can be hard for books that release at the end of the year to get some attention. So I've rounded up some recent and upcoming releases along with recent paperback releases that I'm either currently reading, planning on reading, or read.
A Madness of Sunshine by Nalini Singh: I just started this one in print and immediately loaded the audiobook on my phone because those holiday decorations aren't going to hang themselves. Anyhoo, Singh is a really popular romance/sci-fi/fantasy author and this seems to be her first thriller/suspense. It's set in a remote town on the West Coast of New Zealand–and that was enough to sell me!–where years back a bunch of people disappeared. And now there's a missing young woman. Dun, dun, dun! I can't wait for all the small-town secrets to come out.
Good Girls Lie by J.T. Ellison: A few years back Ellison wrote a twisty thriller, No One Knows, that I inhaled so I always keep an eye out for her books. This time we have a rich people prep school with a secret society, a death, and "there are truths and there are lies, and then there is everything that really happened."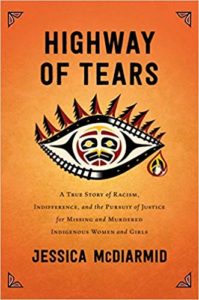 Highway of Tears: A True Story of Racism, Indifference and the Pursuit of Justice for Missing and Murdered Indigenous Women and Girls by Jessica McDiarmid: If light holiday reading isn't your thing, here's a true crime book. The Highway of Tears is what an isolated stretch of highway in northwestern British Columbia has come to be called because for decades it's where Indigenous girls and women have been murdered or disappeared from. "…a powerful story about our ongoing failure to provide justice for missing and murdered Indigenous women and girls, and a testament to their families and communities' unwavering determination to find it."
Shatter the Night (Detective Gemma Monroe #4) by Emily Littlejohn: For procedural fans, here's a series starring a Colorado police officer, Detective Gemma Monroe. It's set around Halloween when a judge confides in Monroe that he's been threatened and then things go BOOM–literally. With more murders, a cursed production of Macbeth, and a copycat killer Monroe better figure out what is happening fast…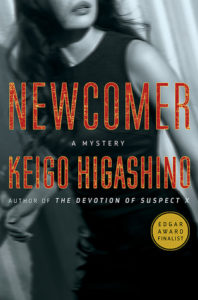 Newcomer (Kyoichiro Kaga #2) by Keigo Higashino, Giles Murray (Translator) (Paperback): First, don't worry about it being the 2nd in the series, these aren't even being translated in order–it's technically the 8th in the Japanese series. Second, this is a great mystery–surrounding a murdered woman–that also takes you into the business district of Nihonbashi, Japan as you follow different characters. Everyone has drama, and secrets, and day-to-day life problems making the detective have to work to unravel what may be connected to his case and what is not… If you shy away from Japanese crime novels because they're usually labeled dark, this one doesn't go into gritty details and instead focuses on the lives of the possible suspects. Great mystery to curl up with during winter.
Seventeen by Hideo Yokoyama, Louise Heal Kawai (Translator) (Paperback): Yokoyama wrote Six Four, which was a really detailed procedural that gave you the politics of the job in Japan and then flipped the thriller switch for the very end. And that's why I'm excited to read his second book which is also politically fueled inner workings this time of the newspaper world set in 2003 but linked to the deadliest airplane crash in the '80s. I am here for human drama and these slow-burn mysteries.
Browse all the books recommended in Unusual Suspects previous newsletters on this shelf. See 2020 upcoming releases. An Unusual Suspects Pinterest board. Get Tailored Book Recommendations!
Until next time, keep investigating! In the meantime, come talk books with me on Twitter, Instagram, and Litsy–you can find me under Jamie Canavés.
If a mystery fan forwarded this newsletter to you and you'd like your very own you can sign up here.