Sponsored by Read Harder Journal, a reading log for tracking your books and reading outside your comfort zone!
This smartly designed reading log consists of entry pages to record stats, impressions, and reviews of each book you read. Evenly interspersed among these entry pages are 12 challenges inspired by our annual Read Harder initiative, which began in 2015 to encourage readers to pick up passed-over books, try out new genres, and choose titles from a wider range of voices and perspectives. Each challenge includes an inspiring quotation, an explanation of why the challenge will prove to be rewarding, and five book recommendations that fulfill the challenge. Get your copy (or one for the reader in your life for the holidays) here!
Hi Kid Lit friends!
Yay, it's time for my annual gift giving guide for middle grade books published in 2019! As I have done in the past, I have grouped my favorites based on themes from classic children's books. Check out this list of over sixty middle grade books, sure to entice your young readers.
*Please note that all book descriptions are from Goodreads.
*If you're looking for more recommendations, check out my 2017 post here and my 2018 post here.
If you liked A Wrinkle in Time, try…
Eventown by Corey Ann Haydu
The world tilted for Elodee this year, and now it's impossible for her to be the same as she was before. Not when her feelings have such a strong grip on her heart. Not when she and her twin sister, Naomi, seem to be drifting apart. So when Elodee's mom gets a new job in Eventown, moving seems like it might just fix everything. Indeed, life in Eventown is comforting and exciting all at once. Everything may be "even" in Eventown, but is there a price to pay for perfection—and pretending?
The Lost Girl by Anne Ursu
When you're an identical twin, your story always starts with someone else. For Iris, that means her story starts with Lark. Iris has always been the grounded, capable, and rational one; Lark has been inventive, dreamy, and brilliant―and from their first moments in the world together, they've never left each other's side. When fifth grade arrives, however, it's decided that Iris and Lark should be split into different classrooms, and something breaks in them both. And at the same time, something strange is happening in the city around them, things both great and small going missing without a trace. As Iris begins to understand that anything can be lost in the blink of an eye, she decides it's up to her to find a way to keep her sister safe.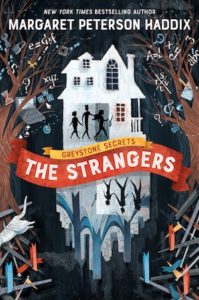 Greystone Secrets: The Strangers by Margaret Peterson Haddix
The Greystone kids thought they knew. Chess has always been the protector over his younger siblings, Emma loves math, and Finn does what Finn does best—acting silly and being adored. They've been a happy family, just the three of them and their mom. But everything changes when reports of three kidnapped children reach the Greystone kids, and they're shocked by the startling similarities between themselves and these complete strangers. The other kids share their same first and middle names. They're the same ages. They even have identical birthdays. Who, exactly, are these strangers?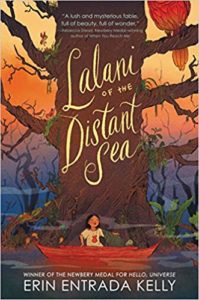 Lalani of the Distant Sea by Erin Entrada Kelly
Life is difficult on the island of Sanlagita. To the west looms a vengeful mountain, one that threatens to collapse and bury the village at any moment. To the north, a dangerous fog swallows sailors who dare to venture out, looking for a more hospitable land. And what does the future hold for young girls? When Lalani Sarita's mother falls gravely ill, twelve-year-old Lalani faces an impossible task—she must leave Sanlagita and find the riches of the legendary Mount Isa, which towers on an island to the north. But generations of men and boys have died on the same quest—how can an ordinary girl survive the epic tests of the archipelago?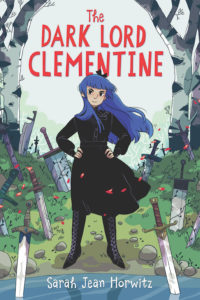 The Dark Lord Clementine by Sarah Jean Horwitz
Dastardly deeds aren't exactly the first things that come to mind when one hears the name "Clementine," but as the sole heir of the infamous Dark Lord Elithor, twelve-year-old Clementine Morcerous has been groomed since birth to be the best (worst?) Evil Overlord she can be. But everything changes the day her father is cursed by a mysterious rival. Now, Clementine must not only search for a way to break the curse, but also take on the full responsibilities of the Dark Lord. What if the Dark Lord Clementine doesn't want to be a dark lord after all?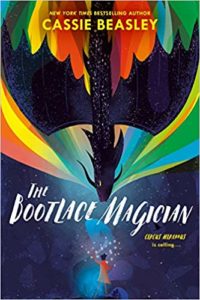 The Bootlace Magician by Cassie Beasley
The circus is a place filled with dazzling fire shows, stubborn unicorns, and magicians from every corner of the world. And Micah is doing everything he can to prove he belongs there. When a dangerous enemy from the past threatens his new home, Micah will have to untangle the mystery of his own potent magic, and he'll have to do it fast. With trouble this deadly on its way, every magician will need to be ready to fight. Even the youngest.
Check out the companion novel, Circus Mirandus.
If you liked Number the Stars by Lois Lowry, try…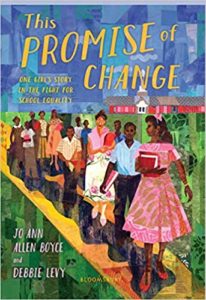 The Promise of Change: One Girl's Story in the Fight for School Equality by Jo Ann Allen Boyce and Debbi Levy
In 1956, one year before federal troops escorted the Little Rock 9 into Central High School, fourteen year old Jo Ann Allen was one of twelve African-American students who broke the color barrier and integrated Clinton High School in Tennessee. At first things went smoothly for the Clinton 12, but then outside agitators interfered, pitting the townspeople against one another. Uneasiness turned into anger, and even the Clinton Twelve themselves wondered if the easier thing to do would be to go back to their old school. Jo Ann–clear-eyed, practical, tolerant, and popular among both black and white students—found herself called on as the spokesperson of the group. But what about just being a regular teen?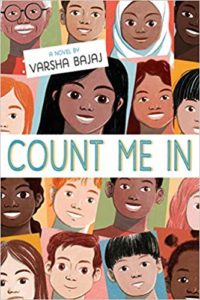 Count Me In by Varsha Bajaj
Karina Chopra would have never imagined becoming friends with the boy next door–after all, they've avoided each other for years and she assumes Chris is just like the boys he hangs out with, who she labels a pack of hyenas. Then Karina's grandfather starts tutoring Chris, and she discovers he's actually a nice, funny kid. But one afternoon something unimaginable happens–the three of them are assaulted by a stranger who targets Indian-American Karina and her grandfather because of how they look. Her grandfather is gravely injured and Karina and Chris vow not to let hate win.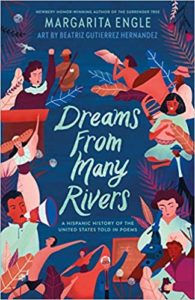 Dreams From Many Rivers by Margarita Engle
From Juana Briones and Juan Ponce de León, to eighteenth century slaves and modern-day sixth graders, the many and varied people depicted in this moving narrative speak to the experiences and contributions of Latinos throughout the history of the United States, from the earliest known stories up to present day. It's a portrait of a great, enormously varied, and enduring heritage. A compelling treatment of an important topic.
Torpedoed: The True Story of the World War II Sinking of 'The Children's Ship' by Deborah Heiligman
Amid the constant rain of German bombs and the escalating violence of World War II, British parents by the thousands chose to send their children out of the country: the wealthy, independently; the poor, through a government relocation program called CORB. In September 1940, passenger liner SS City of Benares set sail for Canada with one hundred children on board. When the war ships escorting the Benares departed, a German submarine torpedoed what became known as the Children's Ship. Out of tragedy, ordinary people became heroes. This is their story.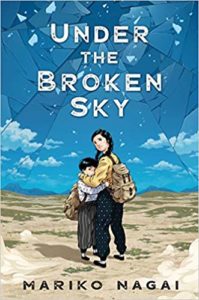 Under the Broken Sky by Mariko Nagai
Twelve-year-old Natsu and her family live a quiet farm life in Manchuria, near the border of the Soviet Union. But the life they've known begins to unravel when her father is recruited to the Japanese army, and Natsu and her little sister, Asa, are left orphaned and destitute. In a desperate move to keep her sister alive, Natsu sells Asa to a Russian family following the 1945 Soviet occupation. The journey to redemption for Natsu's broken family is rife with struggles, but Natsu is tenacious and will stop at nothing to get her little sister back.
If you liked Hatchet by Gary Paulsen, try…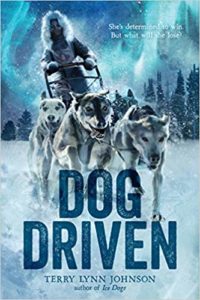 Dog Driven by Terry Lynn Johnson
McKenna Barney is trying to hide her worsening eyesight and has been isolating herself for the last year. But at the request of her little sister, she signs up for a commemorative mail run race in the Canadian wilderness—a race she doesn't know if she can even see to run. Winning would mean getting her disease—and her sister's—national media coverage, but it would also pit McKenna and her team of eight sled dogs against racers from across the globe for three days of shifting lake ice, sudden owl attacks, snow squalls, and bitterly cold nights.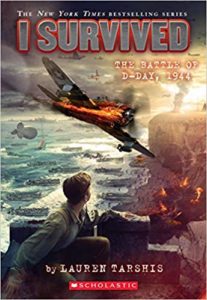 I Survived: The Battle of D-Day, 1944 by Lauren Tarshis (18th book in the series)
In commemoration of the 75th anniversary of D-Day, Lauren Tarshis shines a spotlight on the story of the Normandy landings, the largest seaborne invasion in history and foundation for the Allied victory in World War II.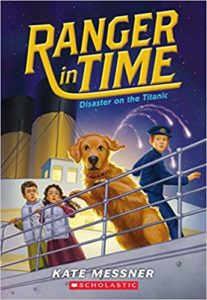 Ranger in Time: Disaster on the Titanic by Kate Messner (9th book in the series)
Everyone says the Titanic is unsinkable, and Patrick Murphy believes this most of all. He grew up near the shipyard where the magnificent ship was built and officially started working there when he turned thirteen. He's even been chosen to be part of the crew during the Titanic's maiden voyage! Ranger meets Patrick before the ship sets sail, and once on board, they befriend Maryam and Hamad. But one night, the ship hits an iceberg and starts to take on water. It's a race against time for Ranger and his friends to help get as many passengers — including themselves — off the ship before it's too late.
Charlie Thorne and the Last Equation by Stuart Gibbs
Decades ago, Albert Einstein devised an equation that could benefit all life on earth—or destroy it. Fearing what would happen if the equation fell into the wrong hands, he hid it. But now, a diabolical group known as the Furies are closing in on its location. In desperation, a team of CIA agents drags Charlie into the hunt, needing her brilliance to find it first—even though this means placing her life in grave danger.
If you liked Are You There, God? It's Me, Margaret by Judy Blume, try…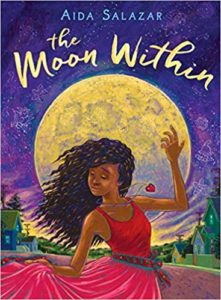 The Moon Within by Aida Salazar
Celi Rivera's life swirls with questions. About her changing body. Her first attraction to a boy. And her best friend's exploration of what it means to be genderfluid. But most of all, her mother's insistence she have a moon ceremony when her first period arrives. It's an ancestral Mexica ritual that Mima and her community have reclaimed, but Celi promises she will NOT be participating. Can she find the power within herself to take a stand for who she wants to be?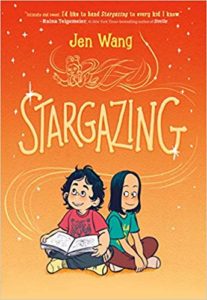 Stargazing by Jen Wang
Moon is everything Christine isn't. She's confident, impulsive, artistic . . . and though they both grew up in the same Chinese-American suburb, Moon is somehow unlike anyone Christine has ever known. But after Moon moves in next door, these unlikely friends are soon best friends, sharing their favorite music videos and painting their toenails when Christine's strict parents aren't around. Moon even tells Christine her deepest secret: that she has visions, sometimes, of celestial beings who speak to her from the stars. Who reassure her that earth isn't where she really belongs.
Lety Out Loud by Angela Cervantes
Lety Muñoz's first language is Spanish, and she likes to take her time putting her words together. She loves volunteering at the Furry Friends Animal Shelter because the dogs and cats there don't care if she can't always find the right word. When the shelter needs a volunteer to write animal profiles, Lety jumps at the chance. But grumpy classmate Hunter also wants to write profiles — so now they have to work as a team. Hunter's not much of a team player, though. He devises a secret competition to decide who will be the official shelter scribe. Whoever helps get their animals adopted the fastest wins. The loser scoops dog food.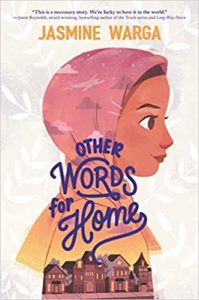 Other Words for Home by Jasmine Warga
Jude never thought she'd be leaving her beloved older brother and father behind, all the way across the ocean in Syria. But when things in her hometown start becoming volatile, Jude and her mother are sent to live in Cincinnati with relatives. At first, everything in America seems too fast and too loud. The American movies that Jude has always loved haven't quite prepared her for starting school in the US—and her new label of "Middle Eastern," an identity she's never known before.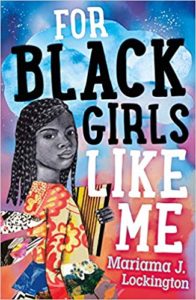 For Black Girls Like Me by Mariama J. Lockington
Makeda June Kirkland is eleven years old, adopted, and black. Her parents and big sister are white, and even though she loves her family very much, Makeda often feels left out. When Makeda's family moves from Maryland to New Mexico, she leaves behind her best friend, Lena― the only other adopted black girl she knows― for a new life. In New Mexico, everything is different. At home, Makeda's sister is too cool to hang out with her anymore and at school, she can't seem to find one real friend. Through it all, Makeda can't help but wonder: What would it feel like to grow up with a family that looks like me?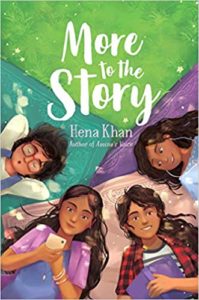 More to the Story by Hena Khan
When Jameela Mirza is picked to be feature editor of her middle school newspaper, she's one step closer to being an award-winning journalist like her late grandfather. The problem is her editor-in-chief keeps shooting down her article ideas. Jameela's assigned to write about the new boy in school, who has a cool British accent but doesn't share much, and wonders how she'll make his story gripping enough to enter into a national media contest. Jameela, along with her three sisters, is devastated when their father needs to take a job overseas, away from their cozy Georgia home for six months. Missing him makes Jameela determined to write an epic article—one to make her dad extra proud. But when her younger sister gets seriously ill, Jameela's world turns upside down.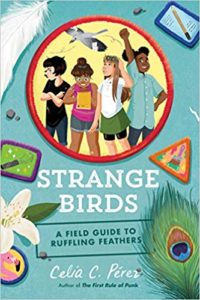 Strange Birds by Celia C. Perez
When three very different girls find a mysterious invitation to a lavish mansion, the promise of adventure and mischief is too intriguing to pass up. Ofelia Castillo (a budding journalist), Aster Douglas (a bookish foodie), and Cat Garcia (a rule-abiding birdwatcher) meet the kid behind the invite, Lane DiSanti, and it isn't love at first sight. But they soon bond over a shared mission to get the Floras, their local Scouts, to ditch an outdated tradition. In their quest for justice, independence, and an unforgettable summer, the girls form their own troop and find something they didn't know they needed: sisterhood.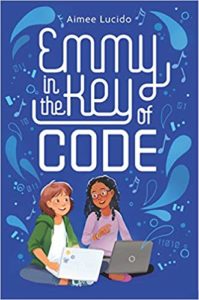 Emmy in the Key of Code by Aimee Lucido
In a new city, at a new school, twelve-year-old Emmy has never felt more out of tune. Things start to look up when she takes her first coding class, unexpectedly connecting with the material—and Abigail, a new friend—through a shared language: music. But when Emmy gets bad news about their computer teacher, and finds out Abigail isn't being entirely honest about their friendship, she feels like her new life is screeching to a halt. Despite these obstacles, Emmy is determined to prove one thing: that, for the first time ever, she isn't a wrong note, but a musician in the world's most beautiful symphony.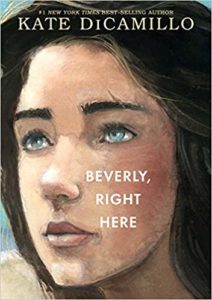 Beverly, Right Here by Kate DiCamillo
Beverly Tapinski has run away from home plenty of times, but that was when she was just a kid. By now, she figures, it's not running away. It's leaving. Determined to make it on her own, Beverly finds a job and a place to live and tries to forget about her dog, Buddy, now buried underneath the orange trees back home; her friend Raymie, whom she left without a word; and her mom, Rhonda, who has never cared about anyone but herself. Beverly doesn't want to depend on anyone, and she definitely doesn't want anyone to depend on her. But despite her best efforts, she can't help forming connections with the people around her — and gradually, she learns to see herself through their eyes.
Check out the companion novels, Raymie Nightingale and Louisiana's Way Home.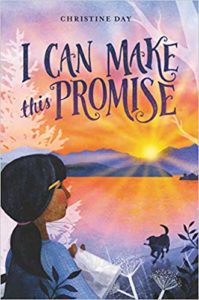 I Can Make This Promise by Christine Day
All her life, Edie has known that her mom was adopted by a white couple. So, no matter how curious she might be about her Native American heritage, Edie is sure her family doesn't have any answers. Until the day when she and her friends discover a box hidden in the attic—a box full of letters signed "Love, Edith," and photos of a woman who looks just like her. Suddenly, Edie has a flurry of new questions about this woman who shares her name. Could she belong to the Native family that Edie never knew about? But if her mom and dad have kept this secret from her all her life, how can she trust them to tell her the truth now?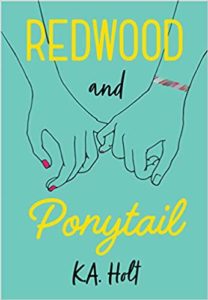 Redwood and Ponytail by K.A. Holt
Kate and Tam meet, and both of their worlds tip sideways. At first, Tam figures Kate is your stereotypical cheerleader; Kate sees Tam as another tall jock. And the more they keep running into each other, the more they surprise each other. Beneath Kate's sleek ponytail and perfect façade, Tam sees a goofy, sensitive, lonely girl. And Tam's so much more than a volleyball player, Kate realizes: She's everything Kate wishes she could be. It's complicated. Except it's not. When Kate and Tam meet, they fall in like. It's as simple as that. But not everybody sees it that way.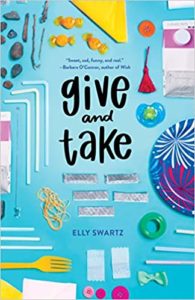 Give and Take by Elly Swartz
Family has always been important to twelve-year-old Maggie: a trapshooter, she is coached by her dad and cheered on by her mom. But her grandmother's recent death leaves a giant hole in Maggie's life, one which she begins to fill with an assortment of things: candy wrappers, pieces of tassel from Nana's favorite scarf, milk cartons, sticks . . . all stuffed in cardboard boxes under her bed. Then her parents decide to take in a foster infant. But anxiety over the new baby's departure only worsens Maggie's hoarding, and soon she finds herself taking and taking until she spirals out of control.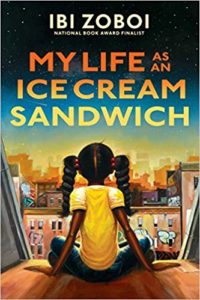 My Life as Ice Cream Sandwich by Ibi Zoboi
Twelve-year-old Ebony-Grace Norfleet has lived with her beloved grandfather Jeremiah in Huntsville, Alabama ever since she was little. As one of the first black engineers to integrate NASA, Jeremiah has nurtured Ebony-Grace's love for all things outer space and science fiction—especially Star Wars and Star Trek. But in the summer of 1984, when trouble arises with Jeremiah, it's decided she'll spend a few weeks with her father in Harlem.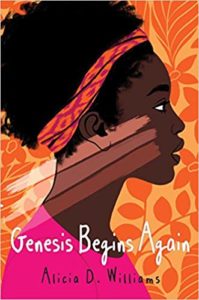 Genesis Begins Again by Alicia D. Williams
There are ninety-six things Genesis hates about herself. She knows the exact number because she keeps a list. Like #95: Because her skin is so dark, people call her charcoal and eggplant—even her own family. And #61: Because her family is always being put out of their house, belongings laid out on the sidewalk for the world to see. When your dad is a gambling addict and loses the rent money every month, eviction is a regular occurrence.
If you liked Scary Stories to Tell in the Dark by Alvin Schwartz, try…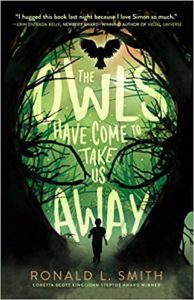 The Owls Have Come to Take Us Away by Ronald L. Smith
Twelve-year-old Simon is obsessed with aliens. The ones who take people and do experiments. When he's too worried about them to sleep, he listens to the owls hoot outside. Owls that have the same eyes as aliens—dark and foreboding. Then something strange happens on a camping trip, and Simon begins to suspect he's been abducted. But is it real, or just the overactive imagination of a kid who loves fantasy and role-playing games and is the target of bullies and his father's scorn?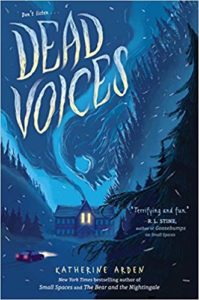 Dead Voices by Katherine Arden (second book in the series)
Having survived sinister scarecrows and the malevolent smiling man in Small Spaces, newly minted best friends Ollie, Coco, and Brian are ready to spend a relaxing winter break skiing together with their parents at Mount Hemlock Resort. But when a snowstorm sets in, causing the power to flicker out and the cold to creep closer and closer, the three are forced to settle for hot chocolate and board games by the fire. Then Mr. Voland, a mysterious ghost hunter, arrives in the midst of the storm to investigate the hauntings at Hemlock Lodge. Ollie, Coco, and Brian want to trust him, but Ollie's watch, which once saved them from the smiling man, has a new cautionary message: BEWARE.
Check out the first book in the series, Small Spaces.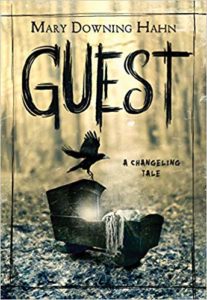 Guest by Mary Downing Hahn
When her adorable baby brother is replaced by an ugly, ill-tempered changeling, Mollie is determined to find the so-called Kinde Folke who took baby Thomas, return the changeling she calls Guest, and make them give Thomas back. Natural and magical obstacles and her own reckless temperament make her journey arduous and full of dangers…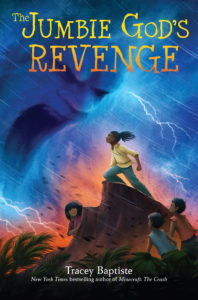 The Jumbie God's Revenge by Tracey Baptiste
When an out-of-season hurricane sweeps through Corinne's seaside village, Corinne knows it's not an ordinary storm. At first Corinne believes Mama D'Leau, the powerful and cruel jumbie who rules the ocean, has caused the hurricane. Then an even more ferocious storm wrecks the island, sending villagers fleeing their houses for shelter in the mountains, and Corinne discovers the storms weren't caused by a jumbie, but by the angry god Huracan. Now Corinne, with the help of her friends and even some of her enemies, must race against time to find out what has angered Huracan and try to fix it before her island home is destroyed forever.
Check out the first two books in the series, The Jumbies and Rise of the Jumbies.
If you liked The Wednesday Wars by Gary Schmidt, try…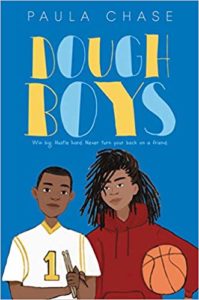 Dough Boys by Paula Chase
Deontae "Simp" Wright has big plans for his future. Plans that involve basketball, his best friend, Rollie, and making enough money to get his mom and four younger brothers out of the Cove, their low-income housing project. Long term, this means the NBA. Short term, it means being a dough boy—getting paid to play lookout and eventually moving up the rungs of the neighborhood drug operation with Rollie as his partner. Roland "Rollie" Matthews used to love playing basketball. He loved the rhythm of the game, how he came up with his best drumbeats after running up and down the court. But playing with the elite team comes with extra, illegal responsibilities, and Rollie isn't sure he's down for that life. The new talented-and-gifted program, where Rollie has a chance to audition for a real-life go-go band, seems like the perfect excuse to stop being a dough boy. But how can he abandon his best friend?
Check out the companion novel, So Done.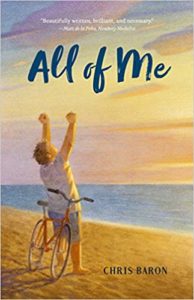 All of Me by Chris Baron
Ari has body-image issues. After a move across the country, his parents work selling and promoting his mother's paintings and sculptures. Ari's bohemian mother needs space to create, and his father is gone for long stretches of time on "sales" trips. Meanwhile, Ari makes new friends: Pick, the gamer; the artsy Jorge, and the troubled Lisa. He is also relentlessly bullied because he's overweight, but he can't tell his parents―they're simply not around enough to listen. After an upsetting incident, Ari's mom suggests he go on a diet, and she gives him a book to help. But the book―and the diet―can't fix everything.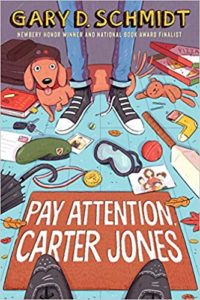 Pay Attention, Carter Jones by Gary D. Schmidt
Carter Jones is astonished early one morning when he finds a real English butler, bowler hat and all, on the doorstep – one who stays to help the Jones family, which is a little bit broken. In addition to figuring out middle school, Carter has to adjust to the unwelcome presence of this new know-it-all adult in his life and navigate the butler's notions of decorum. And ultimately, when his burden of grief and anger from the past can no longer be ignored, Carter learns that a burden becomes lighter when it is shared.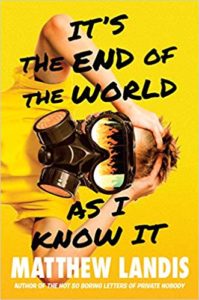 It's The End Of The World As I Know It by Matthew Landis
Ever since his mother was killed in the line of duty in Iraq, Derrick has been absolutely certain that the apocalypse is coming. And he's prepared: he's got plenty of canned goods, he's fully outfitted with HAZMAT suits, and he's building himself a sturdy fallout shelter. When his neighbor Misty insists on helping with the shelter, Derrick doesn't think it's such a good idea. Misty's just had a kidney transplant, and her reaction to her brush with death is the opposite of Derrick's: where Derrick wants to hide, Misty wants to see and do everything. But as confident as Misty is, Derrick's doomsday fears just keep getting worse.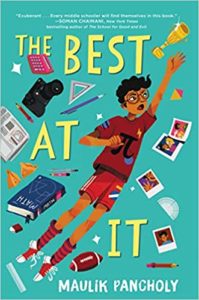 The Best At It by Maulik Pancholy
Rahul Kapoor is heading into seventh grade in a small town in Indiana. The start of middle school is making him feel increasingly anxious, so his favorite person in the whole world, his grandfather, Bhai, gives him some well-meaning advice: Find one thing you're really good at and become the BEST at it. Those four little words sear themselves into Rahul's brain. While he's not quite sure what that special thing is, he is convinced that once he finds it, bullies like Brent Mason will stop torturing him at school. And he won't be worried about staring too long at his classmate Justin Emery. With his best friend, Chelsea, by his side, Rahul is ready to crush this challenge…. But what if he discovers he isn't the bestat anything?
New Kid by Jerry Craft
Seventh grader Jordan Banks loves nothing more than drawing cartoons about his life. But instead of sending him to the art school of his dreams, his parents enroll him in a prestigious private school known for its academics, where Jordan is one of the few kids of color in his entire grade. As he makes the daily trip from his Washington Heights apartment to the upscale Riverdale Academy Day School, Jordan soon finds himself torn between two worlds—and not really fitting into either one. Can Jordan learn to navigate his new school culture while keeping his neighborhood friends and staying true to himself?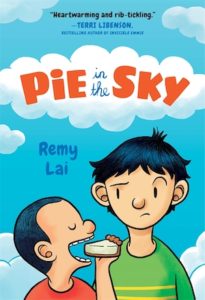 Pie in the Sky by Remy Lai
When Jingwen moves to a new country, he feels like he's landed on Mars. School is torture, making friends is impossible since he doesn't speak English, and he's often stuck looking after his (extremely irritating) little brother, Yanghao. To distract himself from the loneliness, Jingwen daydreams about making all the cakes on the menu of Pie in the Sky, the bakery his father had planned to open before he unexpectedly passed away. The only problem is his mother has laid down one major rule: the brothers are not to use the oven while she's at work. As Jingwen and Yanghao bake elaborate cakes, they'll have to cook up elaborate excuses to keep the cake making a secret from Mama.
If you liked Bridge to Terabithia by Katherine Paterson, try…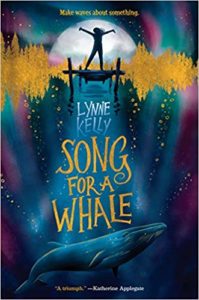 Song for a Whale by Lynne Kelly
From fixing the class computer to repairing old radios, twelve-year-old Iris is a tech genius. But she's the only deaf person in her school, so people often treat her like she's not very smart. If you've ever felt like no one was listening to you, then you know how hard that can be. When she learns about Blue 55, a real whale who is unable to speak to other whales, Iris understands how he must feel. Then she has an idea: she should invent a way to "sing" to him! But he's three thousand miles away. How will she play her song for him?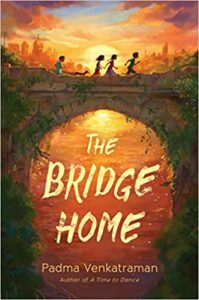 The Bridge Home by Padma Vankatraman
Life is harsh in Chennai's teeming streets, so when runaway sisters Viji and Rukku arrive, their prospects look grim. Very quickly, eleven-year-old Viji discovers how vulnerable they are in this uncaring, dangerous world. Fortunately, the girls find shelter–and friendship–on an abandoned bridge. With two homeless boys, Muthi and Arul, the group forms a family of sorts. And while making a living scavenging the city's trash heaps is the pits, the kids find plenty to laugh about and take pride in too. After all, they are now the bosses of themselves and no longer dependent on untrustworthy adults. But when illness strikes, Viji must decide whether to risk seeking help from strangers or to keep holding on to their fragile, hard-fought freedom.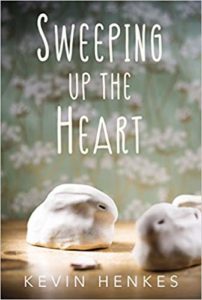 Sweeping Up the Heart by Kevin Henkes
Amelia Albright dreams about going to Florida for spring break like everyone else in her class, but her father—a cranky and stubborn English professor—has decided Florida is too much adventure. Now Amelia is stuck at home with him and her babysitter, the beloved Mrs. O'Brien. The week ahead promises to be boring, until Amelia meets Casey at her neighborhood art studio. Amelia has never been friends with a boy before, and the experience is both fraught and thrilling. When Casey claims to see the spirit of Amelia's mother (who died ten years before), the pair embarks on an altogether different journey in their attempt to find her.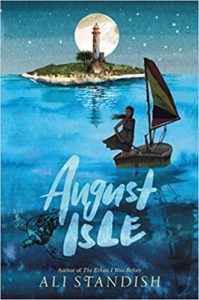 August Isle by Ali Standish
For years, Miranda has stared at postcards of August Isle, Florida. The town where her mother spent her summers as a girl. The town that Miranda has always ached to visit. She just never wanted it to happen this way. When she arrives on the Isle, alone and uncertain, to stay the summer with an old friend of her mother's, Miranda discovers a place even more perfect than she imagined. And she finds a new friend in Sammy, "Aunt" Clare's daughter. But there is more to August Isle than its bright streets and sandy beaches, and soon Miranda is tangled in a web of mysteries.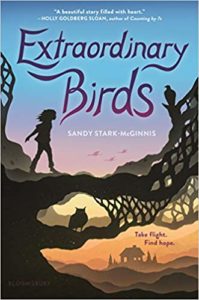 Extraordinary Birds by Sandy Stark-McGinnis
December believes she is a bird. The scar on her back is where her wings will sprout, and one day soon, she will soar away. It will not matter that she has no permanent home. Her destiny is in the sky. But then she's placed with foster mom Eleanor, a kind woman who volunteers at an animal rescue and has secrets of her own. December begins to see that her story could end a different way – but could she ever be happy down on the ground?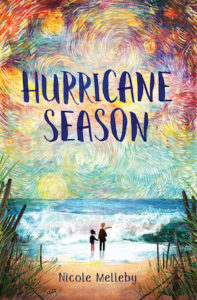 Hurricane Season by Nicole Melleby
Fig, a sixth grader, loves her dad and the home they share in a beachside town. She does not love the long months of hurricane season. Her father, a once-renowned piano player, sometimes goes looking for the music in the middle of a storm. Hurricane months bring unpredictable good and bad days. More than anything, Fig wants to see the world through her father's eyes, so she takes an art class to experience life as an artist does. Then Fig's dad shows up at school, confused and looking for her. Not only does the class not bring Fig closer to understanding him, it brings social services to their door.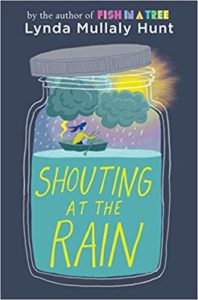 Shouting at the Rain by Lynda Mullaly Hunt
Delsie loves tracking the weather–lately, though, it seems the squalls are in her own life. She's always lived with her kindhearted Grammy, but now she's looking at their life with new eyes and wishing she could have a "regular family." Delsie observes other changes in the air, too–the most painful being a friend who's outgrown her. Luckily, she has neighbors with strong shoulders to support her, and Ronan, a new friend who is caring and courageous but also troubled by the losses he's endured. As Ronan and Delsie traipse around Cape Cod on their adventures, they both learn what it means to be angry versus sad, broken versus whole, and abandoned versus loved. And that, together, they can weather any storm.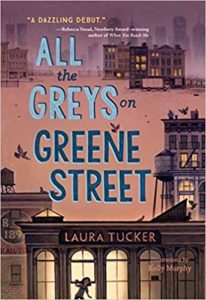 All the Greys on Greene Street by Laura Tucker
SoHo, 1981. Twelve-year-old Olympia is an artist–and in her neighborhood, that's normal. Her dad and his business partner Apollo bring antique paintings back to life, while her mother makes intricate sculptures in a corner of their loft, leaving Ollie to roam the streets of New York with her best friends Richard and Alex, drawing everything that catches her eye. Then everything falls apart. Ollie's dad disappears in the middle of the night, leaving her only a cryptic note and instructions to destroy it. Her mom has gone to bed, and she's not getting up. Apollo is hiding something, Alex is acting strange, and Richard has questions about the mysterious stranger he saw outside. And someone keeps calling, looking for a missing piece of art. . . .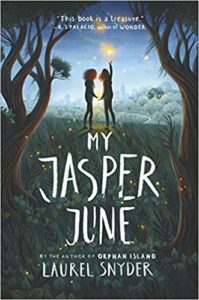 My Jasper June by Laurel Snyder
The school year is over, and it is summer in Atlanta. The sky is blue, the sun is blazing, and the days brim with possibility. But Leah feels. . . lost. She has been this way since one terrible afternoon a year ago, when everything changed. Since that day, her parents have become distant, her friends have fallen away, and Leah's been adrift and alone. Then she meets Jasper, a girl unlike anyone she has ever known. There's something mysterious about Jasper, almost magical. And Jasper, Leah discovers, is also lost. Together, the two girls carve out a place for themselves, a hideaway in the overgrown spaces of Atlanta, away from their parents and their hardships, somewhere only they can find.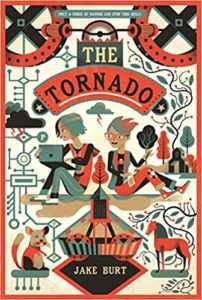 The Tornado by Jake Burt
Bell Kirby is an expert at systems, whether he's designing the world's most elaborate habitat for his pet chinchilla, re-creating Leonardo da Vinci's greatest inventions in his garage, or avoiding Parker Hellickson, the most diabolical bully Village Green Elementary has ever seen. Since third grade, Parker has tormented Bell, who's spent two long years devising a finely tuned system that keeps him out of Parker's way. Sure, it means that Bell can't get a drink when he wants to, can't play with his best friend on the playground, and can't tell his parents about his day, but at least he's safe. Until Daelynn Gower touches down in his classroom like a tornado.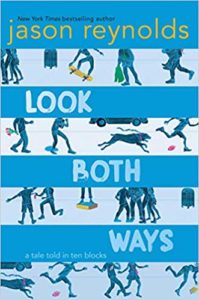 Look Both Ways by Jason Reynolds
This story was going to begin like all the best stories. With a school bus falling from the sky. But no one saw it happen. They were all too busy—
Talking about boogers.
Stealing pocket change.
Skateboarding.
Wiping out.
Braving up.
Executing complicated handshakes.
Planning an escape.
Making jokes.
Lotioning up.
Finding comfort.
But mostly, too busy walking home.
If you liked The Hobbit by J.R.R. Tolkien, try…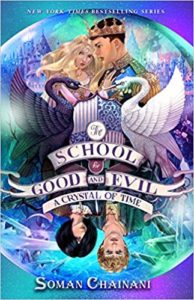 The School for Good and Evil: A Crystal of Time by Soman Chainani (fifth book in the series)
A false king has seized Camelot's throne, sentencing Tedros, the true king, to death. While Agatha, narrowly escapes the same fate, Sophie is caught in King Rhian's trap. With her wedding to Rhian approaching, she's forced to play a dangerous game as her friends' lives hang in the balance. All the while, King Rhian's dark plans for Camelot are taking shape. Now the students of the School for Good and Evil must find a way to restore Tedros to the throne before their stories—and the future of the Endless Woods—are rewritten . . . forever.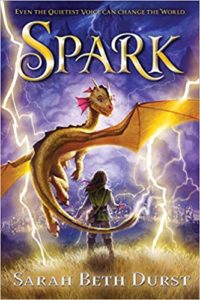 Spark by Sarah Beth Durst
Storm beasts and their guardians create perfect weather every day, and Mina longs for a storm beast of her own. But when the gentle girl bonds with a lightning beast—a creature of fire and chaos—everyone's certain it's a mistake. Everyone but Mina and the beast himself, Pixit. Quickly enrolled in lightning school, Mina struggles to master a guardian's skills, and she discovers that her country's weather comes at a devastating cost—a cost powerful people wish to hide. Mina's never been the type to speak out, but someone has to tell the truth, and, with Pixit's help, she resolves to find a way to be heard.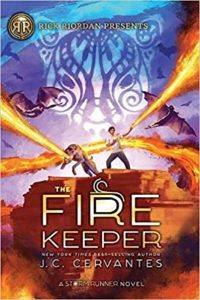 The Fire Keeper by J.C. Cervantes
Zane Obispo's new life on a beautiful secluded tropical island, complete with his family and closest friends, should be perfect. But he can't control his newfound fire skills yet (inherited from his father, the Maya god Hurakan); there's a painful rift between him and his dog ever since she became a hell hound; and he doesn't know what to do with his feelings for Brooks. One day he discovers that by writing the book about his misadventures with the Maya gods, he unintentionally put other godborn children at risk. Unless Zane can find the godborns before the gods do, they will be killed. To make matters worse, Zane learns that Hurakan is scheduled to be executed. Zane knows he must rescue him, no matter the cost. Can he accomplish both tasks without the gods detecting him, or will he end up a permanent resident of the underworld?
Check out the first book in the series, The Storm Runner.
If you liked Sideways Stories from Wayside School by Louis Sachar, try…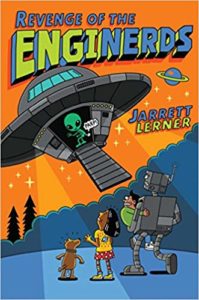 Revenge of the Enginerds by Jarrett Lerner (second book in the series)
When last we met, the EngiNerds were battling a horde of ravenous robots, but in this latest caper, they're on the hunt for just one rogue robot. But who knows what kind of mayhem one mechanical creature can cause? And why is Ken the only EngiNerd who's worried about the runaway robot? The rest of the crew seems be missing in action and Ken fears it's because of Mikaela Harrington. She's the new girl in town who's UFO and alien-obsessed and wants to join the EngiNerds. But as far as Ken is concerned, the EngiNerds are Y-chromosome only, no X's allowed!
Check out the first book in the series, Enginerds.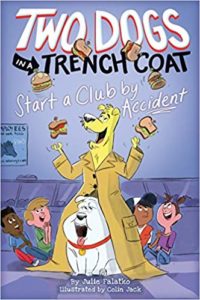 Two Dogs in a Trench Coat Start a Club by Accident by Julie Falatko, illustrated by Colin Jack (second book in the series)
Sassy and Waldo love school! They get to wear a trench coat and everyone thinks they're a new student named Salty. Except Stewart. He knows the truth. But then Stewart has to stay after school for a club. Sassy and Waldo know that a club is a sandwich. But it's not that kind of club. Sassy and Waldo go to the best place to wait for Stewart in the empty school: the cafeteria! Snacks! Running! Places to nap! Their classmates find out what Salty is doing there and they want in on the club. Only it's not the sandwich kind.
Check out the first book in the series, Two Dogs in a Trench Coat.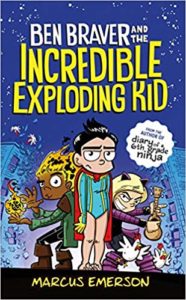 Ben Braver and the Incredible Exploding Kid by Marcus Emerson (second book in the series)
Even though Ben Braver saved Kepler Academy from total destruction last year, he knows he still doesn't fit in at his secret middle school for kids with special abilities. Ben's been hiding his lack of super skills, but it's getting harder as his classmates' powers are getting stronger. Will Ben be able to power up before his enemies at school take him down? And will he risk everything to become the ultimate superhero?
Check out the first book in the series, The Super Life of Ben Braver.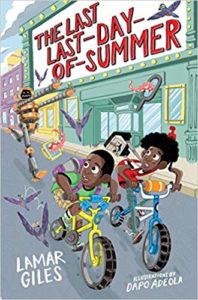 The Last Last-Day-of-Summer by Lamar Giles
Otto and Sheed are the local sleuths in their zany Virginia town, masters of unraveling mischief using their unmatched powers of deduction. And as the summer winds down and the first day of school looms, the boys are craving just a little bit more time for fun, even as they bicker over what kind of fun they want to have. That is, until a mysterious man appears with a camera that literally freezes time. Now, with the help of some very strange people and even stranger creatures, Otto and Sheed will have to put aside their differences to save their town—and each other—before time stops for good.
If you liked All-of-a-Kind Family by Sydney Taylor, try…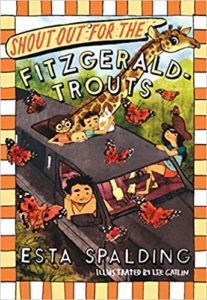 Shout Out for the Fitzgerald Trouts by Esta Spalding, illustrated by Lee Gatlin (third book in the series)
The plucky Fitzgerald-Trout siblings (who live on a tropical island where the grown-ups are useless but the kids can drive) are back! After losing the boat that had become their home, oldest Fitzgerald-Trout, Kim, has put finding a home back on her to-do list. When her sixth-grade history assignment offers a clue about the ruins of a volcanic house built by an explorer on Mount Muldoon, she and her siblings set out to find it. The castle they discover surpasses their wildest dreams. But having a permanent home offers more challenges than the Fitzgerald-Trouts expect, especially when they begin to suspect their home is haunted. The siblings must figure out how to fix the cracks in their family foundation before one of them is lost for good.
Check out the first two books in the series, Look Out for the Fitzgerald-Trouts and Knock About with the Fitzgerald-Trouts.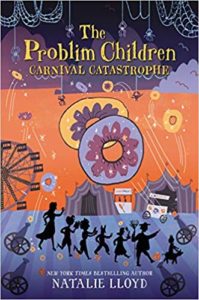 The Problim Children: Carnival Catastrophe by Natalie Lloyd (second book in the series)
All siblings are capable of magic if they stick together. But trusting each other isn't easy for the Problim siblings when neighbors like Desdemona and Carly-Rue O'Pinion are working double-time to turn the town against them. From catapulting cattle to runaway corndogs to spiders on the pageant stage, the Problim brothers and sisters are blamed for every catastrophe at this year's carnival. And to top it all off, Mama Problim is missing! Can the seven siblings come together in time to save the carnival and rescue their mom from a villain even more dastardly than Desdemona? Or will they discover too late what it truly means to be a Problim?
Check out the first book in the series, The Problim Children.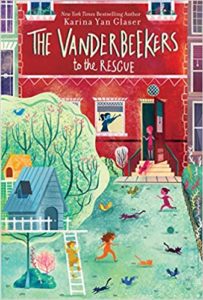 The Vanderbeekers to the Rescue by Karina Yan Glaser (third book in the series)
For the Vanderbeeker kids of Harlem's 141st Street, spring break couldn't be off to a better start. Isa's back from band camp, Oliver's building his first-ever treehouse in the backyard of the brownstone, and Laney, Jess, and Hyacinth are excited to help their mother when she gets the once-in-a-lifetime chance to star in a cooking magazine. But the Vanderbeekers' plans go off the rails when an unexpected visit from city officials puts their mother's bakery in jeopardy. Now they'll have to band together to save the day before they're out of business.
Check out the first two books in the series, The Vanderbeekers of 141st Street and The Vanderbeekers and the Hidden Garden.
If you liked The Lightning Thief by Rick Riordan, try…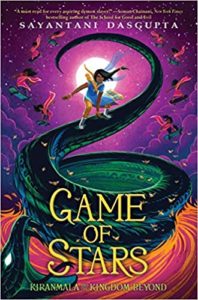 Game of Stars by Sayantani DasGupta (second book in the series)
When the Demon Queen shows up in her bedroom, smelling of acid and surrounded by evil-looking bees, twelve-year-old Kiranmala is uninterested. After all, it's been weeks since she last heard from her friends in the Kingdom Beyond, the alternate dimension where she was born as an Indian princess. But after a call to action over an interdimensional television station and a visit with some all-seeing birds, Kiran decides that she has to once again return to her homeland, where society is fraying, a terrible game show reigns supreme, and friends and foes alike are in danger. Everyone is running scared or imprisoned following the enactment of sudden and unfair rules of law.
Check out the first book in the series, The Serpent's Secret.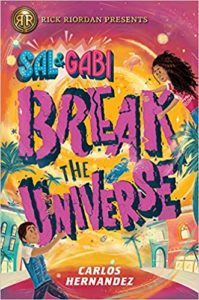 Sal and Gabi Break the Universe by Carlos Hernandez
When Sal Vidon meets Gabi Real for the first time, it isn't under the best of circumstances. Sal is in the principal's office for the third time in three days, and it's still the first week of school. Gabi, student council president and editor of the school paper, is there to support her friend Yasmany, who just picked a fight with Sal. She is determined to prove that somehow, Sal planted a raw chicken in Yasmany's locker, even though nobody saw him do it and the bloody poultry has since mysteriously disappeared. Sal prides himself on being an excellent magician, but for this sleight of hand, he relied on a talent no one would guess . . . except maybe Gabi, whose sharp eyes never miss a trick.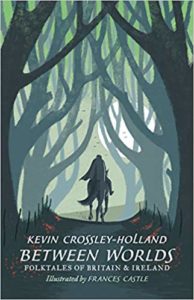 Between Worlds: Folktales of Britain and Ireland by Kevin Crossley-Holland, illustrated by Frances Castle
A handsome, cocky young man is swept up by a dark horseman and cast into a life-or-death adventure. A pair of green children emerge from a remote hollow and struggle to adapt to a strange new land. A dauntless farm girl finds that her fearlessness earns her a surprising reward. Dark but often funny, lyrical yet earthy, the folktales presented here have influenced our landscape and culture. This definitive collection of forty-eight stories, retold by master storyteller and poet Kevin Crossley-Holland, opens a doorway to a lost world and shows the enduring power of language and imagination.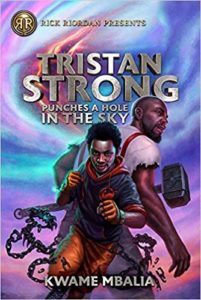 Tristan Strong Punches a Hole in the Sky by Kwame Mbalia
Seventh grader Tristan Strong feels anything but strong ever since he failed to save his best friend when they were in a bus accident together. All he has left of Eddie is the journal his friend wrote stories in. Tristan is dreading the month he's going to spend on his grandparents' farm in Alabama, where he's being sent to heal from the tragedy. But on his first night there, a sticky creature shows up in his bedroom and steals Eddie's notebook. Tristan chases after it–is that a doll?–and a tug-of-war ensues between them underneath a Bottle Tree. In a last attempt to wrestle the journal out of the creature's hands, Tristan punches the tree, accidentally ripping open a chasm into the MidPass, a volatile place with a burning sea, haunted bone ships, and iron monsters that are hunting the inhabitants of this world.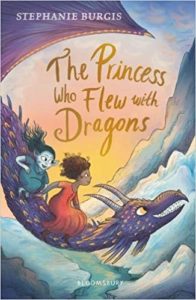 The Princess Who Flew With Dragons by Stephanie Burgis (third book in the series)
Sofia is the other princess. Not the crown princess – that's her perfect big sister, Katrin. Sofia is the princess who always says the wrong thing; who hates going to parties; who doesn't like people; who just wants to sit and read her books. So when Sofia is shipped off on a stomach-churning dragon flight to make another royal visit, she decides it's time for this princess to take a little break. In disguise, Sofia soon finds herself discovering a magical city of learning, new friends and freedom. In short, everything is going wonderfully . right up until it goes horribly wrong. And that's before the ice giants show up.
Check out the first two books in the series, The Dragon with a Chocolate Heart and The Girl with the Dragon Heart.
What are you reading these days? I want to know! Find me on Twitter at @KarinaYanGlaser, on Instagram at @KarinaIsReadingAndWriting, or email me at KarinaBookRiot@gmail.com.
Also, if you love listening to podcasts while you're cooking, commuting, or getting ready for the day, check out the Kidlit These Days podcast. We study the intersection between children's books and current events, and our most recent topics include climate change and neurodiversity. Give it a listen!
Until next time!
Karina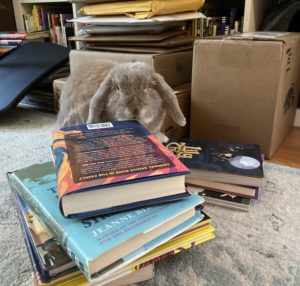 *If this e-mail was forwarded to you, follow this link to subscribe to "The Kids Are All Right" newsletter and other fabulous Book Riot newsletters for your own customized e-mail delivery. Thank you!*