Sponsored by Tor Teen
A near-future thriller by award-winning author Naomi Kritzer.
Because her mom is always on the move, Steph hasn't lived anyplace longer than six months. Her only constant is an online community called CatNet—a social media site where users upload cat pictures—a place she knows she is welcome. What Steph doesn't know is that the admin of the site, CheshireCat, is a sentient A.I.
When a threat from Steph's past catches up to her and ChesireCat's existence is discovered by outsiders, it's up to Steph and her friends, both online and IRL, to save her.
Hey YA Readers!
It's trends-in-YA-book-covers o'clock.
Back in 2012, we had a cover trend that led to so many thoughtful and insightful words from others. Specifically, we had white girls under water. The link goes to a really great piece on the obsession with an elegant death and is so worth reading.
As I was perusing 2020 YA book covers, I noticed that, like vampires, the girl underwater is back. This coming year, it's a bit broader, in that a number of these covers the girl isn't necessarily dead, but is indeed surrounded by water. I'd go so far as to say at least one of these does a great job subverting the cover trope of 2012.
Let's take a peek at these "girl underwater" covers coming in the new year. I've pulled Amazon descriptions here and it should be noted this is very white — in and of itself a big part of the commentary on the (re)emerging trend.
Susannah Ramos has always loved the water. A swimmer whose early talent made her a world champion, Susannah was poised for greatness in a sport that demands so much of its young. But an inexplicable slowdown has put her dream in jeopardy, and Susannah is fighting to keep her career afloat when two important people enter her life: a new coach with a revolutionary training strategy, and a charming fellow swimmer named Harry Matthews.
As Susannah begins her long and painful climb back to the top, her friendship with Harry blossoms into passionate and supportive love. But Harry is facing challenges of his own, and even as their bond draws them closer together, other forces work to tear them apart. As she struggles to balance her needs with those of the people who matter most to her, Susannah will learn the cost—and the beauty—of trying to achieve something extraordinary.
The Daughters of Ys by M.T. Anderson and Jo Rioux (May 12)
Ys, city of wealth and wonder, has a history of dark secrets. Queen Malgven used magic to raise the great walls that keep Ys safe from the tumultuous sea. But after the queen's inexplicable death, her daughters drift apart. Rozenn, the heir to the throne, spends her time on the moors communing with wild animals, while Dahut, the youngest, enjoys the splendors of royal life and is eager to take part in palace intrigue.
When Rozenn and Dahut's bond is irrevocably changed, the fate of Ys is sealed, exposing the monsters that lurk in plain view. M. T. Anderson and Jo Rioux reimagine this classic Breton folktale of love, loss, and rebirth, revealing the secrets that lie beneath the surface.
Ria Williams was an elite diver on track for the Olympics. As someone who struggled in school, largely due to her ADHD, diving was the one place Ria could shine.
But while her parents were focused on the trophies, no one noticed how Coach Benny's strict rules and punishments controlled every aspect of Ria's life. The harder he was on her, the sharper her focus. The bigger the bruise, the better the dive.
Until a freak accident at a meet changes everything. Just like that, Ria is handed back her life, free of Benny.
To fill her now empty and aimless days, Ria rekindles a friendship with Cotton, a guy she used to know back in elementary school. With Cotton, she's able to open up about what Benny would do to her, and through Cotton's eyes, Ria is able to see it for what it was: abuse.
Then Benny returns, offering Ria a second chance with a life-changing diving opportunity. But it's not hers alone—Benny's coaching comes with it. The thought of being back under his control seems impossible to bear, but so does walking away.
How do you separate the impossible from possible when the one thing you love is so tangled up in the thing you fear most?
What happened to Zoe won't stay buried…
When Anna Cicconi arrives to the small Hamptons village of Herron Mills for a summer nanny gig, she has high hopes for a fresh start. What she finds instead is a community on edge after the disappearance of Zoe Spanos, a local girl who has been missing since New Year's Eve. Anna bears an eerie resemblance to Zoe, and her mere presence in town stirs up still-raw feelings about the unsolved case. As Anna delves deeper into the mystery, stepping further and further into Zoe's life, she becomes increasingly convinced that she and Zoe are connected—and that she knows what happened to her.
Two months later, Zoe's body is found in a nearby lake, and Anna is charged with manslaughter. But Anna's confession is riddled with holes, and Martina Green, teen host of the Missing Zoe podcast, isn't satisfied. Did Anna really kill Zoe? And if not, can Martina's podcast uncover the truth?
Inspired by Daphne du Maurier's Rebecca, Kit Frick weaves a thrilling story of psychological suspense that twists and turns until the final page.
Lie To Me by Kaitlin Ward (January 7)
Ever since Amelia woke up in the hospital, recovering from a near-death fall she has no memory of, she's been suspicious. Her friends, family, and doctors insist it was an accident, but Amelia is sure she remembers being pushed. Then another girl is found nearby — one who fell, but didn't survive. Amelia's fears suddenly feel very real, and with the help of her new boyfriend, Liam, she tries to investigate her own horrific ordeal. But what is she looking for, exactly? And how can she tell who's trustworthy, and who might be — must be — lying to her?
The closer Amelia gets to the truth, the more terrifying her once orderly, safe world becomes. She's determined to know what happened, but if she doesn't act fast, her next accident might be her last.
Tavia is already at odds with the world, forced to keep her siren identity under wraps in a society that wants to keep her kind under lock and key. Nevermind she's also stuck in Portland, Oregon, a city with only a handful of black folk and even fewer of those with magical powers. At least she has her bestie Effie by her side as they tackle high school drama, family secrets, and unrequited crushes.
But everything changes in the aftermath of a siren murder trial that rocks the nation; the girls' favorite Internet fashion icon reveals she's also a siren, and the news rips through their community. Tensions escalate when Effie starts being haunted by demons from her past, and Tavia accidentally lets out her magical voice during a police stop. No secret seems safe anymore―soon Portland won't be either.
Seventeen-year-old Tempe was born into a world of water. When the Great Waves destroyed her planet five hundred years ago, its people had to learn to survive living on the water, but the ruins of the cities below still called. Tempe dives daily, scavenging the ruins of a bygone era, searching for anything of value to trade for Notes. It isn't food or clothing that she wants to buy, but her dead sister's life. For a price, the research facility on the island of Palindromena will revive the dearly departed for twenty-four hours before returning them to death. It isn't a heartfelt reunion that Tempe is after; she wants answers. Elysea died keeping a terrible secret, one that has ignited an unquenchable fury in Tempe: Her beloved sister was responsible for the death of their parents. Tempe wants to know why.
But once revived, Elysea has other plans. She doesn't want to spend her last day in a cold room accounting for a crime she insists she didn't commit. Elysea wants her freedom and one final glimpse at the life that was stolen from her. She persuades Tempe to break her out of the facility, and they embark on a dangerous journey to discover the truth about their parents' death and mend their broken bond. But they're pursued every step of the way by two Palindromena employees desperate to find them before Elysea's time is up–and before the secret behind the revival process and the true cost of restored life is revealed.
---
SPEAKING of book covers, remember when we talked about the lack of pizza?
Guess what I was alerted to?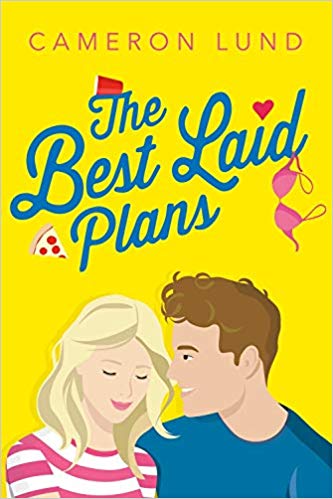 The Best Laid Plans is out next April.
---
Thanks for hanging out, y'all, and we'll see you again on Saturday — we'll be taking US Thanksgiving off from our regularly scheduled YA talk.
— Kelly Jensen, @heykellyjensen on Instagram and editor of (Don't) Call Me Crazy and Here We Are.