Sponsored by Graphix Books, an imprint of Scholastic Inc.
The acclaimed graphic novel world of The Witch Boy and The Hidden Witch by Molly Knox Ostertag comes to a thrilling conclusion in The Midwinter Witch, a story about friendship, family, and finding your true power.
Hi Kid Lit Friends,
I've been seeing a lot of terrific children's books about gratitude, and since this is the month of thankfulness I thought it would be great to share these today. What are your favorite books about gratitude?
(Please note all book descriptions come from the publisher.)
Thank you, Omu! by Oge Mora
Everyone in the neighborhood dreams of a taste of Omu's delicious stew! One by one, they follow their noses toward the scrumptious scent. And one by one, Omu offers a portion of her meal. Soon the pot is empty. Has she been so generous that she has nothing left for herself?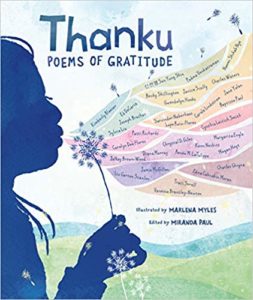 Thanku: Poems of Gratitude edited by Miranda Paul, illustrated by Marlena Myles
This poetry anthology, edited by Miranda Paul, explores a wide range of ways to be grateful (from gratitude for a puppy to gratitude for family to gratitude for the sky) with poems by a diverse group of contributors, including Joseph Bruchac, Margarita Engle, Cynthia Leitich Smith, Naomi Shihab Nye, Charles Waters, and Jane Yolen.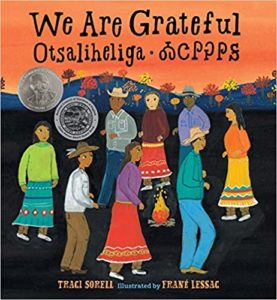 We Are Grateful: Otsaliheliga by Traci Sorrell, illustrated by Frane Lessac
The word otsaliheliga (oh-jah-LEE-hay-lee-gah) is used by members of the Cherokee Nation to express gratitude. Beginning in the fall with the new year and ending in summer, follow a full Cherokee year of celebrations and experiences. Written by a citizen of the Cherokee Nation, this look at one group of Native Americans is appended with a glossary and the complete Cherokee syllabary, originally created by Sequoyah.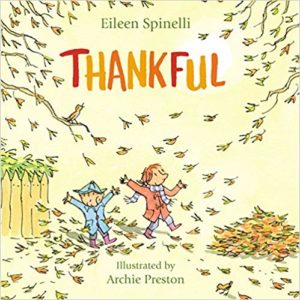 Thankful by Eileen Spinelli, illustrated by Archie Preston
Like the gardener thankful for every green sprout, and the fireman, for putting the fire out, readers are encouraged to be thankful for the many blessings they find in their lives. Spinelli exhibits her endearing storytelling with this engaging poem, reminding children how blessed and special they are.
Thanks a Million by Nikki Grimes, illustrated by Cozbi A. Cabrera
What makes you thankful?
A book?
Weekends?
Your family?
How do you say thanks?
With a flower?
With a chocolate bar?
With a surprise?
In sixteen extraordinary poems that range in form from a haiku to a rebus to a riddle, Nikki Grimes reminds us how wonderful it is to feel thankful, and how powerful a simple "thank you" can be.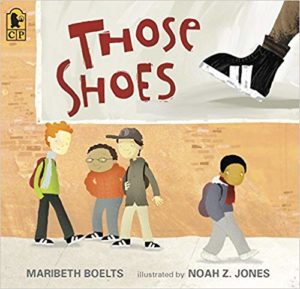 Those Shoes by Maribeth Boelts, illustrated by Noah Z. Jones
All Jeremy wants is a pair of those shoes, the ones everyone at school seems to be wearing. Though Jeremy's grandma says they don't have room for "want," just "need," when his old shoes fall apart at school, he is more determined than ever to have those shoes, even a thrift-shop pair that are much too small. But sore feet aren't much fun, and Jeremy soon sees that the things he has — warm boots, a loving grandma, and the chance to help a friend — are worth more than the things he wants.
Bear Says Thanks by Karma Wilson, illustrated by Jane Chapman
Bear has come up with the perfect way to say thanks—a nice big dinner! When Bear decides to throw a feast, his friends show up one by one with different platters of delicious food to share. There's just one problem: Bear's cupboards are bare! What is he to do?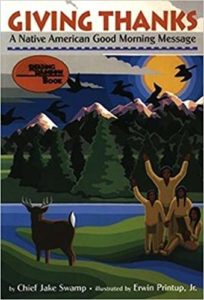 Giving Thanks: A Native American Good Morning Message by Chief Jake Swamp, illustrated by Erwin Printup
Giving Thanks is a special children's version of the Thanksgiving Address, a message of gratitude that originated with the Native people of upstate New York and Canada and that is still spoken at ceremonial gatherings held by the Iroquois, or Six Nations. Full color.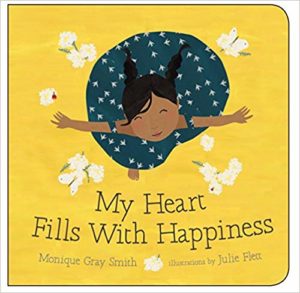 My Heart Fills with Happiness by Monique Gray Smith, illustrated by Julie Flett
The sun on your face. The smell of warm bannock baking in the oven. Holding the hand of someone you love. What fills your heart with happiness? This beautiful board book, with illustrations from celebrated artist Julie Flett, serves as a reminder for little ones and adults alike to reflect on and cherish the moments in life that bring us joy.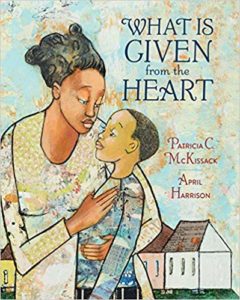 What Is Given from the Heart by Patricia C. McKissack, illustrated by April Harrison
"Misery loves company," Mama says to James Otis. It's been a rough couple of months for them, but Mama says as long as they have their health and strength, they're blessed. One Sunday before Valentine's Day, Reverend Dennis makes an announcement during the service– the Temples have lost everything in a fire, and the church is collecting anything that might be useful to them. James thinks hard about what he can add to the Temple's "love box," but what does he have worth giving?
Around the web…
20 Must-Read Children's Books About Family, via Book Riot
BOOK IT! With Pizza Hut, an Evolving Program Turns 35, via Book Riot
It Takes Guts: Raina Telgemeier and Eli Lebowitz, via Scholastic Reads Podcast
What are you reading these days? I want to know! Find me on Twitter at @KarinaYanGlaser, on Instagram at @KarinaIsReadingAndWriting, or email me at KarinaBookRiot@gmail.com.
Also, if you love listening to podcasts while you're cooking, commuting, or getting ready for the day, check out the Kidlit These Days podcast. We study the intersection between children's books and current events, and our most recent topics include climate change and neurodiversity. Give it a listen!
Until next time!
Karina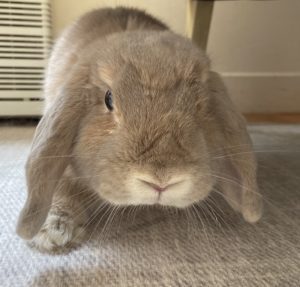 *If this e-mail was forwarded to you, follow this link to subscribe to "The Kids Are All Right" newsletter and other fabulous Book Riot newsletters for your own customized e-mail delivery. Thank you!*