Sponsored by Molly: The True Story of the Amazing Dog Who Rescues Cats by Colin Butcher, published by Celadon Books.
Molly: The True Story of the Amazing Dog Who Rescues Cats tells the heartwarming story of the man-and-dog team behind the United Kingdom Pet Detective Agency—how Colin, in need of a new lease on life, rescues Molly the dog, and how Molly in turn rescues many more beloved lost pets.
Hello hello, and happiest of Fridays nonfiction readers – we've made it to the end of another week!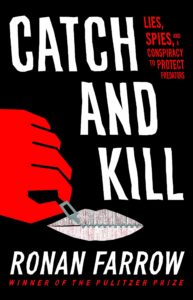 I haven't had as much reading time this week as I would have liked, but I've somehow found my groove with audiobooks again. I'm deep into Ronan Farrow's Catch and Kill: Lies, Spies, and a Conspiracy to Protect Predators, another look at the reporting that finally exposed Harvey Weinstein.
I wasn't sure I needed more of this story after reading She Said by Jodi Kantor and Megan Twohey, but it's turned into a fascinating companion read. Kantor and Twohey had strong organizational support behind their reporting, while Farrow had to contend with powerful men at NBC who wanted to keep the story under wraps. Plus, the audiobook is a hoot – Farrow does some ridiculous and entertaining accents.
This week's nonfiction news is another mixed collection – politics, true crime adaptations, and conflict over Carrie Fisher's biography. Plus, I've rounded up some great posts on cookbooks from over at Book Riot. Let's dive in!
If you're looking for another way to decide which Democratic presidential candidate might be for you consider how popular is their book at the library! Slate tabulated the number of print copies checked out or on hold at a bunch of major library systems to see which candidate books were most popular. I'll leave you to click through to the link to find the answers!
As one might have (sadly) predicted, the Department of Justice is trying to identify the anonymous author of A Warning, an upcoming book that goes inside the Trump Administration. The department sent a letter to the book's publisher and literary agency demanding information about whether the author signed a nondisclosure agreement or had access to classified information. Both Hachette and Javelin responded "defiantly" to the request.
Something about the headline for this story makes me laugh – "Lady Gaga to Star in Gucci Murder Movie Directed by Ridley Scott." There's just so much there! The singer/songwriter/actress will star as Patriza Reggiani, the ex-wife of the grandson of Guccio Gucci who served 18 years in prison for orchestrating her ex-husband's assassination. The movie is based on a book, The House of Gucci by Sara Gay Forden.
The author of a new, unauthorized, biography of Carrie Fisher has defended her work against criticisms from the family. Sheila Weller said she reached out to representatives of the Fisher family twice to tell them about the book and get approval, but was turned down or ignored. "It is my great admiration for Carrie Fisher's life and work that compelled me to write the book in the first place," she said. Carrie Fisher: A Life on the Edge will be out November 12.
Over at Book Riot
Since it's so close to Thanksgiving, I want to call out some of the great posts about cookbooks that have been published recently:
And that's everything for this week! That's again for inviting me to your inbox once again. You can find me on Twitter and Instagram @kimthedork and co-hosting the For Real podcast here at Book Riot. Happy reading! – Kim