Sponsored by Forge Books
Miss Fisher meets Downton Abbey in Tell Me No Lies, part of the critically acclaimed Lady Dunbridge Mystery series from New York Times bestselling author Shelley Noble. Lady Dunbridge was not about to let a little thing like the death of her husband ruin her social life. She's come to New York, ready to take the city by storm. Lady Phil is searching for excitement—and finds it, when a visitor arrives, begging for help. With Gilded Age Manhattan as the backdrop, romance, murder, and scandals abound. Someone simply must do something. And Lady Dunbridge is happy to oblige.
Hello mystery fans! This week I have for you Lady Sherlock, a P.I. at a magic school, and a delightful cozy mystery!
Still My Favorite Sherlock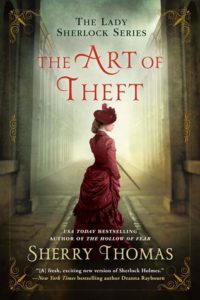 The Art of Theft (Lady Sherlock #4) by Sherry Thomas: This is one of those series where I highly anticipate the next book in the series all year and am never disappointed. Charlotte Holmes is funny, clever, resourceful, and highly entertaining as she solves crimes under Sherlock Holmes' name. This time around she has a gang of people helping out, which really added to the fun and intrigue for me. There's blackmail, past love and new love–Holmes takes a backseat–a priceless painting, French chateau, fake identities, disguises… I love that I can always count on a solid mystery, fantastic characters and relationships, some laughs, and a great time! And here's something I never say: A lot happens in this series so it's best to start at the beginning.
P.I. Sprinkled With Magic!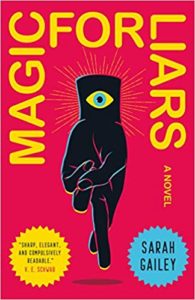 Magic for Liars by Sarah Gailey: This is first and foremost a P.I. novel, however it has the spin of being set at a school for magic (yes, real magic) but it's all set in our real world. Ivy Gamble isn't magic, she's a P.I. Her twin sister Tabitha however is, and always has been, magic. They don't speak. Until now, when a murder at the school where Tabitha works brings Ivy in to investigate. Ivy is very closed off, matter of fact, and is forced to deal with her estranged relationship with her sister as she tries to figure out who committed this gruesome murder. Ultimately, you get a good P.I. novel with a great exploration of grief and family. While this is a standalone if it ever gets a followup I'd definitely read it.
Fun, Cozy Historical Mystery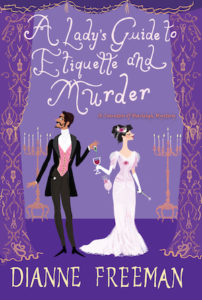 A Lady's Guide to Etiquette and Murder (A Countess of Harleigh Mystery, #1) by Dianne Freeman: Frances Wynn, an American woman living in Victorian England, has just passed the grieving stage after her husband's death. He married her for her money and died in bed with his mistress so let's say Wynn is ready for this new stage of her life. Which quickly turns into her mom pawning her younger sister off on her to be introduced into society. And then Wynn is accused of having murdered her husband. And then of jewelry thefts. Seriously, she just can't catch a break. So she does what any woman in her position would do and starts trying to figure out who wants to frame her while also trying to keep her sister from falling into a bad marriage. This was a humorous and entertaining mystery with a delightful main character. The audiobook has a wonderful narrator, I've already gotten the sequel, and noted that the third should publish in 2020.
Recent Releases
The Ninja Daughter by Tori Eldridge (Currently reading: Young woman literally out for vengeance!) (TW attempted date rape on page/ domestic abuse)
The Family Upstairs by Lisa Jewell (Currently reading: A woman adopted as a baby inherits her birth family's home and the secrets that come with it…I always enjoy falling into Jewell's characters lives and seeing how they get woven together.) (TW past domestic abuse/ date rape on page/ past suicide)
City of Scoundrels (Counterfeit Lady #3) by Victoria Thompson (Historical mystery series set in early 1900's NY.)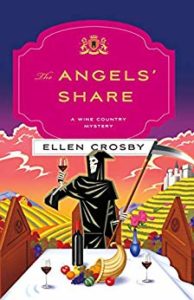 The Angels' Share (Wine Country Mysteries #10) by Ellen Crosby (Modern day mystery with secret society and bootleg Prohibition wine.)
The Last to Die by Kelly Garrett (Intrigued by the premise of teens swapping keys/alarm codes to break into each other's homes until they up the game to a classmate not in their circle of friends and someone ends up dead.)
Lives Laid Away (August Snow #2) by Stephen Mack Jones (Paperback) (I really enjoy this series that is P.I. plus action movie scenes–Review) (TW suicide/ human trafficking/ rape)
Browse all the books recommended in Unusual Suspects previous newsletters on this shelf. And here's an Unusual Suspects Pinterest board.
Until next time, keep investigating! And in the meantime, come talk books with me on Twitter, Instagram, and Litsy–you can find me under Jamie Canavés.
If a mystery fan forwarded this newsletter to you and you'd like your very own you can sign up here.