Sponsored by Oxford University Press
Most parents start out wanting to raise healthy eaters. Then the world intervenes. In Kid Food, nationally recognized writer and food advocate Bettina Elias Siegel explores one of the fundamental challenges of modern parenting: trying to raise healthy eaters in a society intent on pushing children in the opposite direction. Siegel dives deep into the many influences that make feeding children healthfully so difficult. With expert advice, time-tested advocacy tips, and useful resources, Kid Food is a trove of knowledge and the tools to navigate their children's unhealthy food landscape-and change it for the better.
Hello and welcome to November, nonfiction nerds! I am so excited to fall back this weekend – I'll definitely be using my extra hour to read!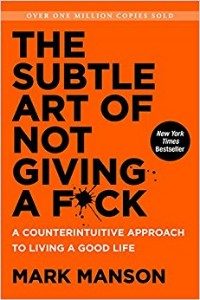 Right now, I'm a few chapters into The Subtle Art of Not Giving a F*ck by Mark Manson, "a look at how "s**t is f**ked and we have to live with it." It sounds a little depressing, I suppose, but I'm enjoying the sort of grouchy and entirely unsubtle way the book asks us to face our fears, confront painful truths, and learn to live with discomfort.
This week's nonfiction news is a bit of a hodge-podge of best-of lists, controversial publishing decisions, and an interview with an author I really admire. Let's get going!
Publisher's Weekly has released its best books of 2019 list, which still feels so dang early! In the intro to their top 10 list, the publication notes that Mira Jacob's Good Talk is the first graphic memoir to ever make the list! The rest of the nonfiction is equally good:
A new biography of Carrie Fisher is set to come out next month, but her family has already disavowed the book. Carrie Fisher: A Life on the Edge by Sheila Weller has already received some starred reviews, but in a statement family members said the book was sold without their involvement.
Author Naomi Wolf, who was under fire for inaccuracies in her latest book, has split with her publisher. Last week, Wolf and Houghton Mifflin Harcourt announced they have mutually agreed to part ways, and that the publisher would not not be releasing Outrages. The rights to the book revert to Wolf, who told the New York Times that it would come out "in due course" in the United States.
After initially refusing to stock Ronan Farrow's new book Catch and Kill, Amazon Australia has reversed their decision and will sell copies of the book. The bookseller initially yielded threats from lawyers for Dylan Howard, former editor of the National Enquirer.
Speaking of Ronan Farrow, the author is launching a podcast offshoot of the book. The podcast will feature new audio and interviews with the sources Farrow used for the book and "provide a deeper understanding of the plot that unravels in the book."
I really liked this interview with Nnedi Okorafor about writing her memoir Broken Places and Outer Spaces and recording the audiobook version of the book. She's great.
That's all for this week! You can find me on Twitter @kimthedork, on email at kim@riotnewmedia.com, and co-hosting the For Real podcast here at Book Riot. Happy reading! – Kim