Sponsored by Deadly Deceit by Natalie Walters and Revell Books, a Division of Baker Publishing Group.
Tenacious journalist Vivian DeMarco is back in Walton, Georgia, for one reason—to do her job and get out. When her boss suddenly dies under suspicious circumstances, Vivian's only hope for finding the truth is small-town law enforcement's Deputy Ryan Frost. But the deeper they dig, the more twisted the truth becomes, and Vivian finds herself fighting for not only answers but also her life. False leads, incriminating emails, and someone called The Watcher force Vivian to confront the secret of her past and decide: How much is she willing to risk for the sake of a headline?
Hi mystery fans! This week I have for you a fun-ish novel about vigilante spies, a look at online amateur sleuths solving missing person's cases, and a procedural with a thirty year cold case.
Vigilante Spies! (TW human trafficking/ addiction/ child rape, death)
The Athena Protocol by Shamim Sarif: This is one of those books that, because of the subject matter of the "cases," could have been dark to dark AF. But, instead, it veers away from that and felt more like a fun-ish novel thanks to the crew of vigilante women trying to take down the evil of the world. Which is what the Athena Protocol is: a top secret organization–with zero ties to any agency–that is led and run by women enacting vigilante justice. It starts with the group freeing girls from human traffickers, but the assignment goes wrong when Jessie Archer ignores protocol. Now, Archer finds herself kicked out of the group but unable to let the work go. So she goes rogue, continuing to help with missions even though her former spy partners have strict orders to bring her in… If you need a good dose of women kicking ass and saving the day, this did that with a good balance of great characters (character growth included) who have their own baggage and issues while trying to help others. If this is the start to a series, count me in as definitely reading the sequel.
Online Amateur Sleuths! (TW basically everything is talked about)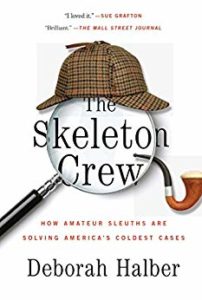 The Skeleton Crew: How Amateur Sleuths are Solving America's Coldest Cases by Deborah Halber: I love falling down rabbit holes and have always been kind of obsessed with human behavior–sit me on a bench to people watch and I'll never bore. Which is why this book was kind of perfect for me as it takes a look at the online communities/web sleuths that take it upon themselves to solve missing persons cases by matching them to unidentified bodies that have been found (in all kinds of decay). Halber basically ping pongs (think nonlinear narrative) between cases, web sleuths, the creation of online communities–including the infighting because humans, of course–, law enforcement's view on these groups/individuals, and opens up discussion for questions like, where is the line between helping and overstepping into people's trauma and should law enforcement have all the power or is it good that these individuals are in a way bringing some power back to communities?
Procedural! (TW past child abuse/ rape, partially on page)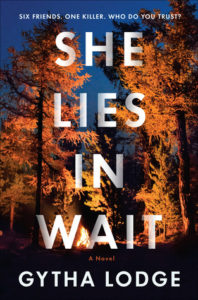 She Lies in Wait (DCI Jonah Sheens #1) by Gytha Lodge: My brain just needed a procedural to read where I could sit back and watch people work on solving something. In this case it's the 30 year mystery of Aurora Jackson, a 14-year-old girl, who disappeared while camping with her older sister and her sister's friends. Until now, when her body is found near the campsite, meaning she'd been there all along, so someone who'd been there that night must have been the killer? Or at least knows something they've never shared since? Told in past and present, we watch as investigators currently try to solve what happened to Jackson while also being taken back to 1983 as Jackson takes us into the excitement of tagging along with the older kids. Which timeline will reveal what happened first?…
Browse all the books recommended in Unusual Suspects previous newsletters on this shelf. And here's an Unusual Suspects Pinterest board.
Until next time, keep investigating! And in the meantime, come talk books with me on Twitter, Instagram, and Litsy–you can find me under Jamie Canavés.
If a mystery fan forwarded this newsletter to you and you'd like your very own you can sign up here.