Sponsored by The Train to Impossible Places series by P. G. Bell
Are you ready for the adventure of a lifetime? P. G. Bell's stunning fantasy series follows the route of the Impossible Postal Express, a troll-operated delivery service that runs everywhere from ocean-bottom shipwrecks, to Trollville, to space! "All aboard for an adventure like no other." —Kirkus Reviews. "Full of imaginative locales and fun twists." —Publishers Weekly. "A rollicking adventure . . reminiscent of Terry Pratchett and Diana Wynne Jones." —Booklist
Hello Kid Lit Friends!
Isn't there something so magical about balloons? When my kids were younger, I could hand them a balloon and they would be occupied for an afternoon. I love all of these picture books that feature balloons; check them out and let me know what you think!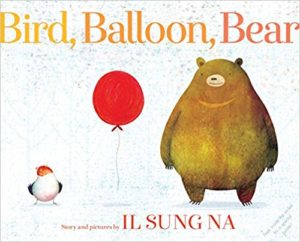 Bird, Balloon, Bear by Il Sung Na
Bird is new to the forest, and he's looking for a friend. Bear could use a friend, too.
But Bird is too shy to introduce himself. Just as he musters the courage to say hello . . . it's too late! Bear has already found a friend: a bright, shiny red balloon.
Has Bird missed his chance?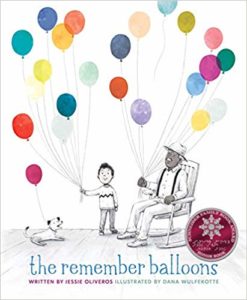 The Remember Balloons by Jessie Oliveros and Dana Wulfekotte
James's Grandpa has the best balloons because he has the best memories. He has balloons showing Dad when he was young and Grandma when they were married. Grandpa has balloons about camping and Aunt Nelle's poor cow. Grandpa also has a silver balloon filled with the memory of a fishing trip he and James took together. But when Grandpa's balloons begin to float away, James is heartbroken. No matter how hard he runs, James can't catch them. One day, Grandpa lets go of the silver balloon—and he doesn't even notice! Grandpa no longer has balloons of his own. But James has many more than before. It's up to him to share those balloons, one by one.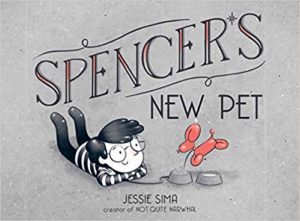 Spencer's New Pet by Jessie Sima
When Spencer gets a new pet, he's excited to do all the things that pets do—taking walks in the park, going to the vet, and attending parties together. There's just one hitch: Spencer's new pet is a balloon. And that means No. Sharp. Objects. No drooling dogs at the park. No prickly porcupines at the vet. And absolutely no pinning tails on any donkeys!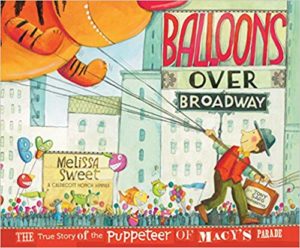 Balloons Over Broadway by Melissa Sweet
Everyone's a New Yorker on Thanksgiving Day, when young and old rise early to see what giant new balloons will fill the skies for Macy's Thanksgiving Day Parade. Who first invented these "upside-down puppets"? Meet Tony Sarg, puppeteer extraordinaire! In brilliant collage illustrations, the award-winning artist Melissa Sweet tells the story of the puppeteer Tony Sarg, capturing his genius, his dedication, his zest for play, and his long-lasting gift to America—the inspired helium balloons that would become the trademark of Macy's Parade.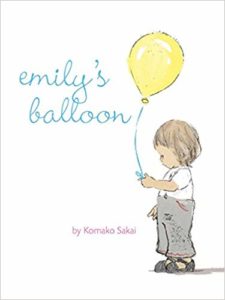 Emily's Balloon by Komako Sakai
One day, Emily gets a balloon. By the end of the afternoon, the balloon is no longer just a plaything—Emily and the balloon are friends. But when the balloon blows away, what will Emily do? Sweet, compelling, and filled with beautifully evocative illustrations, the timeless innocence of a story about the wonder and discovery of friendship makes this deceptively simple book a classic.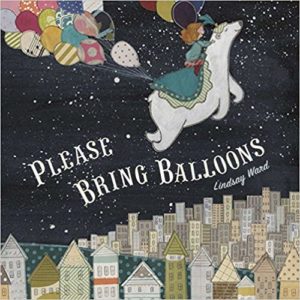 Please Bring Balloons by Lindsay Ward
Ever wondered what it would be like to ride a carousel right off its platform? As Emma discovers, all it takes is a handful of balloons and a very kind polar bear to show you the way. This soaring story of friendship, between a carousel bear and the little girl who noticed him, will take readers to the arctic and back—in time for bedtime, of course—and remind them anything is possible. Even flying.
Hot Air by Marjorie Priceman
The first "manned" hot-air balloon is about to take off! But what are those noises coming from the basket? Based on the (POSSIBLY) true report of a day in 1783, this si the story of (PERHAPS) the bravest collection of flyers the world has ever seen, as (SORT OF) told to Marjorie Priceman.
Sebastian and the Balloon by Philip C. Stead
On a boring day, on a dull street, Sebastian sat high atop his roof―something he was never supposed to do. When he launched himself into the air in his balloon made of Grandma's afghans and patchwork quilts, his journey took on a life of its own and his boring day turned into the adventure of a lifetime.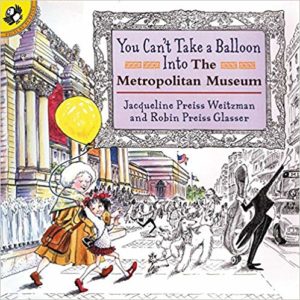 You Can't Take a Balloon to the Metropolitan Museum by Jacqueline Preiss Weitzman, illustrated Robin Glasser
While she's in the Metropolitan Museum with her grandmother, a little girl leaves her prized yellow balloon tied to a railing outside. But its string becomes untied, and the balloon embarks on an uproarious journey through New York City. With an ever-increasing cast of wacky urban characters in tow, it soars past a host of landmarks. Eighteen famous paintings and sculptures are reproduced in this delightful, wordless book that explores the magical relationship between art and life.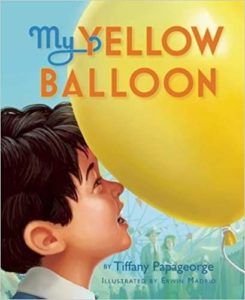 My Yellow Balloon by Tiffany Papageorge, illustrated by Erwin Madrid
That's where Joey makes a new friend: a bright yellow balloon. Joey and his beloved balloon do everything together, until the balloon accidentally slips off Joey's wrist and flies far, far away. What will Joey do without his special friend?
What are you reading these days? I want to know! Find me on Twitter at @KarinaYanGlaser, on Instagram at @KarinaIsReadingAndWriting, or email me at karina@bookriot.com.
Have you checked out Book Riot's Kidlit These Days podcast yet? I co-host it with my friend, school librarian Matthew Winner. We chat about the intersection of children's books and what's going on in the world today. Give it a listen and let us know what you think!
Until next time!
Karina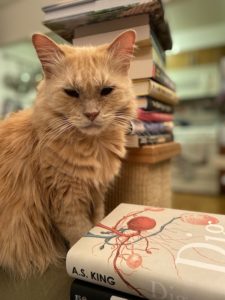 *If this e-mail was forwarded to you, follow this link to subscribe to "The Kids Are All Right" newsletter and other fabulous Book Riot newsletters for your own customized e-mail delivery. Thank you!*