We're giving away 5 sets of British Library Crime Classics to 5 lucky Riot readers! Each winner will receive one copy of the following:
Christmas Card
Crimson Snow
Santa Klaus Murder
Silent Nights
Go here to enter for a chance to win, or just click the cover image below!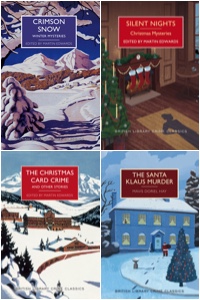 Here's what it is all about:
Mystery crime fiction written in the Golden Age of Murder!
Christmas is a mysterious, as well as magical, time of year. There's no denying that the supposed season of goodwill is the perfect backdrop for festive detective fiction. These books, which are part of the British Library Crime Classics series, introduce the reader to some of the finest Christmas and wintertime detective stories of the past—blending merry mysteries from much-loved authors with vintage crime vignettes set in winter…including one or two stories which are likely to be unfamiliar even to diehard mystery fans. The result is a collection of crime fiction to savor, whatever the season.