Sponsored by Starscape
Freeing Finch is the inspiring story of a transgender girl who overcomes adversity to find love, home, and a place to belong. Living with stepparents who don't understand her, Finch relies on the support of her neighbor Maddy. Together, they take care of a host of abandoned creatures, including a scared, stray dog who needs a family as much as Finch does. As she earns the dog's trust, Finch realizes she must also learn to trust the people in her life—even if they are the last people she expected to love her and help her to be true to herself.
Hi Kid Lit Friends,
I've been noticing a trend in middle grade toward survival stories. Whether this is a sign of our current political and/or environmental situations, I thought it would be worth putting together a list of children's books. Some are fictional stories, some are fictional stories but based on history, some are biographies, and some are survival guides. Check these out and let me know what you think!
Twelve-year-old twins Ashley and Ryan are skiing with their parents in Wyoming's Grand Teton Mountains where there is a ground-shaking rumble. Unstable snow rushes downhill and buries them in icy white. It will take all of their knowledge and grit to survive.
Saint is a boy with confidence as big as his name is long. A budding musician, he earns money playing clarinet for the New Orleans tourists. His best friend is a stray dog named Shadow, and it's because of Shadow that Saint's still in town when Hurricane Katrina hits. Saint's not worried about the hurricane at first–he plans to live to be a hundred just to defy his palm-reader friend Jupi, who told him he had a short life line. But now the city has been ordered to evacuate and Saint won't leave without Shadow. His search brings him to his elderly neighbor's home and the three of them flee to her attic when the waters rise. But when Miz Moran's medication runs out, it's up to Saint to save her life–and his beloved Shadow's.
The New York Times bestseller A Long Walk to Water begins as two stories, told in alternating sections, about two eleven-year-olds in Sudan, a girl in 2008 and a boy in 1985. The girl, Nya, is fetching water from a pond that is two hours' walk from her home: she makes two trips to the pond every day. The boy, Salva, becomes one of the "lost boys" of Sudan, refugees who cover the African continent on foot as they search for their families and for a safe place to stay. Enduring every hardship from loneliness to attack by armed rebels to contact with killer lions and crocodiles, Salva is a survivor, and his story goes on to intersect with Nya's in an astonishing and moving way.
Anyone can get lost while camping or on a hike and Survivor Kid teaches young adventurers the survival skills they need if they ever find themselves lost or in a dangerous situation in the wild. Written by a search and rescue professional and lifelong camper, it's filled with safe and practical advice on building shelters and fires, signaling for help, finding water and food, dealing with dangerous animals, learning how to navigate, and avoiding injuries in the wilderness. Ten projects include building a simple brush shelter, using a reflective surface to start a fire, testing your navigation skills with a treasure hunt, and casting animal tracks to improve your observation skills.
Ever since his mother was killed in the line of duty in Iraq, Derrick has been absolutely certain that the apocalypse is coming. And he's prepared: he's got plenty of canned goods, he's fully outfitted with HAZMAT suits, and he's building himself a sturdy fallout shelter. When his neighbor Misty insists on helping with the shelter, Derrick doesn't think it's such a good idea. Misty's just had a kidney transplant, and her reaction to her brush with death is the opposite of Derrick's: where Derrick wants to hide, Misty wants to see and do everything. But as confident as Misty is, Derrick's doomsday fears just keep getting worse. And Derrick's promised apocalypse day begins with a very strange disaster, Derrick and Misty have to figure out a way to survive–especially when the end of the world as they know it looks nothing like they expected.
Hannah Steele loves living on Pelling, a tiny island near Seattle. It's a little disconnected from the outside world, but she's always felt completely safe there. Which is why when she's asked one day to babysit after school, she thinks it's no big deal. Zoe and Oscar are her next-door neighbors, and Hannah just took a babysitting class that she's pretty sure makes her an expert. She isn't even worried that she left her inhaler at home. Then the shaking begins.
Eleanor Dross knows a thing or two about the end of the world, thanks to a survivalist grandfather who stockpiles freeze-dried food and supplies–just in case. So when she reads about a Harvard scientist's prediction that an asteroid will strike Earth in April, Eleanor knows her family will be prepared. Her classmates? They're on their own! But it's hard to keep quiet about a life-destroying asteroid–especially at a crowded lunch table–and soon Eleanor is the president of the (secret) End of the World Club. It turns out that prepping for TEOTWAWKI (the End of the World as We Know It) is actually kind of fun. But you can't really prepare for everything life drops on you. And one way or another, Eleanor's world is about to change.
On the island, everything is perfect. The sun rises in a sky filled with dancing shapes; the wind, water, and trees shelter and protect those who live there; when the nine children go to sleep in their cabins, it is with full stomachs and joy in their hearts. And only one thing ever changes: on that day, each year, when a boat appears from the mist upon the ocean carrying one young child to join them—and taking the eldest one away, never to be seen again. Today's Changing is no different. The boat arrives, taking away Jinny's best friend, Deen, replacing him with a new little girl named Ess, and leaving Jinny as the new Elder. Jinny knows her responsibility now—to teach Ess everything she needs to know about the island, to keep things as they've always been. But will she be ready for the inevitable day when the boat will come back—and take her away forever from the only home she's known?
When a terrible drought struck William Kamkwamba's tiny village in Malawi, his family lost all of the season's crops, leaving them with nothing to eat and nothing to sell. William began to explore science books in his village library, looking for a solution. There, he came up with the idea that would change his family's life forever: he could build a windmill. Made out of scrap metal and old bicycle parts, William's windmill brought electricity to his home and helped his family pump the water they needed to farm the land.
Lily refuses to believe what everyone else accepts to be true: that her father has died while climbing Denali, the highest mountain in North America. Lily has grown up hiking in the Alaskan wilderness with her dad. He's an expert climber. There's no way he would let something like this happen. So instead of grieving, Lily decides to rescue him. Her plan takes her to Denali and on a journey that tests her physically and emotionally.
Matteo, Guilia, and Federico have ordinary lives: they spend time with friends, help out their families, go to school, and deal with the many mood swings that come with growing up. Then, in a single night, everything changes. The ground shakes. An earthquake devastates their town and their security. But after everything is gone, life must go on. Anger and fear affect everyone in the community, but each of them must find a way to begin again. In the aftermath, the roots for stronger friendships can be laid amid the rubble.
What are you reading these days? I want to know! Find me on Twitter at @KarinaYanGlaser, on Instagram at @KarinaIsReadingAndWriting, or email me at karina@bookriot.com.
Until next time!
Karina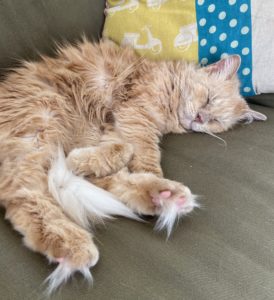 *If this e-mail was forwarded to you, follow this link to subscribe to "The Kids Are All Right" newsletter and other fabulous Book Riot newsletters for your own customized e-mail delivery. Thank you!*