Sponsored by Will Ruff and his debut novel, The Tomb of the Primal Dragon. Now for $.99!
Can cold wars ever really end? In 1972, Richard Nixon travelled to Beijing to meet with Chairman Mao after backchannel communications opened up an opportunity to speak directly with the Communist Party. Their meeting changed the balance of power throughout the world, and with it, the course of history. Now, the Cold War, thought to be over, may have taken a new turn as Arthur Biers, a young historian, inadvertently gets involved in an illegal raid of the tomb of China's first emperor. On a mission to preserve history, Arthur learns he may have forever altered its course.
Hi mystery fans! Another week bites the dust and that means it's time for clicking all the links, Kindle deals, and I found you some great audiobooks on Hoopla!
From Book Riot And Around The Internet

After Sacred Games, 5 other books on organised crime that would make for great shows
Attica Locke Left Hollywood To Write Novels Now She's Found Success In Both Worlds
Start Reading 'One Of Us Is Next' By Karen M. McManus Right Now
3 Comics Recommendations for Mystery Readers
The Perfect Ghostly Lover: PW Talks with Tess Gerritsen
A new episode of Recommended with Kristen Lepionka and Kekla Magoon!
Romancing the Holmes What inspired Sherry Thomas to turn Sherlock into Charlotte?
Cover Reveal and Excerpt: YOU'RE NEXT By Kylie Schachte
Swamp and Circumstance: 11 Books Like WHERE THE CRAWDADS SING
The Ten Best Scooby-Doo Monsters
Adaptations And News

Tom Ryan's Novel 'Keep This To Yourself' Optioned for Television
David Oyelowo to Star in 'President Is Missing' Pilot From Bill Clinton, James Patterson at Showtime
Nancy Drew and the Mystery of Her Enduring Relevance
These are the Nancy Drew books to reread before the CW show
Kindle Deals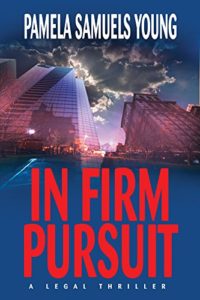 Pamela Samuels Young's In Firm Pursuit is $4.99! (The sequel to Every Reasonable Doubt, a great legal mystery which is $0–not a typo, seriously the first in the series is FREE and I really recommend it–Review)
One of my FAVORITE procedurals and detective is $1.99–ruuuuun to The Dime by Kathleen Kent! (Review) (I don't remember TWs, sorry.)
And I just bought Gretchen McNeil's Ten for $1.99 because it's a YA horror novel based on Agatha Christie's And Then There Were None!
Audiobooks On Hoopla (If you don't know about Hoopla)
One of my favorite crime novels: Sadie by Courtney Summers (Review) (TW child abuse/ pedophile/ attempted suicide mentioned)
My next listen: Three-Fifths by John Vercher, which is from a brand new crime imprint which I'm loving.
Browse all the books recommended in Unusual Suspects previous newsletters on this shelf. And here's an Unusual Suspects Pinterest board.
Until next time, keep investigating! And in the meantime, come talk books with me on Twitter, Instagram, and Litsy–you can find me under Jamie Canavés.
If a mystery fan forwarded this newsletter to you and you'd like your very own you can sign up here.