Sponsored by The Man Who Played With Fire by Jan Stocklassa
Little did anyone know, Stieg Larsson, the late Swedish author of the Girl With the Dragon Tattoo, was trying to solve Sweden's most notorious unsolved true crime. In 1986, Swedish Prime Minister Olof Palme was murdered on a Stockholm street at point-blank range. Larsson was following a trail of evidence before he died. Now, Journalist Jan Stocklassa dives into Larsson's archives to pursue the mystery. What follows is the story of an unbelievable true crime and the world-famous thriller writer determined to investigate it. Read The Man Who Played With Fire by Jan Stocklassa.
Welcome to In The Club, a newsletter of resources to keep your book group well-met, well-read, and well-fed. Your girl is fighting a cold this week with apple cider vinegar, elderberry syrup, oregano oil, and the occasional hot toddy. Blame that last part for any bad puns or jokes!
I really am all about spooky season and stuck with the theme again this week. Last week I hit you with the witchy reads, and this week we're seeing ghosts.
Ready? To the club!!
---
Nibbles and Sips (and Ambiance Tips)
I went to Salt & Straw last October while visiting my now-home of Portland and sampled several of their Spooktober flavors. One of my faves was called Essence of Ghost, a bitter and sweet sorbet with a subtle smokiness reminiscent of "ghouls spooking a foggy graveyard." I love the idea of smoke evoking ghosts and spookiness, so I'm serving up some more smoky suggestions for today's nibbles and sips.
When I think smoky, I think of mezcal, which I like to think of as tequila's cousin who smokes like 12 packs a day. The smokiness of this particular spirit pairs so well with books about spirits. My favorite mezcal cocktail is a spicy jalapeno number like this one.
Confession: if you put any kind of Chex Mix situation in front of me, I will inhale it like I've never been fed. Here's a smoky version of this highly addictive snackage that I highly encourage you to make lots of.
I have never tried this before but my good friend Google suggested it and now I want three of it. It's a smoked chocolate whiskey cake. WANT.
Create a ghoulish mood and hold the club meeting by candlelight. It's a little obvious and cheesy, but it's also super fun.
Spirited Reading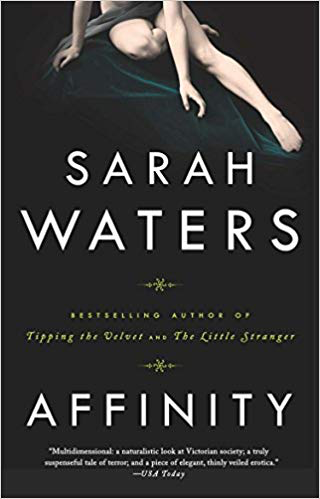 Affinity by Sarah Waters – An upper-class woman in Victorian London attempts death by suicide and begins visiting a women's prison as part of her rehabilitative charity work. She's instantly fascinated by spiritualist Selina Dawes, a mysterious woman imprisoned after a seance she conducted went horribly, horribly wrong. Strange things begin to happen both in and outside of the prison the more she gets to know Selina, things that could only be explained by the presence of some kind of spectre. It's got such a delightfully creepy, unsettling quality to it that kept me turning those pages between chills.
Book Club Bonus: So many of the questions I was going to suggest are plot spoilers, so I'll leave you with this: discuss how the main character's privilege plays into… the things.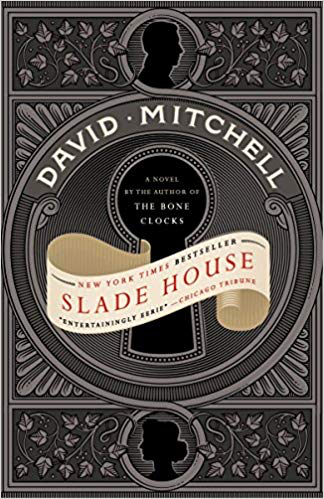 Slade House by David Mitchell – I've been meaning to read this since The Bone Clocks left me looking like the woman in this meme. It's a haunted house story with the David Mitchell treatment applied: lots of characters, time hops, and interconnected storylines, all wrapped in a story about a house that you never want to leave until you realize you can't get out.
Book Club Bonus: If you've read any other David Mitchell, discuss the similarities and characters or themes that connect all of Mitchell's works to one another. Unpack the symbolism of doors and the narrative structure; it's broken up into five parts and is narrated by five different characters.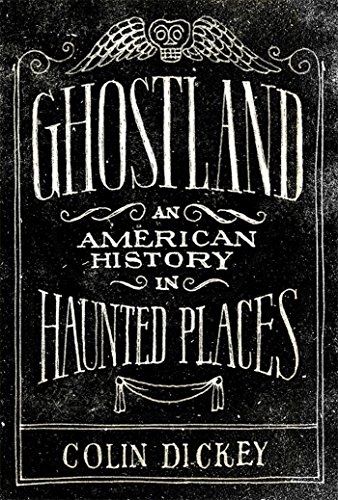 Ghostland: An American History in Haunted Places by Colin Dickey – You know I'm always saying truth is stranger than fiction, and it's also sometimes a lot creepier. This is a literary road trip through some of the country's most haunted places with tons of interesting and TERRIFYING history along the way.
Book Club Bonus: If you're all game, have the group research haunted places near you and share them with the group! I won't judge you if you want to do this part with the lights on.
Suggestion Section
I'm not saying we need club uniforms, but if we did….
Good Morning America is the next to get in on the book club game. I do love their first pick!
Oprah explains why she partnered with Apple for her book club.
I covered some of these last week, but here's a more complete roundup of October's celebrity book club picks.
---
Thanks for hanging with me today! Shoot me an email at vanessa@riotnewmedia.com with your burning book club questions or find me on Twitter and the gram @buenosdiazsd. Sign up for the Audiobooks newsletter, get it on the Read Harder podcast, and watch me booktube every Friday too.
Stay bad & bookish, my friends.
Vanessa
More Resources:
– Our Book Group In A Box guide
– List your group on the Book Group Resources page