Sponsored by Wattpad Books, publisher of What Happened That Night by Deanna Cameron
Griffin Tomlin is dead. And Clara's sister killed him . . . Four months after the murder, the entire town of Shiloh is still in shock. For Clara Porterfield, the normal world has crumbled around her in a million chaotic pieces. Now Clara lives in a new reality, where her sister awaits trial for murder, her mother obsessively digs in a dead, frozen garden, and her father lives and breathes denial. At school, Clara is haunted by her classmates' morbid curiosity―and all of the unspoken questions they won't ask. But none of them knows what she knows . . .
Hello mystery fans! This week I have for you a character driven psychological mystery, and two fun, totally different, mysteries: an elderly sleuth, and a locked-room YA mystery based on the Clue board game.
Character Driven Psychological Mystery (TW alcoholism/ social anxiety, panic attacks, agoraphobia, PTSD, on page/ past suicide mentioned)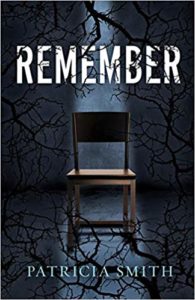 Remember by Patricia Smith: This starts with a mystery where something horrible has clearly happened but the character, Portia Willows, doesn't know what it is. We're then taken back to her as a teenager with social anxiety and agoraphobia and get to know her family. The family she partially loses in an accident. Now she lives with her father, both drinking the day away and barely able to care for themselves and each other. Until a young man moves in across the street, forcing Portia to step outside of her comfort zone in hopes of her first romantic relationship. But we keep getting "now" chapters of Portia trying to figure out where she is, what happened, and where her father is… In a genre that too often grossly uses mental illness as the boogie monster this was a welcome change, and new voice.
Fun!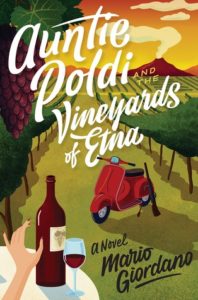 Auntie Poldi and the Vineyards of Etna (Tante Poldi #2) by Mario Giordano, John Brownjohn (Translation): Elderly Bavarian, Poldi, has retired to a Sicilian village and finds herself once again solving crimes. Auntie Poldi loves to drink, loves men, being independent, voicing her opinion, and is hilarious. Of course I love her! The way the series is written made me think a bit of The Princess Bride in that Poldi isn't telling us the story but rather her visiting nephew, a struggling writer as she tells him her adventures. So we get all of Poldi's escapades, crime solving–this time she's trying to solve the poisoning of a dog and murder of a fortune-teller–along with the family bickering, Poldi criticizing her nephew's writing attempts included. If you like the bigger-than-life characters who will not be told what to do, will-they-or-won't-they relationships, and beautiful settings this is a super fun, and entertaining series that always makes me laugh.
Hello, Clue Fans! (TW discussions of suicide)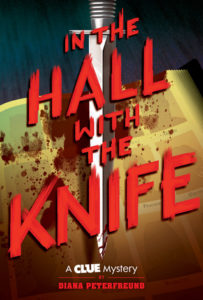 In the Hall with the Knife (Clue Mystery #1) by Diana Peterfreund: This is the start to a trilogy based on the Clue board game, that has fun references to the film. We get all the names we know so well, from Mr. Boddy (the Blackbrook Academy headmaster) to Mrs. White (in charge of the girl's dormitory). And in between is all the students (Scarlet Mistry, Orchid McKee, Beth "Peacock" Picach, Vaughn Green, Samuel "Mustard" Maestor, and Finn Plum) who create the stereotypical overachiever, sports star, townie etc we come to expect. And of course they've all got secrets! And they all end up snowed in together in the girl's dormitory. And someone is murdered…I enjoyed that this felt familiar while also new, thanks to the teenage perspective and the added twists to the story–not going to tell you! It's the start of a trilogy so of course we're left hanging at the end but what I especially liked was the end, and the door it opened for what is to come!
Recent Releases
The Athena Protocol by Shamim Sarif (Currently reading: I should not have started this before bed because 1. I want to play just-one-more-chapter! 2. It starts with an intense scene–women "snipers" rescuing kidnapped girls when things don't go as instructed…) (TW child rape, not detailed)
The Furies by Katie Lowe (Currently listening to audio: Slow burn. Private school. Missing girl. Witchy history. The Craft vibes. Girl rage. <–If those are your things, this one is for you!) (TW date rape, on page/ past suicides, discussions/ animal cruelty/ child abuse, not on page)
Tuesday Mooney Talks to Ghosts by Kate Racculia (The author of Bellweather Rhapsody wrote a novel about a billionaire creating an Edgar Allan Poe inspired treasure hunt through the city of Boston and this sounds perfect for fans of The Westing Game and puzzle mysteries and it's next on my list!)
Browse all the books recommended in Unusual Suspects previous newsletters on this shelf. And here's an Unusual Suspects Pinterest board.
Until next time, keep investigating! And in the meantime, come talk books with me on Twitter, Instagram, and Litsy–you can find me under Jamie Canavés.
If a mystery fan forwarded this newsletter to you and you'd like your very own you can sign up here.