Sponsored by The Nightmare-Verse Series by L. L. McKinney with Imprint
"The fantasy series I've been waiting for my whole life. Alice is Black Girl Magic personified." —Angie Thomas, #1 New York Times-bestselling author of The Hate U Give
For Alice, keeping the Nightmares at bay is turning into a full-time job. The deeper she ventures into Wonderland, the more topsy-turvy everything becomes. It's not until she's at her wits end that she realizes—Wonderland is trying to save her. Venture into the Nightmare-Verse, where Alice meets Buffy in an action-packed twist on an old classic that's full of romance and otherworldly intrigue.
Happy Tuesday, shipmates! Here's Alex with a selection of new releases and some SFF-related news. I think CBS is trying to kill me. Within 24 hours, they hit me with a new trailer for Picard and then went in for the KO with the Discovery season 3 trailer. But my favorite thing so far this week on Twitter is another scifi-themed crochet project that I definitely can't add to my list because there's no pattern.
New Releases
The Rosewater Redemption by Tade Thompson – The independent city-state of Rosewater faces threats from all sides. Debts from the insurrection are coming home to roost. Nigeria isn't willing to let Rosewater go without a fight. And the aliens that inhabit the city are threatening mass murder.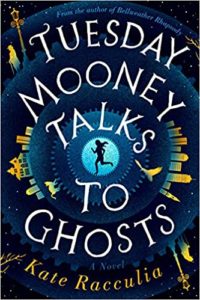 Tuesday Mooney Talks to Ghosts by Kate Racculia – When the enigmatic billionare Vincent Pryce dies, he leaves behind a treasure hunt that will lead to his fortune, directed by clues inspired by Edgar Allan Poe. Puzzle-loving loner Tuesday joins with a group of other misfits on the hunt, which not only requires all their combined brainpower, but will force them to face painful ghosts from their pasts.
The Beautiful by Renée Ahdiehm – Nineteenth-century New Orleans is ruled by vampires, which makes it an ideal safe haven for Celine, a dress maker who was forced to flee from Paris. Rather than finding safety, she falls in with the city's underworld… and then dead girls begin to show up, stirring up fears that a serial killer is on the loose.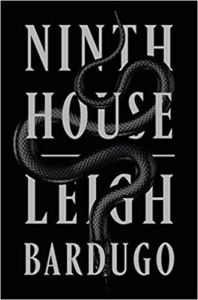 Ninth House by Leigh Bardugo – Alex Stern dropped out of school young and went into a downward spiral of bad decisions that ended with her as the only survivor of an unsolved multiple homicide. Recovering in the hospital, she's offered a too-good-to-be-true deal: a full ride to Yale, and the only price is that she has to monitor the school's secret societies… which dabble in forbidden magic.
A Kingdom for a Stage by Heidi Heileg – Jetta is wanted by both sides of a civil war, for the magic in her blood that can animate ordinary objects–or weapons. But Jetta fears using her power will turn her into a tyrannical necromancer like her father. Is saving her country worth sacrificing her soul?
How Rory Thorne Destroyed the Multiverse by K. Eason – Rory is a princess who received thirteen fairy blessings, the most useful of which is the ability to see through flattery. After the birth of her younger brother means she will no longer be taking over the throne after her father, she's betrothed to a prince on a distant world. Her talents soon have her uncovering a plot in her new home and leading a small group of friends to save her betrothed.
News and Views
Apparently the Nancy Drew series on the CW is going to have actual ghosts, unlike the books it's loosely based on.
Amazon's got a short story collection coming, with stories from from N.K. Jemisin and Andy Weir.
Robin Hobb on 25 years of Assassin's Apprentice.
Essay of the week: Why Has Ursula K. Le Guin Inspired So Many Musicians?
Good Morning America revealed the cover and title of the prequel to The Hunger Games.
The writer of John Wick has been hired to adapt A Darker Shade of Magic.
Roundup of post-Rise of Skywalker plans for Star Wars, which includes more Thrawn novels from Timothy Zahn! Also, check out io9's aptly named post: So Many Goddamn Star Wars Books and Comics Got Announced at New York Comic Con.
The Geeks of Color panel at NYCC was about fandom joy (and featured some familiar names!)
We've got recommendations for sci-fi books you can cozy up with as the weather gets colder.
Stephen King's scariest villain is at the center of season 2 of Castle Rock.
Also, there's a new trailer for His Dark Materials that looks pretty dang epic.
Le Creuset is doing a Star Wars collection. Just don't look at the prices.
First look at Outlander season five.
The Ohio State University marching band did a super cool space-themed half-time show that was definitely the Right Stuff.
---
See you, space pirates. You can find all of the books recommended in this newsletter on a handy Goodreads shelf. If you'd like to know more about my secret plans to dominate the seas and skies, you can catch me over at my personal site.