Sponsored by Black Opal Books
"Written with a dynamic, cinematic style and full of action and suspense." ~ James Rollins, #1 New York Times bestselling author of Crucible.
A quest to find Alexander the Great's mysterious Egyptian weapon leads aikido black belt Maddy Marshall on a tense, pulse-pounding adventure. Mere steps ahead of a deadly Russian sniper, she and a covert agent race from a California winery to a medieval Spanish castle, from a lost warren under the streets of Jerusalem to a mountaintop monastery, and ultimately, into the heart of her family's darkest secrets.
Hello, readers! I am feeling optimistic about this upcoming week, which never happens, so my head is probably going to suddenly drop off my shoulders or something. But until that happens, there are fantastic books to be read! I just got back from NEIBA, where I picked up many amazing books that I can't wait to read and then tell you about. Which is my favorite thing to do (after reading them.) Please enjoy the rest of your week, and remember to be excellent to each other! I'll see you again on Thursday. – xoxo, Liberty
Here's Monday's trivia question: Before Kathy Bates took the part, what actress turned down the role of Annie Wilkes in Misery because she thought it was too violent? (Scroll to the bottom for the answer.)
Deals, Reels, and Squeals!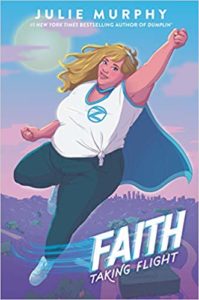 Julie Murphy announced Faith: Taking Flight, an upcoming YA novel about the plus size super hero of Valiant Comics. (Balzer + Bray, July 7, 2020)
Here's the cover for the new Hunger Games prequel. (Scholastic, May 19, 2020) (I find it wild that three of the most highly anticipated books coming in the next several months are by Suzanne Collins, Susanna Clarke, and Susannah Cahalan.)
Mariko Tamaki is working with Abrams Kids on a new imprint of graphic novels by LGBTQIA creators.
Rivers Solomon has a work of gothic fiction on the way in the winter of 2021.
Kristen Arnett has sold two new books to Riverhead.
Look at this beautiful cover for Hannah Abigail Clarke's debut novel The Scapegracers. ( Erewhon, May 12, 2020)
Hari Kunzru has finished a new book!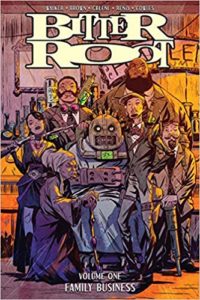 The comic book series Bitter Root by David F. Walker, Sanford Greene and Chuck Brown, is being made into a film.
Here's the first look at If It Bleeds, Stephen King's next book. (Scribner, May 5, 2020)
And speaking of Stephen King, here's a look at the Misery prequel set for the second season of Castle Rock.
John Wick writer Derek Kolstad will be adapting V.E. Schwab's A Darker Shade of Magic series for Sony.
M.R. Carey, author of The Girl With All the Gifts, has a new post-apocalyptic trilogy on the way.
At Book Riot, I work on the New Books! email, the All the Books! podcast about new releases, and the Book Riot Insiders New Release Index. I am very fortunate to get to read a lot of upcoming titles, and learn about a lot of upcoming titles, and I'm delighted to share a couple with you each week so you can add them to your TBR!
Excited to read: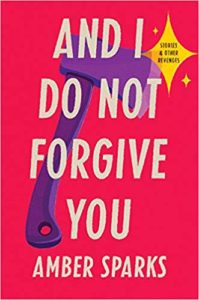 And I Do Not Forgive You: Stories and Other Revenges by Amber Sparks (Liveright, February 11, 2020)
I am a big fan of Amber Sparks. I loved her collection from a couple years back, called The Unfinished World and Other Stories, and I hear this one is even better! The rep at the trade show table told me that her blood felt fizzy while she read these stories. In a good way. I'M SOLD. I mean, I was already sold, but yay fizzy blood! Also the cover makes me think of Rosa Diaz: "What kind of woman doesn't have an axe?"
What I'm reading this week: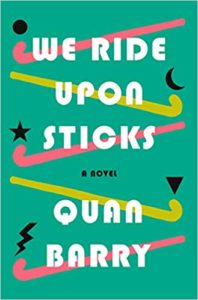 We Ride Upon Sticks by Quan Barry
The Forgotten Girl by India Hill Brown
Celestial Bodies by Jokha Alharthi
My Dark Vanessa by Kate Elizabeth Russell
Pun of the week:
What happened when the semi-colon broke grammar laws? It was given two consecutive sentences.
Here's a kitten picture: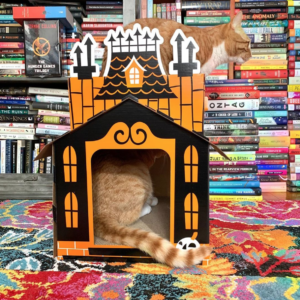 And this is funny.
It's topical.
Trivia answer: Bette Midler.
You made it to the bottom! Thanks for reading! – xo, L