Sponsored by Little Bee Books
"Contagiously upbeat, joyful, and positive, this artistic alphabet book is also a series of affirmations for young black children, who will beg to read it again and again." – Kirkus, starred review. M Is for Melanin is an empowering alphabet book that teaches kids their ABCs and celebrates Black children! Each letter of the alphabet contains uplifting, Black-positive messages, from A is for Afro, to F is for Fresh, to W is for Worthy. Children will learn their ABCs while being encouraged to love the skin that they're in. Be bold. Be fearless. BE YOU.
Hi Kid Lit Friends!
Welcome to new book Tuesday! It's a huge list today because it's the first Tuesday of the month AND it's October. Lots of wonderful books out today for the fall publishing season. Take a look at this list and let me know what you're excited about! As always, if I've had the chance to read one of these books and loved it, I marked it with a
. Please note that all descriptions come from the publisher.
Picture Book New Releases
 Come Next Season by Kim Norman, illustrated by Daniel Miyares
Every season is full of its own magic, every change brings new excitement, and every experience is better when it's shared. With poetic text from bestselling author Kim Norman, brought to life by critically acclaimed illustrator Daniel Miyares, Come Next Season is a celebration of nature, adventure, and family―all year round.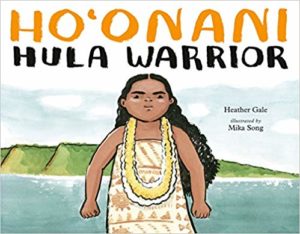 Ho'onani: Hula Warrior by Heather Gale, illustrated by Mika Son
Ho'onani feels in-between. She doesn't see herself as wahine (girl) OR kane (boy). She's happy to be in the middle. But not everyone sees it that way. When Ho'onani finds out that there will be a school performance of a traditional kane hula chant, she wants to be part of it. But can a girl really lead the all-male troupe? Ho'onani has to try . . .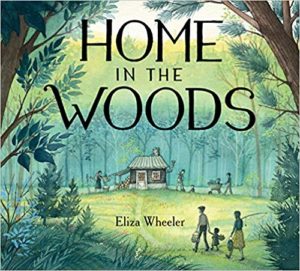 Home in the Woods by Eliza Wheeler
Eliza Wheeler's gorgeously illustrated book tells the story of what happens when six-year-old Marvel, her seven siblings, and their mom must start all over again after their father has died. Deep in the woods of Wisconsin they find a tar-paper shack. It doesn't seem like much of a home, but they soon start seeing what it could be. During their first year it's a struggle to maintain the shack and make sure they have enough to eat. But each season also brings its own delights and blessings–and the children always find a way to have fun.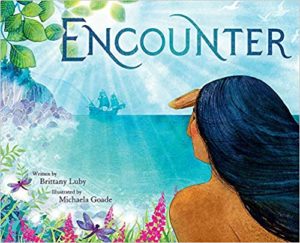 Encounter by Brittany Luby, illustrated by Michaela Goade
Based on the real journal kept by French explorer Jacques Cartier in 1534, Encounter imagines a first meeting between a French sailor and a Stadaconan fisher. As they navigate their differences, the wise animals around them note their similarities, illuminating common ground.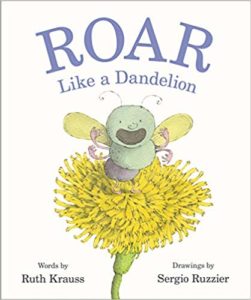 Roar Like A Dandelion by Ruth Krauss, illustrated by Sergio Ruzzier
From Ruth Krauss, the celebrated children's book author of The Carrot Seed and A Hole Is to Dig, comes this never-before-published book of witty one-liners—brought to life by Geisel Honor-winning artist Sergio Ruzzier.
Dance with a leaf.
Jump like a raindrop.
Sit in the sun and shine.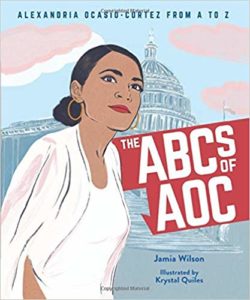 The ABCs of AOC by Jamia Wilson, illustrated by Krystal Quiles
From Advocate to Feminist, Grassroots to Queens, and Revolutionary to Zeal, The ABCs of AOCintroduces readers to values, places, and issues that relate to Alexandria Ocasio-Cortez's life and platform. A clear and engaging explanation of each term is paired with a stunning, contemporary illustration that will delight readers. This is an alphabet book like no other!
Early Readers and Chapter Book New Releases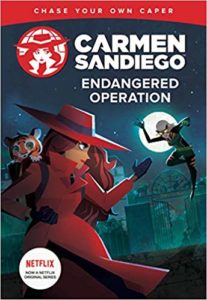 Carmen Sandiego: Endangered Operation
In this choose-your-own-caper story set in the world of Carmen Sandiego, you are a junior zookeeper caring for a rare newborn Amur tiger cub. VILE, in its latest plot, is stealing exotic animals to sell to a billionaire collector, and your charge is cub-napped! Carmen arrives and you decide the best way to get your cub back is to help her defeat VILE and rescue all the animals they've captured. Or do you? Twenty different endings to this story keep readers coming back for more adventures with Carmen Sandiego!
Little Penguin's New Friend by Tadgh Bentley
A polar bear is coming to visit! Little Penguin has never met a polar bear, but his friends have heard they are scary, with sharp teeth and terrifying roars—and that they tell very bad jokes.
But Little Penguin knows you can't believe everything you hear, right?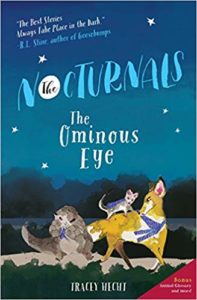 The Nocturnals by Tracey Hecht, illustrated by Josie Yee
Join Dawn, Bismark and Tobin as they set out to investigate the source of a violent jolt that fractures the earth! Along their journey, the Nocturnal Brigade meets an unfamiliar reptile—a tuatara named Polyphema—who reveals that a giant beast caused the destruction and will soon strike again. Polyphema with her special insights, is the only one who can help the Nocturnal Brigade stop this fearsome predator… but can she be trusted? With help from an owl, the jerboas, and some kiwis, the animals set a trap since surrender is not an option against this relentless beast.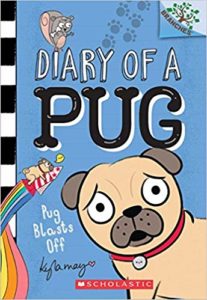 Diary of a Pug: Pug Blasts Off by Kyla May
Baron von Bubbles, a.k.a "Bub," is the self-proclaimed cutest pug on the planet! Things he loves: fashion, peanut butter, and his human, Bella. Things he does NOT love: Nutz the squirrel, baths, and the rain. When Bella enters the Inventor Challenge, Bub helps her craft the best project ever. But what happens when Nutz gets on Bub's nerves and makes him ruin Bella's project? If Bub wants to make it up to Bella, he'll have to stand up to Nutz — and the rain — once and for all.
Middle Grade New Releases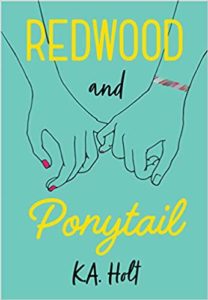 Redwood and Ponytail by K.A. Holt
Kate and Tam meet, and both of their worlds tip sideways. At first, Tam figures Kate is your stereotypical cheerleader; Kate sees Tam as another tall jock. And the more they keep running into each other, the more they surprise each other. Beneath Kate's sleek ponytail and perfect façade, Tam sees a goofy, sensitive, lonely girl. And Tam's so much more than a volleyball player, Kate realizes: She's everything Kate wishes she could be. It's complicated. Except it's not. When Kate and Tam meet, they fall in like. It's as simple as that. But not everybody sees it that way. This novel in verse about two girls discovering their feelings for each other is a universal story of finding a way to be comfortable in your own skin.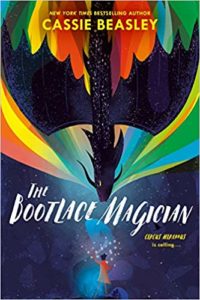 The Bootlace Magician by Cassie Beasley
Micah Tuttle now lives at the Circus Mirandus full-time as an apprentice to the incredible Lightbender. It's a dream come true! Micah spends most of days discovering and refining his magic, hanging out with a new baby unicorn, and making occasional trips outside to visit his best friend, Jenny Mendoza. Everything seems relatively peaceful and calm until Micah's grandmother, Victoria, The Bird Woman, begins to seriously threaten the future of Micah's new home. Worst of all, it's looking like she might be successful in her evil mission to destroy the circus, especially since she has nothing to lose. Soon, it's up to Micah and the Lightbender (with a little help from Micah's best friend and the other magicians) to defeat Victoria and help keep the magical circus alive.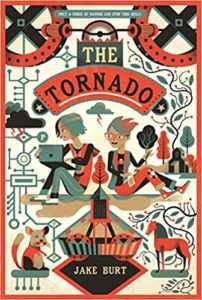 The Tornado by Jake Burt
Bell Kirby is an expert at systems, whether he's designing the world's most elaborate habitat for his pet chinchilla, re-creating Leonardo da Vinci's greatest inventions in his garage, or avoiding Parker Hellickson, the most diabolical bully Village Green Elementary has ever seen. Since third grade, Parker has tormented Bell, who's spent two long years devising a finely tuned system that keeps him out of Parker's way. Sure, it means that Bell can't get a drink when he wants to, can't play with his best friend on the playground, and can't tell his parents about his day, but at least he's safe. Until Daelynn Gower touches down in his classroom like a tornado.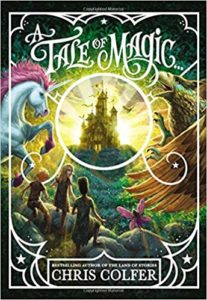 A Tale of Magic by Chris Colfer
When Brystal Evergreen stumbles across a secret section of the library, she discovers a book that introduces her to a world beyond her imagination and learns the impossible: She is a fairy capable of magic! But in the oppressive Southern Kingdom, women are forbidden from reading and magic is outlawed, so Brystal is swiftly convicted of her crimes and sent to the miserable Bootstrap Correctional Facility. But with the help of the mysterious Madame Weatherberry, Brystal is whisked away and enrolled in an academy of magic! Adventure comes with a price, however, and when Madame Weatherberry is called away to attend to an important problem, she doesn't return. Do Brystal and her classmates have what it takes to stop a sinister plot that risks the fate of the world, and magic, forever?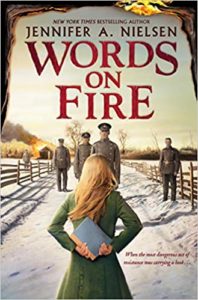 Words on Fire by Jennifer A. Nielsen
Danger is never far from Audra's family farm in Lithuania. She always avoids the occupying Russian Cossack soldiers, who insist that everyone must become Russian — they have banned Lithuanian books, religion, culture, and even the language. But Audra knows her parents are involved in something secret and perilous. In June 1893, when Cossacks arrive abruptly at their door, Audra's parents insist that she flee, taking with her an important package and instructions for where to deliver it. But escape means abandoning her parents to a terrible fate.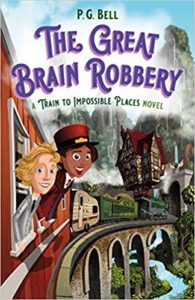 The Great Brain Robbery by P.G. Bell
Suzy Smith and her friends have gathered again for the re-launch of The Impossible Postal Express. The celebrations don't last long though, before Trollville is rocked by a violent tremor―one of a series growing more powerful by the day. It's clear something sinister is underfoot. Nevertheless Suzy's got a long overdue package that the Express must deliver, and it may just lead her to some answers.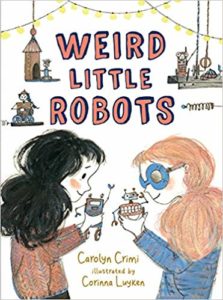 Weird Little Robots by Carolyn Crimi, illustrated by Corinna Luyken
Eleven-year-old Penny Rose has just moved to a new town, and so far the robots she builds herself are her only company. But with just a bit of magic, everything changes: she becomes best friends with Lark, has the chance to join a secret science club, and discovers that her robots are alive. Penny Rose hardly remembers how lonely she used to feel. But then a fateful misstep forces her to choose between the best friend she's always hoped for and the club she's always dreamed of, and in the end it may be her beloved little robots that pay the price.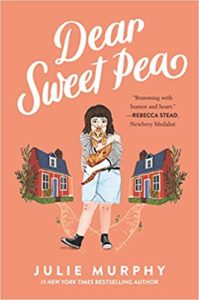 Dear Sweet Pea by Julie Murphy
Patricia "Sweet Pea" DiMarco wasn't sure what to expect when her parents announced they were getting a divorce. She never could have imagined that they would have the "brilliant" idea of living in nearly identical houses on the same street. In the one house between them lives their eccentric neighbor Miss Flora Mae, the famed local advice columnist behind "Miss Flora Mae I?" Dividing her time between two homes is not easy. And it doesn't help that at school, Sweet Pea is now sitting right next to her ex–best friend, Kiera, a daily reminder of the friendship that once was.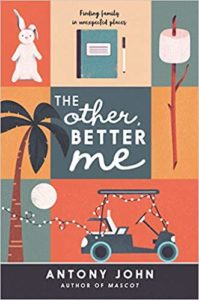 The Other, Better Me by Antony John
Lola and Momma have always been a team of two. It hasn't always been easy for Lola, being one of the only kids she knows with just one parent around. And lately she's been feeling incomplete, like there's a part of herself that she can't know until she knows her dad. But what will happen—to Lola, to Momma, to their team of two—if she finds him?
The Disaster Days by Rebecca Behrens
Hannah Steele loves living on Pelling, a tiny island near Seattle. It's a little disconnected from the outside world, but she's always felt completely safe there. Which is why when she's asked one day to babysit after school, she thinks it's no big deal. Zoe and Oscar are her next-door neighbors, and Hannah just took a babysitting class that she's pretty sure makes her an expert. She isn't even worried that she left her inhaler at home. Then the shaking begins.
 I Can Make This Promise by Christine Day
All her life, Edie has known that her mom was adopted by a white couple. So, no matter how curious she might be about her Native American heritage, Edie is sure her family doesn't have any answers. Until the day when she and her friends discover a box hidden in the attic—a box full of letters signed "Love, Edith," and photos of a woman who looks just like her. Suddenly, Edie has a flurry of new questions about this woman who shares her name. Could she belong to the Native family that Edie never knew about? But if her mom and dad have kept this secret from her all her life, how can she trust them to tell her the truth now?
Embers and the Ice Dragons by Heather Fawcett
Ember St. George is a dragon. At least she was before her adoptive father—a powerful but accident-prone Magician—turned her into a human girl to save her life. Unfortunately, Ember's growing tendency to burst into flames at certain temperatures—not to mention her invisible wings—is making it too dangerous for her to stay in London. The solution: ship Ember off to her aunt's research station in frigid Antarctica.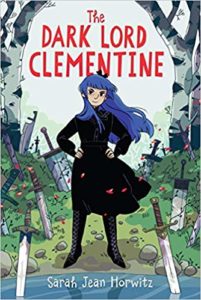 The Dark Lord Clementine by Sarah Jean Horwitz
Dastardly deeds aren't exactly the first things that come to mind when one hears the name "Clementine," but as the sole heir of the infamous Dark Lord Elithor, twelve-year-old Clementine Morcerous has been groomed since birth to be the best (worst?) Evil Overlord she can be. But everything changes the day the Dark Lord Elithor is cursed by a mysterious rival. Now, Clementine must not only search for a way to break the curse, but also take on the full responsibilities of the Dark Lord.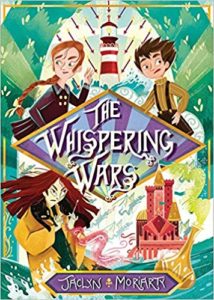 The Whispering Wars by Jaclyn Moriarty
The town of Spindrift is frequented by all kinds of Shadow Mages and charlatans.
It's also home to the Orphanage School, where Finlay lives with Glim, Taya, and Eli. Just outside town is the painfully posh Brathelthwaite Boarding School, home to Honey Bee, Hamish, and Victor, Duke of Ainsley. When the two schools compete at the Spindrift Tournament, the stakes are high, tensions are higher, and some people are out to win at any cost. Before long, the orphans and the boarding school kids are at each other's throats.
Graphic Novel New Releases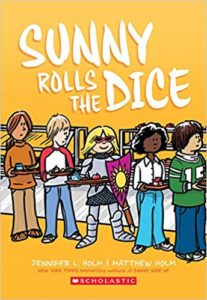 Sunny Rolls the Dice by Jennifer L. Holm & Matthew Holm
Sunny's just made it to middle school . . . and it's making her life very confusing. All her best friend Deb wants to talk about is fashion, boys, makeup, boys, and being cool. Sunny's not against any of these things, but she also doesn't understand why suddenly everything revolves around them. She's much more comfortable when she's in her basement, playing Dungeons & Dragons with a bunch of new friends. Because when you're swordfighting and spider-slaying, it's hard to worry about whether you look cool or not. Especially when it's your turn to roll the 20-sided die.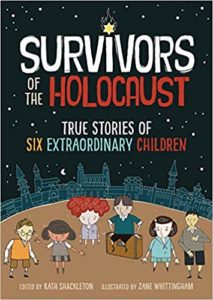 Survivors of the Holocaust: True Stories of Six Extraordinary Children by Edited by Kath Shackleton, illustrated by Zane Whittingham
This extraordinary graphic novel tells the true stories of six Jewish children and young people who survived the Holocaust. From suffering the horrors of Auschwitz, to hiding from Nazi soldiers in war-torn Paris, to sheltering from the Blitz in England, each true story is a powerful testament to the survivors' courage. These remarkable testimonials serve as a reminder never to allow such a tragedy to happen again.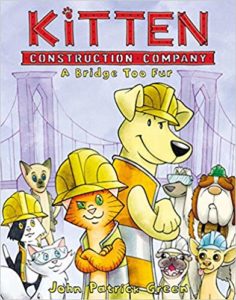 Kitten Construction Company: A Bridge Too Fur by John Patrick Green
Marmalade and her crew of construction kittens are in high demand! Their latest assignment (and biggest job yet) is to build the new Mewburg bridge. But with the bridge comes the one thing that cats hate most of all―water! As the team struggles to face their fears and do their jobs, they are forced to get help from some unlikely allies. . . slobbery, car-chasing DOGS.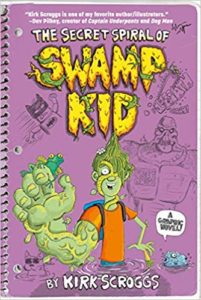 The Secret Spiral of Swamp Kid by Kirk Scroggs
My name is Russell Weinwright and if you think you've got problems in middle school, try being a half kid, half algae swamp creature who's terrible at sports! It's not easy. I eat sunlight for lunch, I've got duck weed for hair, and I think a frog might be living in my tree trunk arm. I'm literally pond scum!
Nonfiction New Releases
*PB denotes picture book; MG denotes middle grade book.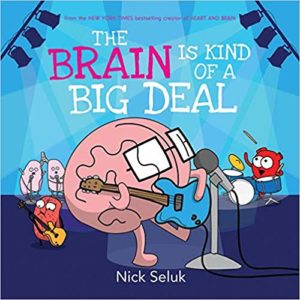 The Brain Is Kind Of A Big Deal by Nick Seluk (PB)
This funny and factual picture book from Heart and Brain creator Nick Seluk explains the science behind everything the brain helps you do: keeping your heart beating, telling you when you are sleepy, remembering stuff, and more. The brain is in charge of everything you do, every minute of every day for your entire life. That's kind of a big deal.
 The Unstoppable Garrett Morgan by Joan DiCicco, illustrated by Ebony Glenn (PB)
"If a man puts something to block your way, the first time you go around it, the second time you go over it, and the third time you go through it."
Living by these words made inventor and entrepreneur Garrett Morgan unstoppable! Growing up in Claysville, Kentucky, the son of freed slaves, young and curious Garrett was eager for life beyond his family's farm. At age fourteen, he moved north to Cleveland, where his creative mind took flight amidst the city's booming clothing-manufacturing industry.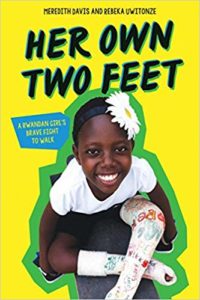 Her Own Two Feet: A Rwandan Girl's Brave Fight to Walk by Meredith Davis and Rebeka Uwitonze (MG)
Rebeka Uwitonze was born in Rwanda with curled and twisted feet, which meant she had to crawl or be carried to get around. At nine years old, she gets an offer that could change her life. A doctor in the US might be able to turn her feet. But it means leaving her own family behind and going to America on her own. Her Own Two Feet tells Rebeka's inspiring story through her eyes, with the help of one of her hosts.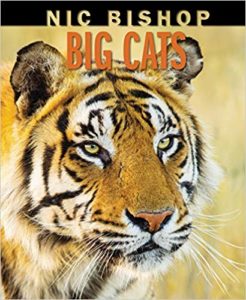 Big Cats by Nic Bishop (MG)
With breathtaking full-page images, Sibert Medal-winning photographer Nic Bishop introduces readers to a variety of beautiful and stealthy big cats. The simple, engaging text presents both basic information and captivating details about the appearance, habits, and remarkable abilities of these amazing felines. An index and glossary are included, along with an author's note detailing his research and the fun stories behind the photographs.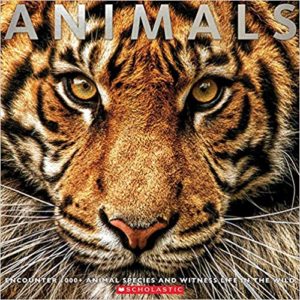 Animals: Witness Life in the Wild Featuring 100s of Species
More than 1,000 animal species are profiled in this truly stunning, all-new information book. Packed with the latest expert information across the world of natural history research along with eye-catching photographs, Animals includes short, educational feature spreads that include top 10 lists as well as deep dives into themes affecting all the nature on our planet, from habitats to life cycle and from migration to conservation.
What are you reading these days? I want to know! Find me on Twitter at @KarinaYanGlaser, on Instagram at @KarinaIsReadingAndWriting, or email me at karina@bookriot.com.
Until next time!
Karina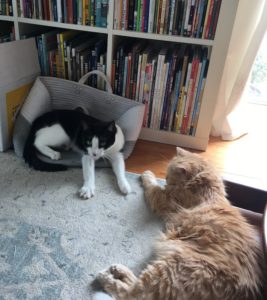 *If this e-mail was forwarded to you, follow this link to subscribe to "The Kids Are All Right" newsletter and other fabulous Book Riot newsletters for your own customized e-mail delivery. Thank you!*