Sponsored by Tor Teen
If Rain weren't a girl, she would be respected as a Neshu combat master. When an army of nomads invades her kingdom, she purchases powder made from dragon magic that enables her to disguise herself as a boy and heads to the war camps. There, she excels in her training while wrestling with the voice of a dragon that has taken shape inside her head. As war looms and Rain is enlisted into an elite, secret unit tasked with rescuing the High King, she begins to realize this dragon tincture may hold the key to her kingdom's victory.
Happy Friday, shipmates! It's Alex with some news and a slightly spooky warm-up since we're heading toward October. I hope everyone has a lovely weekend–and before you go, check out this test animation Ray Harryhausen did for his never-made War of the Worlds movie.
News and Views
We've got a post for you about the 2019 Rhysling Award winners. SFF poetry!
This week's SFF Yeah! podcast is all about African SF/F.
The Daily Bugle has pivoted to video.
Favorite essay of the week: The care and feeding of Supervillains.
Runner up in the essay department: What Today's Sci-Fi Should Learn from Flash Gordon.
Matt Wallace on your true cyberpunk name.
The Emmys happened. Awards were won. Honestly all I care about is Gwendoline Christie looking like a neck-snapping goddess.
And here's a list of six books about space to check out.
This week's LeVar Burton Reads podcast is JY Yang's Tiger Baby.
Oh no there's a recipe for Mudder's Milk in Firefly: The Big Damn Cookbook.
They finally figured out a way to make me watch another Jurassic World movie. Because it'll involve Laura Dern, Sam Neill, and Jeff Goldblum.
Check out NASA's new spacesuits!
Phil Plait explains a new paper about how an asteroid impact gave life a helping hand 466 million years ago.
A study finds that cats are just as loyal to their humans as dogs, and was definitely not authored by a cat wearing glasses and a lab coat.
Snopes is 25 years old and I have just turned into dust and blown away.
Free Association Friday
Look, I'm writing this to you from the deep past that is Wednesday evening having just spent an hour frantically poking the screen of my cell phone to defeat a giant pokémon that is both a dragon AND a ghost. I also might or might not have imbibed a beer at this point. So let's talk ghosts, dragons, and ghost dragons!
Obviously, there are a zillion books that involve ghosts and a zillion and a half that involve dragons in our genre. But I'm looking at the standouts that grabbed me by the throat and shook me like a ghost dragon.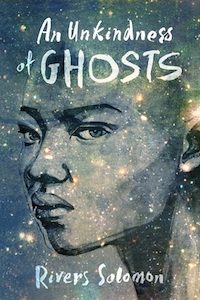 Ghost-wise, we're starting with An Unkindness of Ghosts by Rivers Solomon. Because the ghosts are right there in the title. And just because they're mostly metaphorical ghosts as opposed to beings created of ectoplasm doesn't make them any less horrifying. The twisted ghosts of societal history, the more personal ghosts of absent friends and family, the horrible ghosts of trauma. They're all there, and they'd probably be easier to deal with if they were real. For a much more literal ghost, how about The Girl from the Well by Rin Chupeco. The cover's so deliberately evocative of the antagonist from Ring by Suzuki Koji, but the formerly vengeful ghost is at least looking out for the little guy, unlike Sadako. Seanan McGuire's Dusk or Dark or Dawn or Day is chock full of ghosts in a complex earth-bound afterlife, with bonus witches.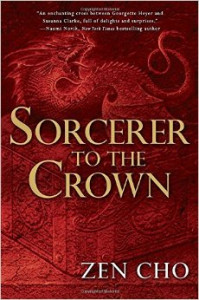 What about dragons? Sorcerer to the Crown by Zen Cho has magicians and dragons in regency England, yes please. Of Cinder and Bone by Kyoko M has the perfect pitch: Jurassic Park, but with Dragons. Nothing else needs to be said. A Natural History of Dragons by Marie Brennan follows the world's most renowned dragon naturalist on her adventures. Smoke Eaters by Sean Grigsby is about a firefighter who discovers he's immune to dragon smoke… so he gets inducted to the elite dragon-fighting force of his city. And last but not least–I read The Iron Dragon's Daughter by Michael Swanwick when I was a teenager and I'm still thinking about its factory-made flying war machines twenty years later.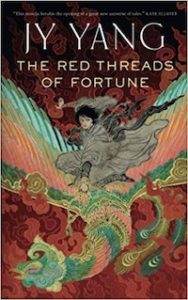 So what about ghost dragons? Well, in Red Threads of Fortune by JY Yang, it's not dragons precisely, but human souls can end up in things that are distressingly large and scaley. And in RJ Barker's The Bone Ships, there are literal ships made out of literal dragon bones, though it's more totally metal than ghostly.
But for no reason at all–definitely not getting into details–I'm just going to gently slide Ship of Magic by Robin Hobb across the table.
---
See you, space pirates. You can find all of the books recommended in this newsletter on a handy Goodreads shelf. If you'd like to know more about my secret plans to dominate the seas and skies, you can catch me over at my personal site.