Sponsored by The Nightmare-Verse Series by L. L. McKinney with Imprint
"The fantasy series I've been waiting for my whole life. Alice is Black Girl Magic personified." —Angie Thomas, #1 New York Times-bestselling author of The Hate U Give. For Alice, keeping the Nightmares at bay is turning into a full-time job. The deeper she ventures into Wonderland, the more topsy-turvy everything becomes. It's not until she's at her wits end that she realizes—Wonderland is trying to save her. Venture into the Nightmare-Verse, where Alice meets Buffy in an action-packed twist on an old classic that's full of romance and otherworldly intrigue.
Hi YA fans! I'm filling in for Kelly today which I'm very excited about. I write the Unusual Suspects mystery newsletter so my YA reading is generally in the criminal world and it's nice to take a break and shout about other genres in YA. Here are some recent books I've loved, with the added bonus that they're all also excellent audiobooks. —Jamie Canavés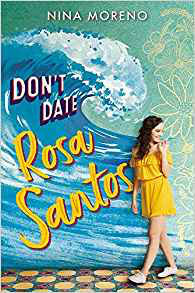 Don't Date Rosa Santos by Nina Moreno: Caught between "mothers" and countries Rosa Santos has a lot to figure out. For starters she's made a big decision on where to go to college, but she's been keeping it to herself because she's certain her abuela isn't going to like it. And her abuela raised her, as her mom is more of the traveling free-spirited type. Why won't her abuela like the decision? Because it hinges on Rosa traveling to Cuba and her abuela is from el exilio (Cuban exile) and doesn't believe in setting foot back in Cuba until everyone is free. Now, with Rosa's mom returning, the town she lives in needing saving, her having to face her family curse, fear of water, and her abuela, Rosa is going to have to make a lot of difficult decisions. Add in Spanglish, a dash of Santeria, a budding romance subplot and there's a lot to love in this book, starting with the great characters.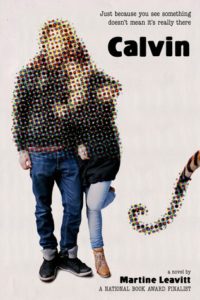 Calvin by Martine Leavitt: This book had my heart feeling every emotion through this clever and heartfelt journey. Thanks to a series of coincidences–beginning with the date of his birth–Calvin has always felt connected to the comic Calvin & Hobbes. Now, struggling with a school incident that led to a diagnoses of schizophrenia, he turns all his focus on the comic's creator Bill Watterson, a man who has gone to lengths to avoid public attention. Calvin decides to write him a letter asking him to come out of retirement for one more comic, hoping it will be the key to saving him–and making the Hobbes he is hallucinating go away. All of this requires a trip across a very frozen Lake Erie joined by his childhood friend Susie. I inhaled this book which takes you through the roller coaster of diagnosis, adolescences, friendship, acceptance, and love. Hug your heart with this book! (TW suicidal thoughts, talk of suicide)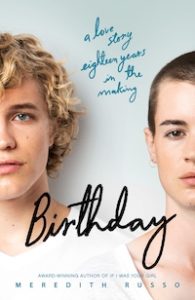 Birthday by Meredith Russo: As a huge fan of Russo's first novel, If I Was Your Girl, I had high hopes for this one and it certainly delivered. Not only did it squeeze the daylights out of my heart, but I loved the format of how it was written. Morgan and Eric were born on the same day so their parents bonded and made it a point for the two to always celebrate their birthdays together, something the two have continued as teenagers. But as they each try to navigate hard life moments–death, divorce, family, gender, sexual orientation–their friendship is also put to the test. We get to watch Morgan and Eric through their high school birthdays and let me tell you how hard I rooted for these two. This is ultimately a beautiful story about friendship, love, and acceptance. (TW suicidal thoughts, attempted suicide on page/ homophobia, transphobia/ terminally ill parent)
Patron Saints of Nothing by Randy Ribay: Okay, it wouldn't be me if I didn't give you at least one crime book so here is one of the year's best, which is also a coming-of-age story about identity, culture, diaspora, and family. When Jay Reguero learns that his cousin Jun was murdered in the Philippines, related to the war on drugs, he decides to spend his spring break visiting his Filipino relatives in hopes of learning who killed Jun and why. This book tackles a lot–from addiction to finding your place when you feel torn between cultures–with thoughtfulness, great writing, and excellent characters. I highly anticipate more from Ribay! And if you went with the audiobook for Red, White & Royal Blue (not YA) and loved the narrator, Ramón de Ocampo, he also narrates this one! (TW addiction/ discussions of sex trafficking/ past rape, not detailed)
Hope you find your next favorite read!