Sponsored by Sourcebooks
When Nefertiti Austin, a single African American woman, decided she wanted to adopt a Black baby boy out of the foster-care system, she was unprepared for the fact that there is no place for Black women in the "mommy wars." She soon realized that she would not only have to navigate skepticism from the adoption community, who deal almost exclusively with white women, but surprisingly, from her own family and friends as well. In this unflinching account of her parenting journey, Nefertiti examines the history of adoption in the African American community, faces off against stereotypes of single, Black motherhood, and confronts the reality of raising children of color in racially charged, modern-day America.
Happy Friday, book nerds and bookworms! Due to the deadline for last week's newsletter, I didn't get to share the exciting news about the long list for one of my favorite book awards, the National Book Award!
I usually love checking out the titles on this list because there's variety in topics and approaches. This year's list is especially exciting because it is half books by women, nine of the 10 authors have never been nominated before, and it includes memoirs and an essay collection. Here's the list, with some context from The New Yorker:
The five finalists in each category will be announced on October 8. The winners will be announced on November 20. Awards season!
This week has been full of a few other things I loved: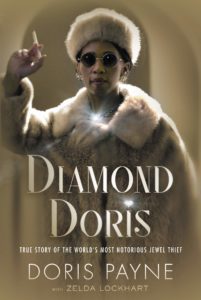 This interview with Doris Payne, an 88-year-old grandmother who used to be a notorious jewel thief, is interesting from beginning to end. Payne also just released a memoir that I am angry I missed – Diamond Doris: The True Story of the World's Most Notorious Jewel Thief.
This list of 18 inspiring leadership books for women from The Good Trade is full of excellent titles. It has a few familiar titles – I Am Malala, We Should All Be Feminists – and several others that haven't been on my radar. I put What Will It Take to Make a Woman President? on my library hold list immediately.
I never get tired of reading articles about fact-checking in nonfiction, so of course I ate up this story about how publishing is changing after a string of high-profile fact-checking errors this year. The push and pull between who should pay – authors or their publishers – is an interesting one, and I hadn't really thought about how our polarized political climate affects the liability for both. Worth a read!
And that's everything on my radar this week! You can find me on Twitter @kimthedork, on email at kim@riotnewmedia.com, and co-hosting the For Real podcast here at Book Riot. Happy reading! – Kim