Sponsored by the audiobook edition of The Future of Another Timeline by Annalee Newitz.
From Annalee Newitz, founding editor of io9, comes a story of time travel, murder, and the lengths we'll go to protect the ones we love. Determined to use time travel to create a safer future, Tess has dedicated her life to visiting key moments in history and fighting for change. But rewriting the timeline isn't as simple as editing one person or event. And just when Tess believes she's found a way to make an edit that actually sticks, she encounters a group of dangerous travelers bent on stopping her at any cost.
Happy Tuesday, shipmates! I hope you're ready for a broadside of new releases, because there are some great ones this week. It's Captain Alex with a barrage of books and some fun news items. Also, I want to share with you what is totally going to be my next crochet project and a video game about a horrible goose that I now need.
New Releases
The Future of Another Timeline by Annalee Newitz – A time travel story where Tess, from the future, has dedicated herself to shifting the past to create a safer world in her time, trying to find a way to make her edits stay while she avoids fellow travelers willing to stop her with deadly force. Her life intertwines with that of Beth, on her own path of violence and vengeance after helping her friends hide the body of an abusive boyfriend.
Steel Crow Saga by Paul Krueger – An unlikely band of four people, ranging from criminals to royalty, unites to hunt down a killer that defies not only earthly laws, but those of magic as well. Expect battle couples, magical animal companions, and snark. (Full disclosure: Paul and I share an agent.)
The Bone Ships by RJ Barker – The people of the Hundred Isles have long built their ships from the bones of dragons, now thought to be extinct. But a new dragon has been spotted in far-off waters, and a race to claim it is on. Whoever takes the dragon will shift not just battles, but the endless war in their favor.
The Monster of Elendhaven by Jennifer Giesbrecht – A monster that cannot die stalks the ruined, festering, abandoned city of Elendhaven, sent on tasks by his frail master. The monster's ultimate goal is revenge on all those who have wronged his city, no matter what he will destroy along his path.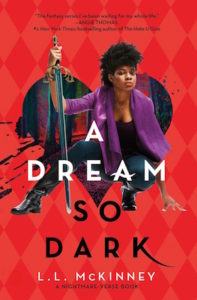 A Dream So Dark by L.L. McKinney – Still reeling from the events of A Blade So Black, Alice returns to rescue her friends and stop the Black Knight–and save Wonderland once and for all. But what if Wonderland has actually been trying to save her?
Stormrise by Jillian Boehme – A girl named Rain disguises herself as a boy using dragon magic, so that she can become a warrior. As war threatens her home, she realizes the very magic that has enabled her disguise might be the key to awakening the ancient dragons that slumber–and save her home.
News and Views
There's some great SFF on the National Book Award longlists. Not gonna lie, I'm most excited about Pet by Akwaeke Emezi.
Aron Eisenberg, who played Nog on Star Trek: Deep Space Nine, passed away.
My favorite thing I read all week: Let Liv Tyler go to space
Highlights from Neil Gaiman's Reddit AMA.
Author Eric Flint has an epic rant about the electoral college.
The BN blog asks: Does science fiction have a moral imperative to address climate change?
If you've wanted to read Joe Abercrombie's First Law series and aren't sure what order to go in, here you go.
100% this: An ode to Robin Wright from Princess to Queen
A cute list of funny Weasley twins moments from the Harry Potter books.
This truck was obviously playing Shadowrun.
I want to share this amazing Twitter thread about the Four Tigers Sword with everyone.
Architectural photography from megacities to remind us that the future is now.
---
See you, space pirates. You can find all of the books recommended in this newsletter on a handy Goodreads shelf. If you'd like to know more about my secret plans to dominate the seas and skies, you can catch me over at my personal site.