Sponsored by TBR, our subscription service for personalized reading recommendations!
TBR is Book Riot's subscription service offering Tailored Book Recommendations for readers of all stripes. Been dreaming of a "stitchfix for books?" Now it's here! Tell TBR about your reading preferences and what you're looking for, and sit back while your Bibliologist handpicks recommendations just for you. TBR offers plans to receive hardcover books in the mail or recommendations by email, so there's an option for every budget. Visit mytbr.co to sign up today.
The human world, it's a mess.
But we have romance novels, and those are almost as amazing as being waited upon hand and…fin…by crustacean servants.
Let's talk new books, eh?
Over on Book Riot
I expanded upon my thoughts regarding illustrated covers (specifically, regarding Kelly's piece about them and YA).
And while I'm sure you all are familiar with lots of these, you might still want to check out Liberty's list of ways to keep up with new romance releases.
Sil pulled together a list of great books by Latinx authors for all ages, but there are definitely some that would be of interest to romance readers.
Deals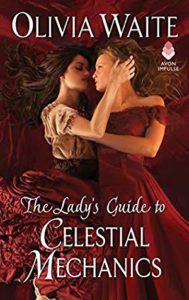 I know I've talked a lot about The Lady's Guide to Celestial Mechanics, but if you haven't spent the 3.99 on the ebook or six dollars on the mass market, you've still got time before we talk about it on When in Romance on Monday for the Great Big Romance Read. (PS – have you reached out to tell us your thoughts or ask for a specific topic to be covered? There's still time!)
New Releases!
The past week has been good to us. We've got plenty of choices to pick from, and some authors decided to pull a Beyoncé and drop a whole damn album with no notice.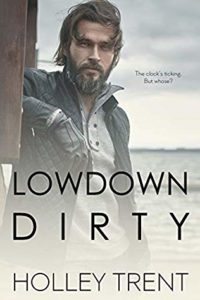 Lowdown Dirty
Holley Trent
Yes, indeed. Holley Bey Trent decided to put a new book on Amazon/Kindle Unlimited without telling anybody, and just let us find it on our own (until she actually mentioned that she'd done it, of course). It's a standalone, and you can read it even if you haven't read any of her other series. And y'all.
Y'all.
Valerie is a project manager and architect overseeing a residential building project, and isn't planning to stay in town very long. When a local friend surprises her by taking her to the community's bimonthly kink party, Valerie balks—not because she's disgusted by kink, but because she isn't about that life anymore. But the friend's car breaks down and they have to rely on someone at the party to get them way across the countryside to their respective homes.
Enter Tim Dowd, luxury boat designer looking to start afresh. His relationship with his ex-wife (who is a lesbian) and adult son (who isn't quite an adult yet) has often driven potential partners away, but Valerie sparks something in him that he can't let go. She's also magnificently submissive, something he never thought he'd be able to have long term. But she has other plans and goals, and a long term relationship isn't among them. So there's that to get over. In the mean time, they can just play, right?
CW for D/s dynamics, rope play, general kink, past parental deaths, and gaslighting (not between the main couple).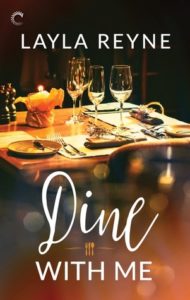 Dine With Me
Layla Reyne
While I have a couple Layla Reyne books on my shelves, I hadn't previously picked one of them up. But a foodie romance? I was down for it. I hadn't actually remembered, when I decided to read it, that one of the protagonists' cancer had a central role. So if you need to skip something like that, go ahead and skip it (and the rest of this section).
Miller is a chef. He lives and breathes food, even if he's just closed his restaurant. When he advertises for a companion for the foodie vacation of a lifetime, he's joined by Dr. Clancy Rhodes, recently out of his internship and gifted the trip by his parents before joining his father's plastic surgery practice. Miller doesn't share the reasoning for the two week trip to surprise locations to eat some of the best food in the continental United States: he is embarking on a tour of his favorite meals, one last time before he succumbs to throat cancer. Instead of getting treatment for it, he's prepared to die; because treatment means loss of taste buds, something no chef wants. As the days progress, and Miller gets to know Clancy, his biggest regret is the timing. He's set on skipping treatment, and not even the sweetest, most earnest man in creation is going to change his mind.
I've got to tell you. I was in tears for half of this book. Not sobbing tears, just tiny, my eyes can't control themselves tears. The passion in this book ranges for everything from food to living, and there is a lot of feeling packed into every word. Also, the other relationships in this book (and in Lowdown Dirty, honestly) are some of the most grown-up, delightful ones I've read. Tim and Miller are both close to their ex-wives, and have a good relationship with them. Clancy is also the product of some awesome parenting.
CW for mention of cancer, cancer-related illness, cancer treatment side-effects, fatalistic reasoning, and excessive food consumption (they eat…a lot of food).
Other new releases I'm looking forward to picking up soon: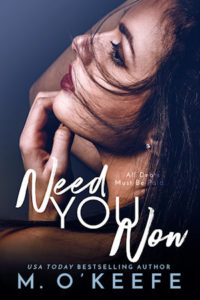 Need You Now by Molly O'Keefe
Promise Me a Dream by Wayne Jordan
Beard With Me by Penny Reid (ALERT this is not a romance, but sets up the story for Beard Necessities)
Met Her Match by Jude Deveraux
As usual, catch me on Twitter @jessisreading or Instagram @jess_is_reading, or send me an email at jessica@riotnewmedia.com if you've got feedback, bookrecs, or just want to say hi!