Sponsored by Crooked Lane Books.
A mother's worst nightmare, a chance at redemption, and a deadly secret that haunts a family across the generations. Claire, Robert, and Jillian manage to accomplish something incredible—they create the world's first baby with three genetic parents, and the possibility to eliminate inherited disease. But when word leaks of their illegal experiment, only Claire and Robert manage to escape while Jillian is locked away, destroying her future. Little do they know, nothing will stop Jillian from reuniting with the man and daughter who should have been hers. Past, present, and future converge in this mesmerizing psychological thriller from critically acclaimed author Kira Peikoff.
Hi mystery fans! Attica Locke's sequel to Bluebird, Bluebird is finally here! Plus, I have one of my favorite historical mysteries of the year, a fun thriller, and new releases for you.
Amazing Series! (TW past suicide mentioned)
Heaven, My Home (Highway 59 #2) by Attica Locke: The second I got my hands on a galley I dropped everything and read it and have been dying for everyone else to get to read it too. And now you can! This is the sequel to Bluebird, Bluebird (Review) which introduced us to Darren Mathews, a Black Texas Ranger who was at the time, technically, on suspension but still found himself working on solving who murdered a white woman and Black man in a small Texas town. The sequel picks up where the first left off, leaving Mathews to deal with all the decisions he's made, and hasn't made–it's a sequel so I'm being vague because spoilers! Anyhoo, he's now on desk duty in Houston keeping peace in his marriage, but it's a mystery book and he's the lead character so you know he's going to get mixed up in a case. This time, it's a missing boy. And not just any boy, he's the son of a captain of the Aryan Brotherhood who is sitting in prison…Once again Locke brings the Texas setting to life with the same importance as the characters while also exploring the (in)justice system and history. Add in twists, a great mystery, fallible characters, and excellent writing and you have one of the best crime series currently being written. Now I desperately need the next in the series! Also, whoever is working on the FX series adaptation please hurry up, I wants it now!
Delightful New Historical Mystery Series! (TW domestic violence/ addiction/ alludes to past statutory rape)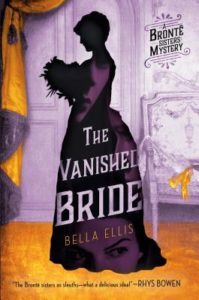 The Vanished Bride (Brontë Sisters Mystery #1) by Bella Ellis: Ellis has brilliantly reimagined the Brontë sisters as detectors and everything in this novel worked for me. It has a great mystery–a missing woman–and you follow the old school and amateur sleuth way of solving the case. It's a delight to follow sisters Charlotte, Emily, and Anne, who all have different personalities and bicker but also love and support each other. There is context for how and why these three women were raised to be more independent than their time allowed. The historical bits are interesting without taking away from the focus of the mystery. I can't recommend this enough for fans of historical mysteries and I love that it works well for Brontë and classic fans–and equally works well if you don't really care for either because the mystery and characters are so great. It's just delightful and I'm excited for more to come!
Fun Thriller! (TW panic attacks on page/ mentions past eating disorder and self-harm)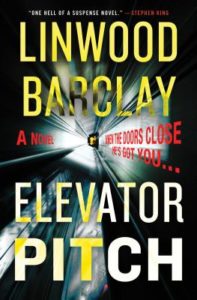 Elevator Pitch by Linwood Barclay: NY, a vertical city, finds itself with a problem–elevator accidents are killing people. It's a problem for both the mayor and a pair of detectives. The mayor is also dealing with two other problems: working with his son with whom he has a seriously rocky relationship, and he also has a journalist constantly trying to find dirt on him. The detectives not only have this case, but also a dead man proving difficult to identify, and one of them is suffering from panic attacks after a traumatic incident. Told from multiple perspectives including that of the mayor, journalist, their children, and the detectives, you also get a front row seat to elevators that may or may not make their intended destination–sorry readers who are scared of elevators! If you're looking to relax with a fun social thriller with some bonus scenes for action film fans this is your book.
Recent Releases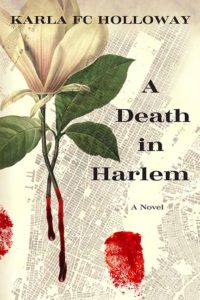 A Death in Harlem by Karla Holloway (TBR: Historical mystery set in 1920s Harlem.)
The Black Ghost #1 by Monica Gallagher, Alex Segura, George Kambadais, Ellie Wright (Great start to a comic series that melds superhero and detective noir starring a reporter.)
Kopp Sisters On The March (Kopp Sisters #5) by Amy Stewart (Great historical crime series based on the real woman who was one of America's first female deputy sheriffs.)
The Stranger Inside by Lisa Unger (TBR: Revenge thriller.)
And: Win the Best Mystery/Thrillers of the Year So Far!
Browse all the books recommended in Unusual Suspects previous newsletters on this shelf. And here's an Unusual Suspects Pinterest board.
Until next time, keep investigating! And in the meantime, come talk books with me on Twitter, Instagram, and Litsy–you can find me under Jamie Canavés.
If a mystery fan forwarded this newsletter to you and you'd like your very own you can sign up here.