Sponsored by The Mermaid and Mrs. Hancock by Imogen Hermes Gowar and Harper Perennial
In 1780s London, a prosperous merchant finds his quiet life upended when he unexpectedly receives a most unusual creature—and meets a most extraordinary woman—in this much-lauded, atmospheric debut that examines our capacity for wonder, obsession, and desire with all the magnetism, originality, and literary magic of The Essex Serpent.
Welcome to In The Club, a newsletter of resources to keep your book group well-met, well-read, and well-fed. Greetings from Portlandia, where the weather is beginning to cool and I am too dumb a Californian to feel anything but happy about it. Bring on the warm, autumny drinks, the falling of leaves, the perfect conditions for curling up with a hot cuppa and a lovely read.
Let me stop dreaming in pumpkin spice for a second to let you in on something sweet: we're hosting a giveaway of the year's 10 best mystery/thrillers so far! Enter here to win a big batch of thrilling titles that includes American Spy by Lauren Wilkinson and The Lost Man by Jane Harper.
Shall we? To the club!!
---
Now that I've moved to Portland, I need to find a new primary care physician. I was perusing a list of providers in between monitoring social media came across Kathleen Kenan's piece about books on the history of illness and medicine. I find this subject fascinating, so it was only too easy for me to ditch my doctor search and instead spend the time adding these to my TBR. That inspired me to talk about a few other related titles perfect for this club thing we love.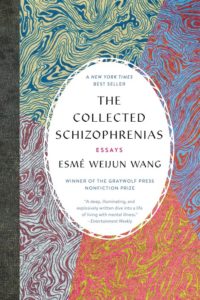 The Collected Schizophrenias by Esme Weijun Wang – I LOVE this book. It's a deeply personal, thoughtful, and well-researched discussion of mental illness, focusing in particular on the many stigmas and misconceptions attached to schizophrenia. Wang really drives home how both the public and medical community alike still know so little about all that this condition does and doesn't entail, that it's not one diagnosis but many.
Book Club Bonus: Before you begin this read, have the group write down five things they know, or think they do, about schizophrenia. When you meet to discuss the book, go over what everyone got right or wrong and what the book has taught them. No judgement here, be honest! The point of the exercise is to shed light on how little we know, and to bring awareness to the importance of increasing that knowledge on a global scale.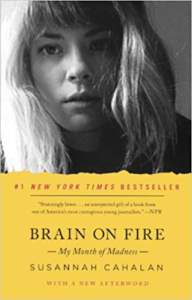 Brain on Fire by Susan Cahalan – Susan Cahalan was twenty four years old and life was grand: she was in a new and promising relationship and had just begun an exciting career with a New York newspaper. Seemingly overnight and with no clear explanation as to why, she found herself tied down to a hospital bed in a psychiatric ward: she was deemed violent, psychotic, a threat to herself and others. Her diagnosis? Unclear. What she went through and her eventual diagnosis are at once a riveting page-turner and a maddening peak into the pitfalls of our healthcare system.
Book Club Bonus: I can't say too much without spoiling the book for you, but I will say this: money talks. Would Cahalan have received the proper treatment were it not for her family's affluence? Given her situation, how confident do you feel in how we diagnose and treat mental illness at large? How do we address the disparity in care between those that can shell out the dolla dolla bills and those who absolutely cannot?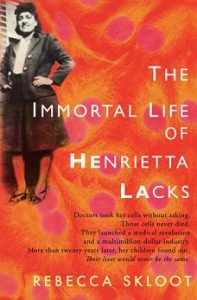 The Immortal Life of Henrietta Lacks by Rebecca Skloot – I have a thing for that category of books I like to call "How the Hell Had I Never Heard of This Before?" This is one of them! Who was Henrietta Lacks? A poor black tobacco farmer whose cells, known as the HeLa line, are responsible for numerous medical breakthroughs over the last sixty+ years. These cells are still in use today, but get this: they were harvested from Lacks without her knowledge or consent in 1951 while undergoing cancer treatment at Johns Hopkins, the only hospital that would treat black Americans at the time. I muttered the phrase, "Oh for f&@#s sake!" to myself some twenty times while reading this book.
Book Club Bonus: Have a thorough discussion on the intersection of medical innovation and informed consent. On the one hand, fine, yes: medical waste is not a thing we technically have claim to once it's removed from our bodies. But does it seem even a little bit right to know that so much medical progress, not to mention millions of dollars, have been made off the cell line of a woman whose family lives in poverty to this today?
Suggestion Section
The UN's newly formed SDG (Sustainable Development Goals) Club is a book club for kids to help them deal with global issues.
I mentioned some of these last week, but here's a more comprehensive list of celebrity book club picks for September 2019.
Speaking of celebrity book clubs, did you catch this week's Book Riot Podcast? In Two Feet of Parchment about Moonstones, Jeff and Rebecca discuss the celebrity book club effect and how it's maaaaybe not as clear as so many make it out to be.
---
Thanks for hanging with me today! Shoot me an email at vanessa@riotnewmedia.com with your burning book club questions or find me on Twitter and the gram @buenosdiazsd. Sign up for the Audiobooks newsletter, get it on the Read Harder podcast, and watch me booktube every Friday too.
Stay bad & bookish, my friends.
Vanessa
More Resources:
– Our Book Group In A Box guide
– List your group on the Book Group Resources page