Sponsored by Lerner Books
First grader Ella McKeen is the undisputed kickball queen until a new girl named Riya shows up—and shows her up at recess. How does Ella handle losing? By throwing herself on the grass and screaming while the rest of the class watches her fall apart. Yikes! In her debut picture book, Beth Mills offers a pitch-perfect look at recess, friendship, and being a good sport.
Hi Kid Lit Friends,
Happy Sunday! I hope you're all enjoying the weekend! I wanted to share some wonderful picture books featuring grandparents today. When I was growing up, I had a hard time communicating with my grandparents because they spoke a different language from me. That's probably why I love Drawn Together, a lovely picture book by Minh Le with illustrations by Dan Santat. Take a look at the books below; they are so lovely! *Please note that all book descriptions come from the publisher.*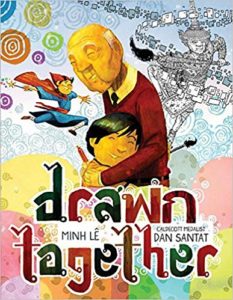 Drawn Together by Minh Le, illustrated by Dan Santat
When a young boy visits his grandfather, their lack of a common language leads to confusion, frustration, and silence. But as they sit down to draw together, something magical happens-with a shared love of art and storytelling, the two form a bond that goes beyond words.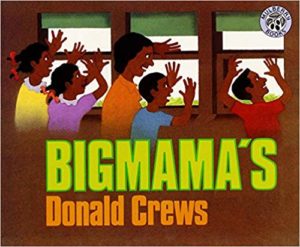 Bigmama's by Donald Crews
Four African American children travel with their mother, and when the train arrives in Cottondale, Florida, the summer at Bigmama's house begins! Donald Crews brilliantly evokes the sights, sounds, and emotions of a memorable childhood experience. Beautifully and richly illustrated, this is a wonderful choice for family reading and classroom sharing.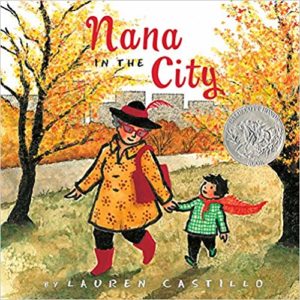 Nana in the City by Lauren Castillo
In this magical picture book, a young boy spends an overnight visit with his nana and is frightened to find that the city where she lives is filled with noise and crowds and scary things. But then Nana makes him a special cape to help him be brave, and soon the everyday sights, sounds, and smells of the city are not scary—but wonderful. The succinct text is paired with watercolor illustrations that capture all the vitality, energy, and beauty of the city.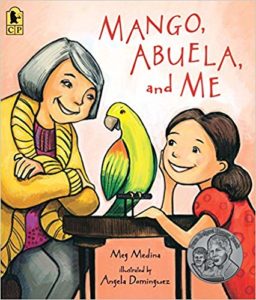 Mango, Abuelo, and Me by Meg Medina, illustrated by Angela Dominguez
Mia's abuela has left her sunny house with parrots and palm trees to live with Mia and her parents in the city. While they cook, Mia helps Abuela learn English, and Mia learns some Spanish, too, but it's still hard for Abuela to learn enough words to tell Mia her stories. Then Mia sees a parrot in the pet-shop window and has the perfecto idea for how to help them all communicate a little better.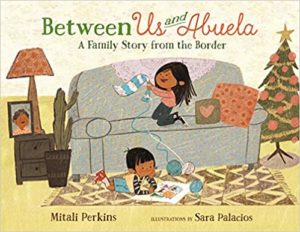 Between Us and Abuela: A Family Story from the Border by Mitali Perkins, illustrated by Sara Palacios (9/10/19, Farrar, Strauss, and Giroux)
It's almost time for Christmas, and Maria is traveling with her mother and younger brother, Juan, to visit their grandmother on the border of California and Mexico. For the few minutes they can share together along the fence, Maria and her brother plan to exchange stories and Christmas gifts with the grandmother they haven't seen in years. But when Juan's gift is too big to fit through the slats in the fence, Maria has a brilliant idea.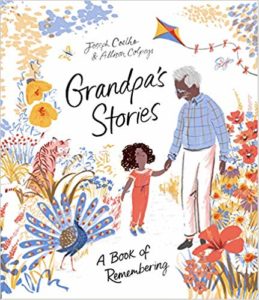 Grandpa's Stories by Joseph Coelho, illustrated by Allison Colpoys
One young girl reflects on a year with her beloved grandpa. She remembers the fields and parks they explored in the springtime and the old toys they fixed up in the summer. She remembers the handmade gifts they exchanged in the fall and the stories Grandpa told by the fi re each winter. But this year, the girl must say good-bye to Grandpa. In the face of her grief, she is determined to find a way to honor him.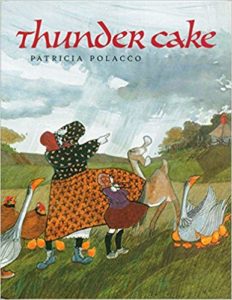 Thunder Cakes by Patricia Polacco
A loud clap of thunder booms, and rattles the windows of Grandma's old farmhouse. "This is Thunder Cake baking weather," calls Grandma, as she and her granddaughter hurry to gather the ingredients around the farm. A real Thunder Cake must reach the oven before the storm arrives. But the list of ingredients is long and not easy to find . . . and the storm is coming closer all the time!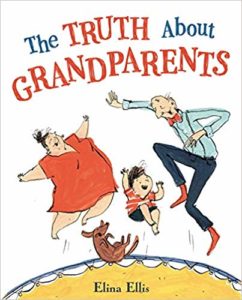 The Truth About Grandparents by Elina Ellis
Grandparents are slow. Grandparents are scared of new things. And grandparents definitely don't dance — right? A simple, playful storyline that children will love anticipating makes this a perfect read-aloud for modern families to share together. With sly humor and breezy, dynamic artwork in the tradition of Quentin Blake, this book is a fresh celebration of the special relationship between grandparents and grandchildren.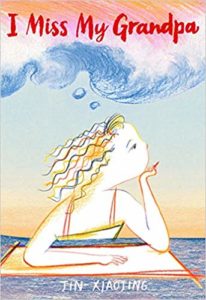 I Miss My Grandpa by Jin Xiaoping
A young girl has never met her grandpa. He passed away before she was born, but she misses him every day. She often wonders…what did he look like?
Grandma says: His face was shaped like the moon, his mouth was good at telling stories, and his hair was as curly as a bird's nest. With the help of her grandma and the rest of her loving family, will this young girl be able to imagine her grandpa's face in her mind–and feel the love that he shared with others?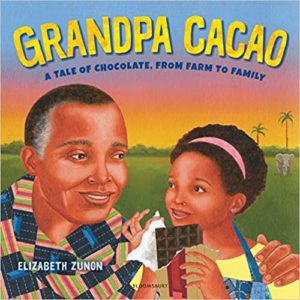 Grandpa Cacao: A Tale of Chocolate, from Farm to Family by Elizabeth Zunon
As a little girl and her father bake her birthday cake together, Daddy tells the story of her Grandpa Cacao, a farmer from the Ivory Coast in West Africa. In a land where elephants roam and the air is hot and damp, Grandpa Cacao worked in his village to harvest cacao, the most important ingredient in chocolate. "Chocolate is a gift to you from Grandpa Cacao," Daddy says. "We can only enjoy chocolate treats thanks to farmers like him." Once the cake is baked, it's ready to eat, but this isn't her only birthday present. There's a special surprise waiting at the front door . . .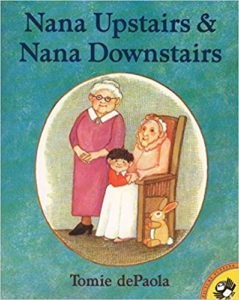 Nana Upstairs and Nana Downstairs by Tomie dePaola
Tommy is four years old, and he loves visiting the home of his grandmother, Nana Downstairs, and his great-grandmother, Nana Upstairs. But one day Tommy's mother tells him Nana Upstairs won't be there anymore, and Tommy must struggle with saying good-bye to someone he loves.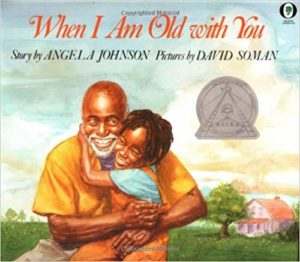 When I Am Old With You by Angela Johnson
A small child imagines a future when he will be old with his Granddaddy and will sit beside him in a rocking chair and talk about everything…The poignant reality that time will never allow these two to coexist at the same age is softened by the fact that they do not have to be the same age in order to share happy times…The African American child and grandfather are…recognizable to anyone who has ever shared the bond of family love across generations.
One last thing: Don't forget to enter Book Riot's giveaway of the year's 10 best mystery/thrillers so far! Enter here!
I would love to know what you are reading this week! Find me on Twitter at @KarinaYanGlaser, on Instagram at @KarinaIsReadingAndWriting, or email me at karina@bookriot.com.
Until next time!
Karina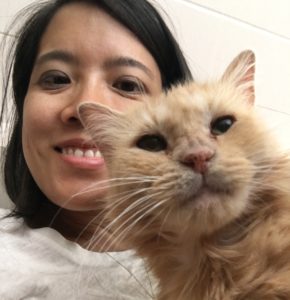 *If this e-mail was forwarded to you, follow this link to subscribe to "The Kids Are All Right" newsletter and other fabulous Book Riot newsletters for your own customized e-mail delivery. Thank you!*