Sponsored by The Flight Girls Audiobook by Noelle Salazar
50 audio downloads of The Flight Girls by Noelle Salazar are up for grabs!
For fans of The Lost Girls of Paris and Hidden Figures comes The Flight Girls  by Noelle Salazar – an outstanding historical women's fiction debut about the little-known Women' Airforce Service Pilots (WASP) program and the heroic role women played in training military pilots who were being deployed to fight during World War II.
Flawlessly performed by Xe Sands, don't miss this chance to win the audio edition of a book #1 New York Times bestselling author Debbie Macomber called "unputdownable."
Download codes for the winners supplied by Audiobooks.com.
Hola Audiophiles! Por fin, I'm in Portland! Time to settle in, unpack what's left of my things, and throw on some audiobooks while I explore my neighborhood. Fun!
I also want to thank everyone who has sent me messages of welcome and congratulations! I've been too much of a mess to respond, but I will soon. Thank you for being such cool book people!
Ready? Let's audio.
---
New Releases – September 10th (publisher's descriptions in quotes)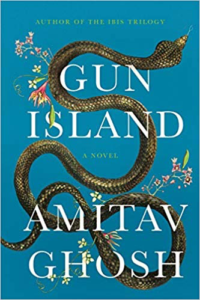 Gun Island by Amitav Ghosh, narrated by Sagar Arya – You know me by now, friends: I see the words "folklore" and "rare book dealer" and I'm adding to cart in a euphoric trance. Dean Datta is a rare book dealer in Brooklyn who makes an annual trip to his native Calcutta. On one of said trips, he learns of a Bengali legend that sends him on a worldwide adventure in search of truth, meaning, and the roots of his heritage.
Narrator Note: Sagar Arya is part of the ensemble cast that narrated Zadie Smith's White Teeth. Sold!
Lost in the Spanish Quarter by Heddi Goodrich, narrated by: Lisa Flanagan – I've been looking for something comforting and pleasant to read and this book fits the bill. Set in the Spanish Quarter of Naples, it's a coming-of-age story about an Italian woman and American man who meet and fall in love as university students in Italy.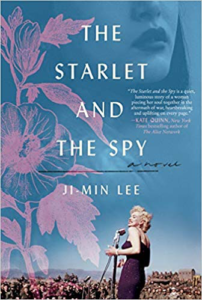 The Starlet and the Spy by Ji-min Lee, narrated by Janet Song – Ji-min Lee has written numerous books, but this is the first translated from Korean to English. It's a piece of historical fiction set in 1954 about a Korean war survivor and translator who meets an American starlet on a four day visit to Seoul. That starlet? Oh yeah, it's Marilyn Monroe.
The Testaments by Margaret Atwood, narrated by Ann Dowd, Bryce Dallas Howard, Mae Whitman, Derek Jacobi, Tantoo Cardinal – I probably don't need to highlight this title, but I thought I'd give it a quick shout-out all the same. This Handmaid's Tale sequel is already abuzz with controversy (and not-super-fantastic press, yikes). Give it a listen and decide for yourself.
Will My Cat Eat my Eyeballs: Big Questions from Tiny Mortals by Caitlin Doughty, narrated by the author – No one does death quite like best-selling author and mortician Caitlin Doughty. Now the author of Smoke Gets In Your Eyes is taking her skill set to the children, answering kids' questions about death, dying, and decomposition. That title alone has my attention!
Narrator Note: I've only ever read Doughty in print, but the sample audio of her first two books did not disappoint. And like we always say: no better way to hear a story than to have it told to you by the person who wrote it.
Latest Listens
Now that I'm settled in my new place, I'm finally audiobooking again! I'm finally wrapping up Speaking of Summer and think I'll probably tackle The Ten Thousand Doors of January next! What are you listening to and loving??
From the Internets
A piece from Publishers Weekly on the evolution of the Spanish-language audiobook market.
Ummm… what? Apparently serial killer Ed Kemper voiced hundreds of audio books, like Flowers In The Attic and Star Wars. Gulp.
Over at the Riot
Look, I know everyone's all "Waaah summer's over!" To that I say: 1) So what? Fall is AWESOME, and 2) Calm down, it was 83 degrees in Portland today. Because warm weather is sticking around for so many of us, I'm throwing it back to this post from last year on great poolside audiobooks.
---
That's all I got today! Shoot me an email at vanessa@riotnewmedia.com with audiobook feedback & questions or find me on Twitter and the gram @buenosdiazsd. Sign up for the In The Club newsletter, peep the Read Harder podcast, and watch me booktube every Friday too!
Stay bad & bookish, my friends.
Vanessa