Sponsored by Sourcebooks
Something has gone terribly wrong at the Banks wedding. A man is dead. Four different women rush to offer confessions, each insisting that they committed the crime—alone. Ginger's life is coming apart at the seams, and this wedding weekend is not the fabulous getaway she anticipated. Kate has enough money to buy her way out of anything. Well, almost anything. Emily can't shake her reputation or her memories, and she's planning to drown this whole vacation in a bottle. Lulu's got ex-husbands to spare, and another on the way—as soon as she figures out what the devil the current husband is up to behind her back. Why would they confess to the same murder? Only they know—and they're not telling.
Hello mystery fans! This week I have for you a mystery set in Hawai'i that I loved, a Swedish novel about a P.I. that I found really interesting, and a bunch of women at a retreat where things are gonna go real wrong!
Hawai'i Mystery (TW addiction/ sick parent/ past stalking incident mentioned)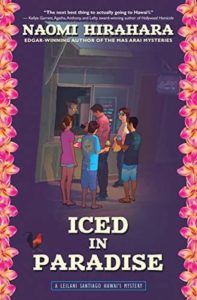 Iced in Paradise (A Leilani Santiago Hawai'i Mystery) by Naomi Hirahara: This was so good and I really hope there is a lot more to come. Leilani Santiago moves back to Hawai'i, after living in San Francisco for years, to help out her family. She's working in their shave ice shack and mostly trying to figure out where she wants to be and what exactly she wants to be doing. The "what" gets answered for her when her dad, who she has a difficult relationship with, is accused of murdering the man found dead in their business. Of course she starts trying to figure out what happened, and not because she automatically thinks her dad is innocent, she isn't so sure. This was such a a great mystery read that is filled with family, culture, food–and if you didn't already want to go to Hawai'i you certainly will now. I think this one works really well for fans of cozy mysteries but also for those who shy away from cozy mysteries thinking they're too slow.
Interesting P.I. In Sweden (TW past self harm/ past attempted suicide on page with detail/ pedophile/ human trafficking)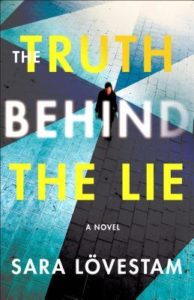 The Truth Behind the Lie (Kouplan #1) by Sara Lövestam: This was so different from most P.I. novels I've read and I really enjoyed that. It also reminded me of the Israeli Avraham Avraham series that I love in its care and kindness from the main character. Kouplan is an Iranian refugee living in Sweden and learning to be a P.I. by taking on cases from people who can't, for whatever reason, call the police. He takes on the case of a woman, Pernilla, whose six-year-old daughter is missing. This very much takes you through all his steps as he gets to know Pernilla, questions people, and sets himself tasks to find the girl. It's also a meditation on life, self, and mental illness and it felt like a quiet mystery in a lovely way. I've been thinking about this one sporadically since I finished and really look forward to more of this series, and crime publishing more novels like this.
What Could Go Wrong At A Retreat? Everything! (TW hair pulling disorder/ past pedophile on page/ brief mention past suicide, with detail)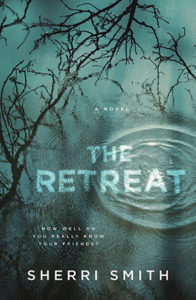 The Retreat by Sherri Smith: This was a ride! It starts out feeling like a novel about four struggling women, all trying to find their footing, and then the suspense begins and by the end it might just feel like a horror novel. Which is to say I really enjoyed it! I also really liked the premise, which starts with a once famous child actor, now a grown woman, who almost had her comeback until she tweeted a homophobic "joke" and got cancelled. Now she's at a weekend retreat with her soon to be sister-in-law who she needs to build a relationship with for the sake of her relationship with her brother and her two college friends. The book rotates chapters between the four women as they deal with their pasts, the secrets they're currently still holding, their relationships with each other, and what exactly they want–and is a valid option–from life. Did I mention one wakes up covered in blood and holding a knife? And then one member from the retreat is missing? That's just the beginning–about halfway through–of all that is to come!
And if you want a chance to win 10 of the best mystery and thrillers of this year we've got a giveaway! Enter here.
Browse all the books recommended in Unusual Suspects previous newsletters on this shelf. And here's an Unusual Suspects Pinterest board.
Until next time, keep investigating! And in the meantime, come talk books with me on Twitter, Instagram, and Litsy–you can find me under Jamie Canavés.
If a mystery fan forwarded this newsletter to you and you'd like your very own you can sign up here.