Sponsored by Book Riot's Tailored Book Recommendation service!
TBR is Book Riot's subscription service offering Tailored Book Recommendations for readers of all stripes. Been dreaming of a "Stitch Fix for books?" Now it's here! Tell TBR about your reading preferences and what you're looking for, and sit back while your Bibliologist handpicks recommendations just for you. TBR offers plans to receive hardcover books in the mail or recommendations by email, so there's an option for every budget.
Hi Kid Lit Friends!
Hello again! It's still me, Liberty. Karina needed a little more time, but she will hopefully be back next week. Thank goodness, because no one knows more about children's books at Book Riot than her! Until then, here are a few great books to check out while you try and soak up a few more of these beautiful summer days. (Please note that all descriptions come from the publisher.)
Picture Book New Releases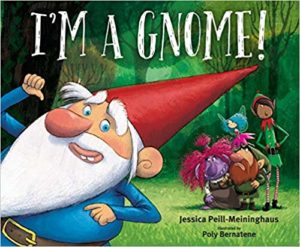 I'm a Gnome! by Jessica Peill-Meininghaus (Author), Poly Bernatene (Illustrator)
Join Gnome (that's spelled G-N-O-M-E–don't ask why the G is silent!) as he travels through the magical forest to attend the annual Gnome Festival.
Along the way he encounters elves, dwarves, trolls, and fairies. But don't be mistaken. He is NOTHING like those magical creatures. Well, maybe he is . . . but only a little bit!
When Gnome finally arrives at the festival, he realizes that all the traits he thought made gnomes different from the others actually made them alike–and that's just fine.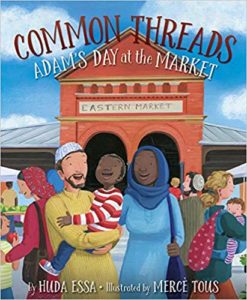 Common Threads: Adam's Day at the Market by Huda Essa (Author), Mercè Tous (Illustrator)
Adam and his family spend an exciting day at the colorful and bustling Eastern Market. But when Adam gets briefly separated from Mom and Dad, he mistakes a friendly, diverse cast of characters for his parents in their traditional Muslim clothing–and shows that we all have more in common than you might think. This nearly-wordless picture book celebrates diversity and community in vibrant, dynamic art.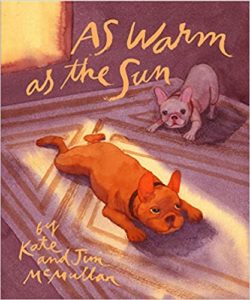 As Warm As the Sun by Kate McMullan (Author), Jim McMullan (Illustrator)
French bulldogs Toby and Pinkie learn to live together and form a heartwarming friendship.
Toby loves basking in the morning sun, snuggling in a lap in the afternoon, and toasting his tummy by the fireside at night, but somehow his warm spots never last. What Toby wants more than anything is to find something as warm as the sun that never fades or fizzles.
Then one day, Pinkie comes along, and she starts hogging all of Toby's favorite places. Toby feels alone and forgotten, and slinks away. . . but Pinkie follows him, determined to prove that she is the something as warm as the sun Toby has been looking for all along.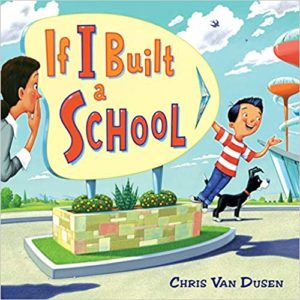 If I Built a School by Chris Van Dusen (Author, Illustrator)
If Jack built a school, there would be hover desks and pop-up textbooks, skydiving wind tunnels and a trampoline basketball court in the gym, a robo-chef to serve lunch in the cafeteria, field trips to Mars, and a whole lot more. The inventive boy who described his ideal car and house in previous books is dreaming even bigger this time.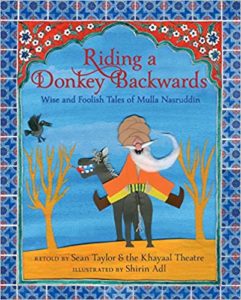 Riding a Donkey Backwards: Wise and Foolish Tales of Mulla Nasruddin by Sean Taylor (Author), Khayaal Theatre Company (Author), Shirin Adl (Illustrator)
Would you like to know how a thief can turn into a donkey? Whether a cow can climb a pole? Or why you should spoon yogurt into a lake? Mulla Nasruddin knows all the answers, and he might also tell you why he rides his donkey backwards. Whether in the guise of an imam in a mosque or a beggar in the street, this trickster is never at a loss for a rejoinder, though it may leave you scratching your head, rolling your eyes, or laughing out loud. Enjoy twenty-one classic tales about a much-loved character from Muslim cultures in a book packed with jokes, riddles, and wisdom and paired with vibrant, theatrical illustrations.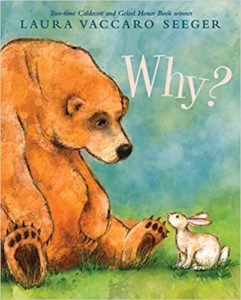 Why? by Laura Vaccaro Seeger (Author, Illustrator)
Bear just wants to water his flowers, but Rabbit needs to know: why? Bear is looking forward to a peaceful night of stargazing, but all Rabbit cares about is: why?
As the two friends spend time together through spring, summer, and into fall, Rabbit persistently and simply asks Bear why, encouraging the reader to figure out for themselves the reason for each question that Bear patiently answers, over and over again. . . until there's a question that he has no answer for.
DUCK! by Meg McKinlay (Author), Nathaniel Eckstrom (Illustrator)
In this funny nod to Chicken Little, a quiet afternoon on the farm might be the scene of a barnyard disaster waiting to happen.
When Duck runs around the farm shouting "DUCK!" to the other animals, they grow exasperated as they haughtily explain to Duck which animal is which. Unfortunately, something is falling from the sky. But perhaps "DUCK!" isn't the best warning. Perhaps what Duck should have said is . . . "RUN!"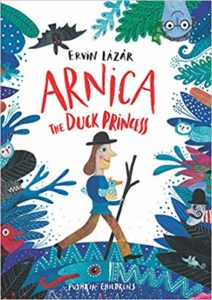 Arnica, the Duck Princess by Ervin Lazar (Author), Jacqueline Molnar (Illustrator), Anna Bentley (Translator)
Princess Arnica is so sweet and gentle that when she smiles even wolves and bears forget their fierceness. Everyone loves her, but she loves only Poor Johnny. Luckily, he loves her too, and even more luckily she has a very sensible king for a father, who is happy for her to marry whomever her heart desires. So, no problems then?
Well, maybe just one – The Witch with a Hundred Faces has cast a spell on Arnica and Johnny which means that one of them, at any one time, must always be a duck, and the other human! Who can help them? Only the Seven-headed Fairy. Will they be able to find her? You'll just have to read the book and find out!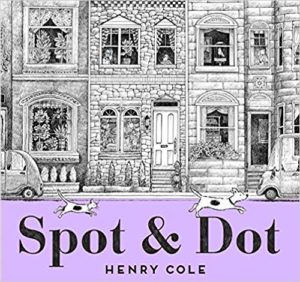 Spot & Dot by Henry Cole (Author, Illustrator)
In Henry Cole's vivid wordless picture book Spot, the Cat, readers joined Spot on a journey through a city that began with him following a bird outside his window.
This time, a dog named Dot draws Spot from his window. As we follow Spot and Dot on their wordless journey, we quickly realize that it's Dot the dog who is missing this time, and Spot is trying to get her back home. We follow these two on a different journey through the city as they weave in and out of a bakery, a library, a busy park, and more. And with a surprise twist at the end, we realize that "home" for both cat and dog was never very far away.
Chapter Book New Releases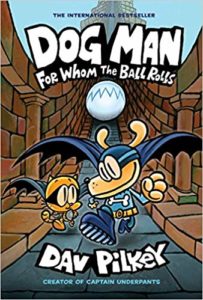 Dog Man: For Whom the Ball Rolls by Dav Pilkey (Author, Illustrator)
The Supa Buddies have been working hard to help Dog Man overcome his bad habits. But when his obsessions turn to fears, Dog Man finds himself the target of an all-new supervillain! Meanwhile, Petey the Cat has been released from jail and starts a new life with Li'l Petey. But when Petey's own father arrives, Petey must face his past to understand the difference between being good and doing good.
Middle Grade New Releases
The Curse of the Werepenguin by Allan Woodrow
All orphan Bolt Wattle has ever wanted was to find his true family. When a mysterious baron in far-off Brugaria sends for Bolt, he wonders if he's getting closer to finding his long-lost parents. But Baron Chordata appears to be a twelve-year-old boy who wears tuxedos all the time, shouts at everyone, and forbids Bolt from asking questions. Things couldn't get any worse . . . until midnight, when the Baron bites Bolt and turns him into a half boy, half penguin. Then things really couldn't get worse– nope, wait, they get a lot worse.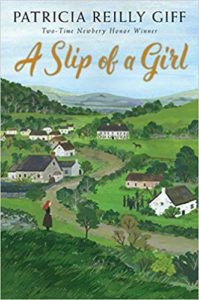 A Slip of a Girl by Patricia Reilly Giff
A heart-wrenching novel in verse about a poor girl surviving the Irish Land Wars, by a two-time Newbery Honor-winning author.
For Anna, the family farm has always been home… But now, things are changing.
Anna's mother has died, and her older siblings have emigrated, leaving Anna and her father to care for a young sister with special needs. And though their family has worked this land for years, they're in danger of losing it as poor crop yields leave them without money to pay their rent.
When a violent encounter with the Lord's rent collector results in Anna and her father's arrest, all seems lost. But Anna sees her chance and bolts from the jailhouse. On the run, Anna must rely on her own inner strength to protect her sister–and try to find a way to save her family.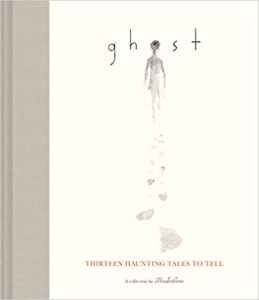 Ghost: Thirteen Haunting Tales to Tell by Illustratus
A finger against the inside of a mirror… a wood where the trees look back… a basement door blocked by a brick wall so thick, it stifles the screams from below … This original collection of chilling poems and tales contains the only true ghost stories in existence (as the book itself will tell you)—13 eerie encounters perfect for sharing…if you dare. Accompanied by striking illustrations and building to a truly spine-tingling conclusion, this haunting book will consume the imagination and keep readers of every age up long past their bedtimes.
Stay by Bobbie Pyron
Piper's life is turned upside down when her family moves into a shelter in a whole new city. She misses her house, her friends, and her privacy—and she hates being labeled the homeless girl at her new school.
But while Hope House offers her new challenges, it also brings new friendships, like the girls in Firefly Girls Troop 423 and a sweet street dog named Baby. So when Baby's person goes missing, Piper knows she has to help. But helping means finding the courage to trust herself and her new friends, no matter what anyone says about them—before Baby gets taken away for good.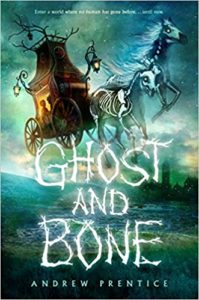 Ghost and Bone by Andrew Prentice
Oscar Grimstone is a normal kid—aside from his secret Curse. Whenever he touches something living, like a flower or his classroom goldfish, they always seem to die. But then Oscar discovers an even bigger secret: even though he is very much alive, he has the ability to transform into a ghost.
Just when he thinks things can't get any stranger two ghosts show up at his home in a skeleton carriage and he winds up joining them on a journey beyond the real world to a place he never knew existed—the city of ghosts. There Oscar will discover a place where people go once they die, before they aboard a ship to the The Other Side. But will he find out who he really is?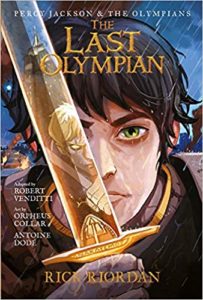 Percy Jackson and the Olympians The Last Olympian: The Graphic Novel by Rick Riordan (Author), Robert Venditti (Author), Orpheus Collar (Illustrator), Antoine Dodé (Illustrator)
All year the half-bloods have been preparing for battle against the Titans, knowing the odds of victory are grim. Krono's army is stronger than ever, and with every god and half-blood he recruits, the evil Titan's power only grows. While the Olympians struggle to contain the rampaging monster Typhon, Kronos begins his advance on New York City, where Mount Olympus stands virtually unguarded. Now it's up to Percy Jackson and an army of young demigods to stop the Lord of Time.
Nonfiction New Releases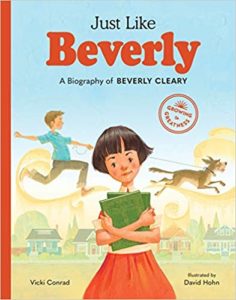 Just Like Beverly: A Biography of Beverly Cleary by Vicki Conrad (Author), David Hohn (Illustrator)
As a young girl, Beverly Cleary struggled to learn to read and found most children's books dull and uninteresting. She often wondered if there were any books about kids just like her. With hard work, and the encouragement of her parents and a special teacher, she learned to read and at a young age discovered she had a knack for writing.
Beverly Cleary's story comes to life in this narrative nonfiction picture book as she grows to follow her dreams of writing the books she longed for as a child, becoming an award-winning writer and one of the most famous children's authors of all time.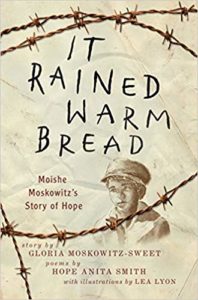 It Rained Warm Bread: Moishe Moskowitz's Story of Hope by Gloria Moskowitz-Sweet (Author), Hope Anita Smith (Author), Lea Lyon (Illustrator)
A powerful middle grade novel-in-verse about one boy's experience surviving the Holocaust.
Moishe Moskowitz was thirteen when the Nazis invaded Poland and his family learned the language of fear. The wolves loomed at every corner, yet Moishe still held on to the blessings of his mother's blueberry pierogis, of celebrating the Sabbath as a family, of a loyal friend. But each day the darkness weighed more heavily on Moishe as his family was broken, uprooted, and scattered across labor and concentration camps. Just as his last hopes began to dim, a simple act of kindness redeemed his faith that goodness could survive the trials of war: That was the day it rained warm bread.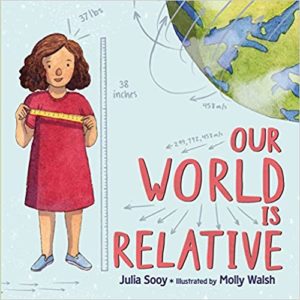 Our World Is Relative by Julia Sooy (Author), Molly Walsh (Illustrator)
Size, speed, weight, direction, distance
We think of space and time as fixed and measurable.
But these measurements―our experience of space and time―they are relative.
Our world is relative.
With simple, engaging text and vibrant art imbued with light and movement, Our World Is Relative offers a child's-eye view of time, space, and the vast role that relativity plays in comprehending our world. It's an introduction to Albert Einstein's theory of relativity, perfect for any curious young scientist.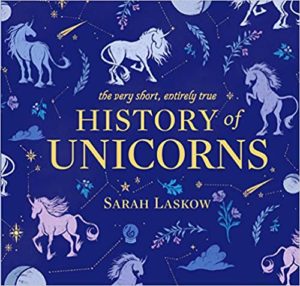 The Very Short, Entirely True History of Unicorns by Sarah Laskow (Author), Sam Beck (Illustrator)
Are unicorns real? Their popularity and enduring role in human culture certainly is. How can you win a fight against a unicorn? Why do some unicorns have wings? Why are unicorns often pictured with rainbows? Get answers to these questions and more in this fun look at unicorns throughout history. This four-color, fully illustrated book provides everything you always wanted to know about the myths, science, and history that surround the unicorn, a creature that has grown even more popular in the twenty-first century. With its stylish design and fresh, captivating illustrations, The Very Short, Entirely True History of Unicorns will appeal to readers–children and adults alike–who can't get enough of the world's most elusive animal.
A Likkle Miss Lou: How Jamaican Poet Louise Bennett Coverley Found Her Voice by Nadia Hohn (Author), Eugenie Fernandes (Illustrator)
This picture book biography tells the story of Miss Lou's early years, when she was a young girl who loved poetry but felt caught between writing "lines of words like tight cornrows" or words that beat "in time with her heart." Despite criticism from one teacher, Louise finds a way to weave the influence of the music, voices, and rhythms of her surroundings into her poems.
A vibrant, colorful, and immersive look at an important figure in Jamaica's cultural history, this is also a universal story of a child finding and trusting her own voice. End matter includes a glossary of Jamaican patois terms, a note about the author's "own voice" perspective, and a brief biography of Miss Lou and her connection to Canada, where she spent 20 years of her life.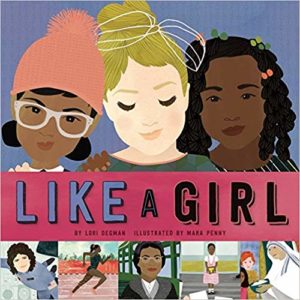 Like a Girl by Lori Degman (Author), Mara Penny (Illustrator)
Once upon a time, "like a girl" was considered an insult. Not anymore! In art, aviation, politics, sports, every walk of life, girls are demonstrating their creativity, perseverance, and strength. From civil rights activist Rosa Parks, who stood up for her beliefs by staying seated, to astronaut Sally Ride, who soared to the skies, the 24 women profiled here took risks, acted up, broke barriers, and transformed the world. With its simple yet powerful text, this book will inspire young women everywhere.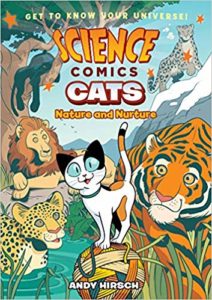 Science Comics: Cats: Nature and Nurture by Andy Hirsch (I LOVE THIS BOOK! – Liberty)
In Andy Hirsch's Science Comics: Cats, we meet feline friends from the tiniest kodkod to the biggest tiger, and find out what makes your neighborhood domestic cats so special. Equipped with teeth, claws, and camouflage to survive everywhere from deserts to mountaintops, how did these ferocious felines make the leap from predators to playmates… and are they even done leaping?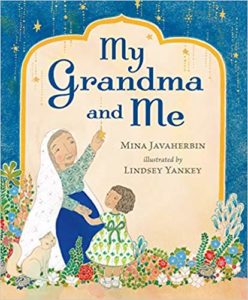 My Grandma and Me by Mina Javaherbin (Author), Lindsey Yankey (Illustrator)
While Mina is growing up in Iran, the center of her world is her grandmother. Whether visiting friends next door, going to the mosque for midnight prayers during Ramadan, or taking an imaginary trip around the planets, Mina and her grandma are never far apart. At once deeply personal and utterly universal, Mina Javaherbin's words make up a love letter of the rarest sort: the kind that shares a bit of its warmth with every reader. Soft, colorful, and full of intricate patterns, Lindsey Yankey's illustrations feel like a personal invitation into the coziest home, and the adoration between Mina and her grandma is evident on every page.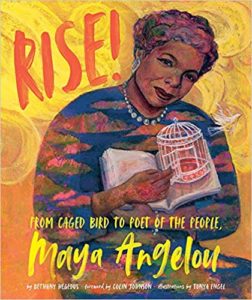 Rise!: From Caged Bird to Poet of the People, Maya Angelou by Bethany Hegedus (Author), Tonya Engel (Illustrator)
Writer, activist, trolley car conductor, dancer, mother, and humanitarianMaya Angelou's life was marked by transformation and perseverance. In this comprehensive picture-book biography geared towards older readers, Bethany Hegedus lyrically traces Maya's life from her early days in Stamps, Arkansas through her work as a freedom fighter to her triumphant rise as a poet of the people.
A foreword by Angelou's grandson, Colin A. Johnson, describes how a love of literature and poetry helped young Maya overcome childhood trauma and turn adversity into triumph. Coupled with Tonya Engel's metaphorical and emotive illustrations, this biography beautifully conveys the heartaches and successes of this truly phenomenal woman, and is a powerful tribute to the written word.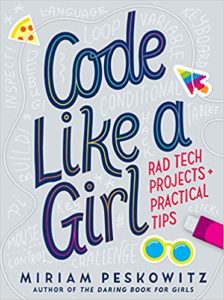 Code Like a Girl: Rad Tech Projects and Practical Tips by Miriam Peskowitz
In this book, you'll learn how to:
– Code with Scratch–projects like making a dog walk through the park, sending your friend a card, and devising a full-scoring game!
– Build your own computer–really!
– Create your own digital fortune-teller, with the Python language.
– Make your own smartphone gloves.
– Make light-up bracelets.
– Code a motion sensor that tells you when someone enters your room.
– And lots more!
Even though she's off this week, Karina would love to know what you are reading! Find her on Twitter at @KarinaYanGlaser, on Instagram at @KarinaIsReadingAndWriting, or email her at karina@bookriot.com.
Thanks for hanging out!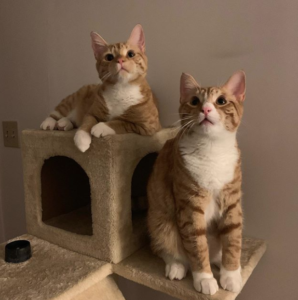 *If this e-mail was forwarded to you, follow this link to subscribe to "The Kids Are All Right" newsletter and other fabulous Book Riot newsletters for your own customized e-mail delivery. Thank you!*