Sponsored by Dynamite Entertainment
Eating candy nonstop and watching TV all day sounds great . . . until you actually do it, as the kids of Bayport High find out when all the adults vanish! The world's greatest (high school) detectives — Nancy Drew and Hardy Boys! — must team up to solve the mystery! Whether it's going under cover, sneaking out at night, chasing weird buses, or following a strange smell, they know it'll take all their wits to get their parents and teachers back . . . that is, if Joe and Frank don't kill each other first.
Hi Kid Lit Friends!
Happy August! It's me, Liberty, again. Karina was unable to join us again this week, but she will hopefully be back next week. For my theme today, I am doing books about dragons! I am super into grown-up dragon books this year, maybe because there have been so many of them published. So I thought I would share a few dragon books for kids, too! My favorite book featuring a dragon is probably The Paper Bag Princess by Robert Munsch, but I am a big fan of many of these, as well. (Please note that all descriptions come from the publisher.)
Before we get to the new releases, Karina wanted me to share an exciting cover reveal with you! Trowbridge Road by Marcella Pixley and published by Candlewick Press is a middle grade novel coming out in May 2020. Ziggy and June Bug live in Newton Highlands, Massachusetts, which seems like a perfect neighborhood filled with perfect families. But there are secrets hiding behind closed doors. As they learn to trust each other, each shares what they have never told to anyone else. Will June Bug have the courage to tell her story more widely, expose the painful truth, and maybe even save herself?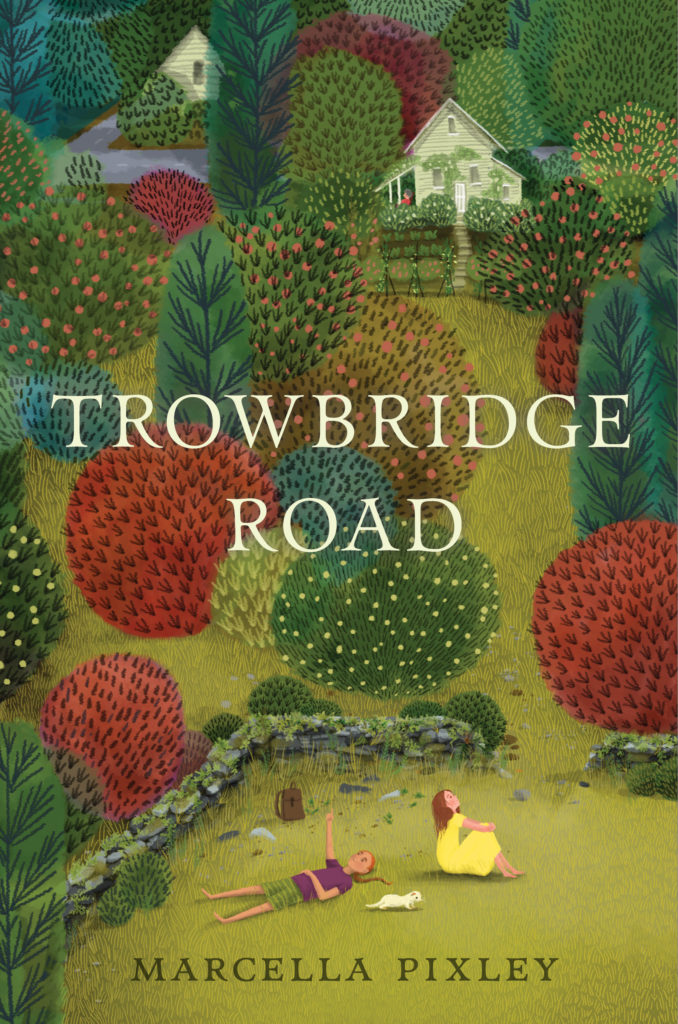 Find Trowbridge Road by Marcella Pixley on May 12, 2020!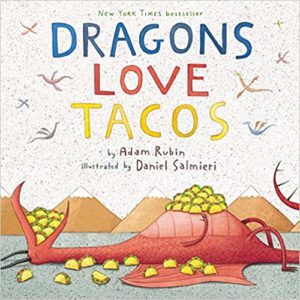 Dragons Love Tacos by Adam Rubin (Author), Daniel Salmieri (Illustrator)
Dragons love tacos. They love chicken tacos, beef tacos, great big tacos, and teeny tiny tacos. So if you want to lure a bunch of dragons to your party, you should definitely serve tacos. Buckets and buckets of tacos. Unfortunately, where there are tacos, there is also salsa. And if a dragon accidentally eats spicy salsa . . . oh, boy. You're in red-hot trouble.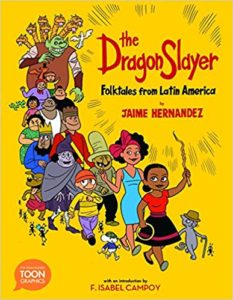 The Dragon Slayer: Folktales from Latin America by Jaime Hernandez (Author, Illustrator)
How would a kitchen maid fare against a seven-headed dragon? What happens when a woman marries a mouse? And what can a young man learn from a thousand leaf cutter ants? Famed Love and Rockets creator Jaime Hernandez asks these questions and more as he transforms beloved myths into bold, stunning, and utterly contemporary comics. Guided by the classic works of F. Isabel Campoy and Alma Flor Ada, Hernandez's first book for young readers brings the sights and stories of Latin America to a new generation of graphic-novel fans around the world.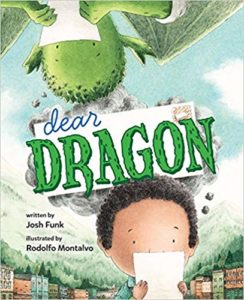 Dear Dragon: A Pen Pal Tale by Josh Funk (Author), Rodolfo Montalvo (Illustrator)
A sweet and clever friendship story in rhyme, about looking past physical differences to appreciate the person (or dragon) underneath.
George and Blaise are pen pals, and they write letters to each other about everything: their pets, birthdays, favorite sports, and science fair projects. There's just one thing that the two friends don't know: George is a human, while Blaise is a dragon! What will happen when these pen pals finally meet face-to-face?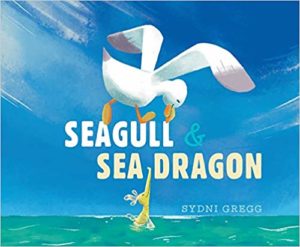 Seagull & Sea Dragon by Sydni Gregg (Author, Illustrator)
Meet Seagull.
Meet Sea Dragon.
One comes from the sky.
One comes from the sea.
And both are scared of the other's world.
But when they meet, they discover they might have more in common than they ever imagined.
Debut author-illustrator Sydni Gregg beautifully illustrates the idea that sometimes new friends can come from unlikely and unexpected places.
There's a Dragon in Your Book by Tom Fletcher (Author), Greg Abbott (Illustrator)
First, there's an egg in your book. Then the cutest baby dragon you've ever seen hatches from it. But don't tickle its nose, and whatever you do, don't let it sneeze! ACHOO! OH MY!
Tom Fletcher's infectious read-aloud invites kids to use their powers of imagination–along with some stamping, blowing, and flapping–to save their book from an adorable little dragon's flammable sneezes! Children will be delighted to participate in this satisfying tale, a sequel toThere's a Monster in Your Book.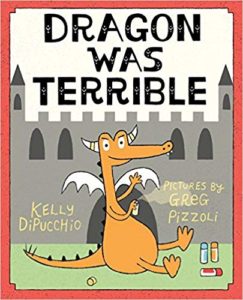 Dragon Was Terrible by Kelly DiPucchio (Author), Greg Pizzoli (Illustrator)
We all know dragons are terrible, but this one is especially terrible. He scribbles in books. He steals candy from baby unicorns. He even burps in church. Seriously, who does that? Dragon, that's who. The king, the knights, and the villagers are desperate to take down this beast once and for all. But sometimes it's up to the unlikeliest of heroes to tame a dragon this terrible.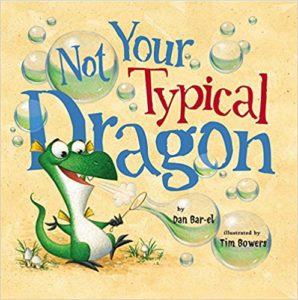 Not Your Typical Dragon by Dan Bar-el (Author), Tim Bowers (Illustrator)
Everybody knows your typical dragon breathes fire.
But when Crispin tries to breathe fire on his seventh birthday, fire doesn't come out—only whipped cream! Each time Crispin tries to breathe fire, he ends up with
Band-Aids
marshmallows
teddy bears?
Crispin wonders if he'll ever find his inner fire. But when a family emergency breaks out, it takes a little dragon with not-so-typical abilities to save the day.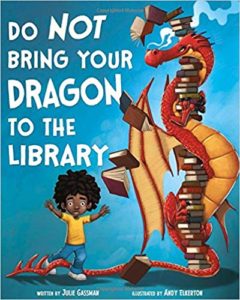 Do Not Bring Your Dragon to the Library by Julie Gassman (Author), Andy Elkerton (Illustrator)
Have you ever thought about bringing your dragon to the library? Don't do it! You might have the best intentions, but that dragon will cause nothing but trouble. Using rhyming text and a diverse cast of characters, this charming picture book will provide some important―and some not so important―library etiquette in a very entertaining way.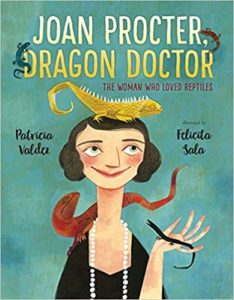 Joan Procter, Dragon Doctor: The Woman Who Loved Reptiles by Patricia Valdez (Author), Felicita Sala (Illustrator)
Back in the days of long skirts and afternoon teas, young Joan Procter entertained the most unusual party guests: slithery and scaly ones, who turned over teacups and crawled past the crumpets…. While other girls played with dolls, Joan preferred the company of reptiles. She carried her favorite lizard with her everywhere–she even brought a crocodile to school!
When Joan grew older, she became the Curator of Reptiles at the British Museum. She went on to design the Reptile House at the London Zoo, including a home for the rumored-to-be-vicious komodo dragons. There, just like when she was a little girl, Joan hosted children's tea parties–with her komodo dragon as the guest of honor.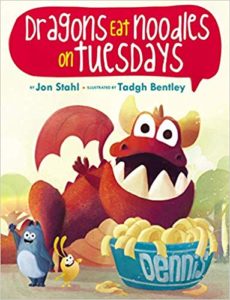 Dragons Eat Noodles on Tuesdays by Jon Stahl (Author), Tadgh Bentley (Illustrator)
"Once upon a time," begins the big blue monster who is trying to tell a fabulous story. "It needs to be about a kid who is eaten by a dragon," he insists.
But his little monster friend is not convinced that this is a good idea. "Dragon stories usually don't end well," he warns.
As the two monsters argue over how the story should go, a hungry dragon named Dennis is listening nearby. Dennis knows exactly how this story should go… And by the way, what day is it?
Watch out!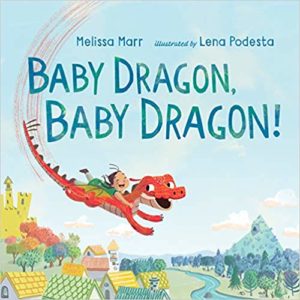 Baby Dragon, Baby Dragon! by Melissa Marr (Author), Lena Podesta (Illustrator)
A dauntless lass and a hyperactive dragon learn to keep pace with each other as they forge a friendship.
Baby Dragon loves to swoop and soar through the kingdom, which can cause quite a stir. But one little girl is up for the challenge of spending the day with Baby Dragon, and the two embark upon an exciting journey through the kingdom, where they run and race and climb and explore–and eventually even take the time to relish a quiet moment. New York Times bestselling author Melissa Marr has crafted a rollicking story about how the best friendships expand our horizons in all kinds of ways!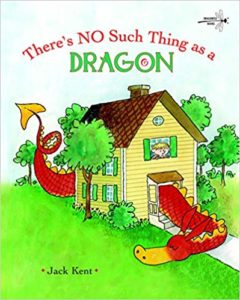 There's No Such Thing as a Dragon by Jack Kent (Author, Illustrator)
When Billy Bixbee finds a tiny dragon in his bedroom, his mom tells him, "There's no such thing as a dragon!" This only makes the dragon get bigger. He grows, and grows, and grows, until he's bigger than Billy's house—and that's just the beginning!
A funny, madcap story and playful illustrations by beloved author-illustrator Jack Kent pair in a book that will have children wondering if maybe friendly pet dragons do exist after all!
Even though she's out still out, Karina would love to know what you are reading this week! Find her on Twitter at @KarinaYanGlaser, on Instagram at @KarinaIsReadingAndWriting, or email her at karina@bookriot.com.
Have a great week!
Liberty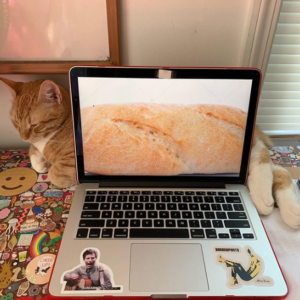 *If this e-mail was forwarded to you, follow this link to subscribe to "The Kids Are All Right" newsletter and other fabulous Book Riot newsletters for your own customized e-mail delivery. Thank you!*